Rosemary Garlic Pull Apart Bread
Author: Sally McKenney Quinn
This homemade pull apart bread is shaped and assembled with butter, garlic, cheese, rosemary, and parsley. Baked until golden brown and served pull-apart style, this flaky and flavorful bread is completely irresistible. Just wait until you smell it baking!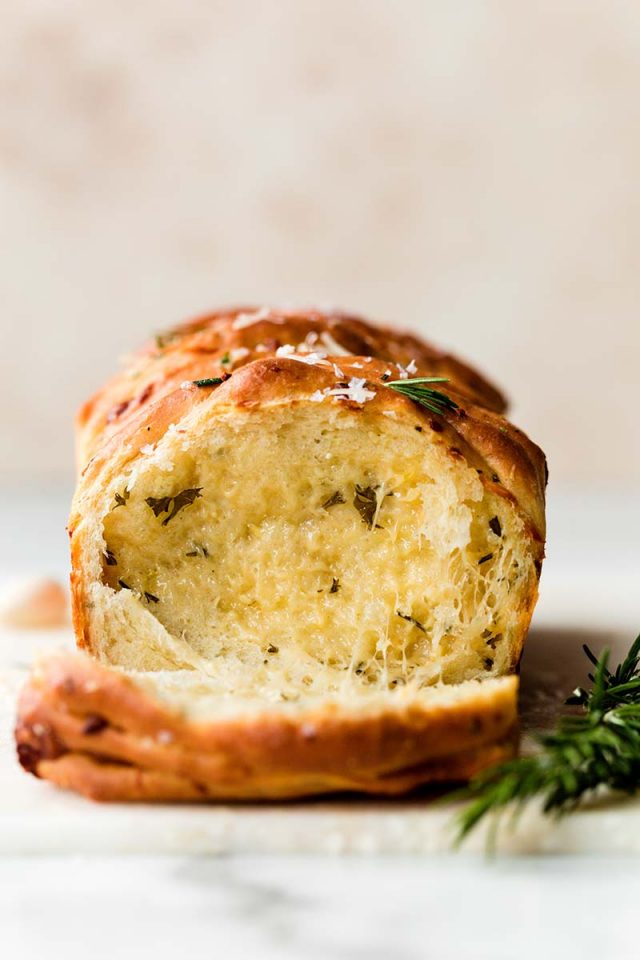 You need 9 simple ingredients for the homemade dough including yeast, sugar, milk, butter, salt, egg, flour, rosemary and garlic powder. For the filling, you need more butter, salt, and rosemary, plus parsley, fresh garlic, and parmesan cheese. Any shredded cheese would be fine, but we loved parmesan the most in this recipe.
As always, I recommend using a superior yeast: Platinum Yeast from Red Star. This is an instant yeast that strengthens the dough and provides extra volume to the final product. It's my preferred yeast for any and all bread baking– I use it exclusively in my kitchen because it's always a guarantee. You need 2 teaspoons of dry yeast which is a little less than 1 standard packet.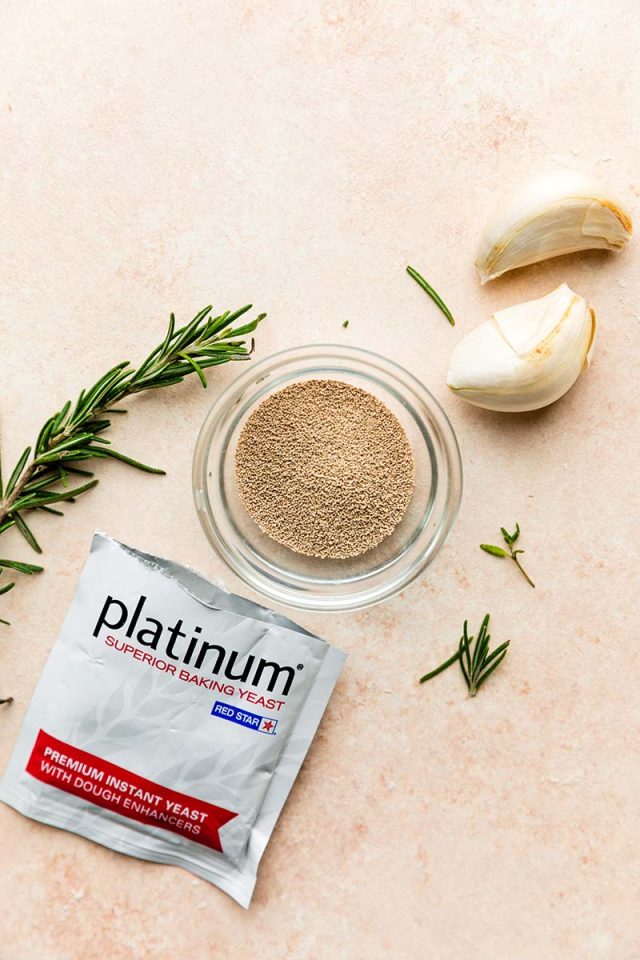 The dough requires 2 rises, right after you make/ knead it, then again after you shape and assemble it.
As you start assembling the pull apart bread, use these helpful photos as your guide.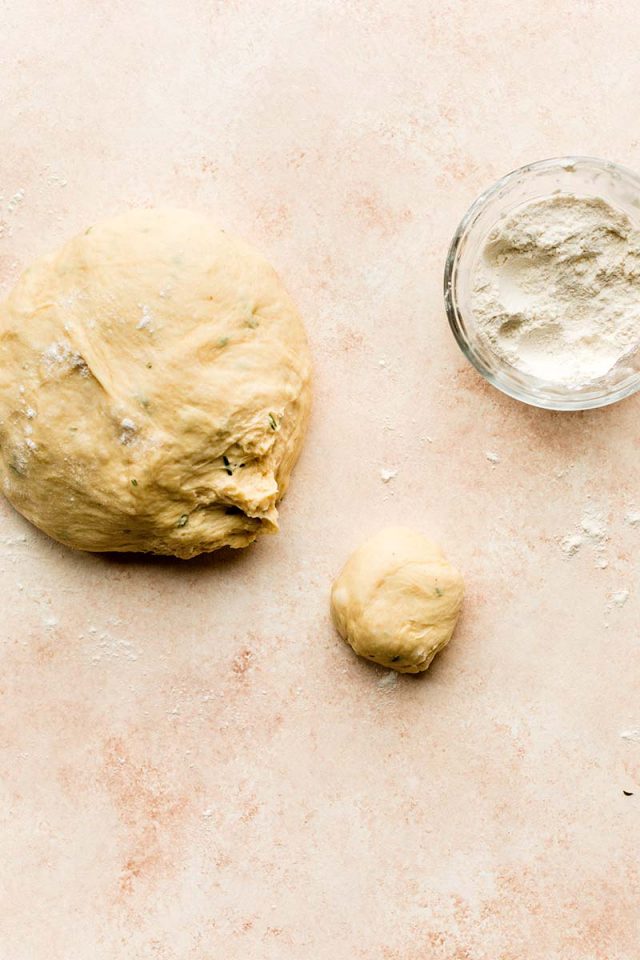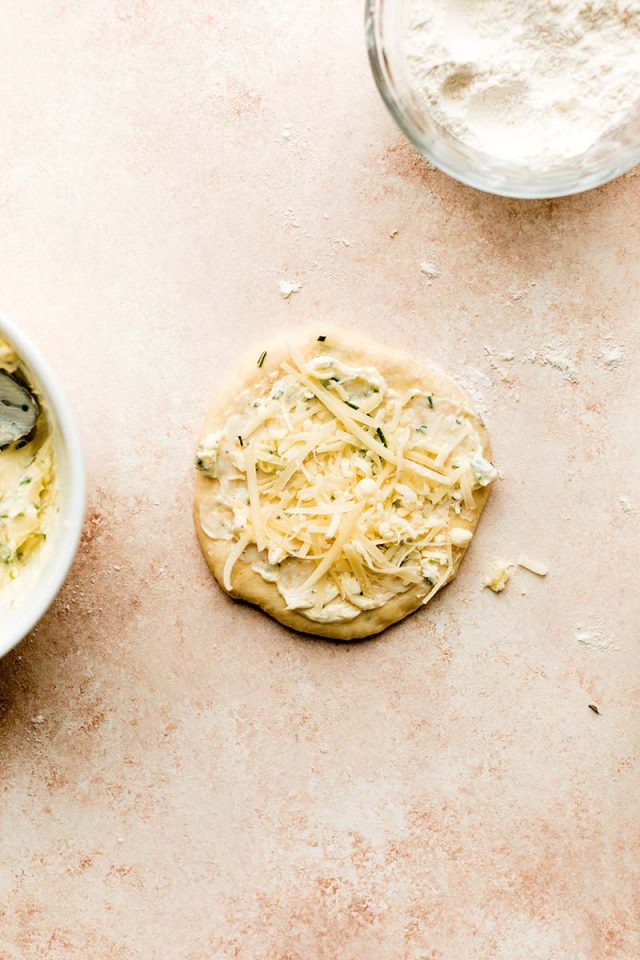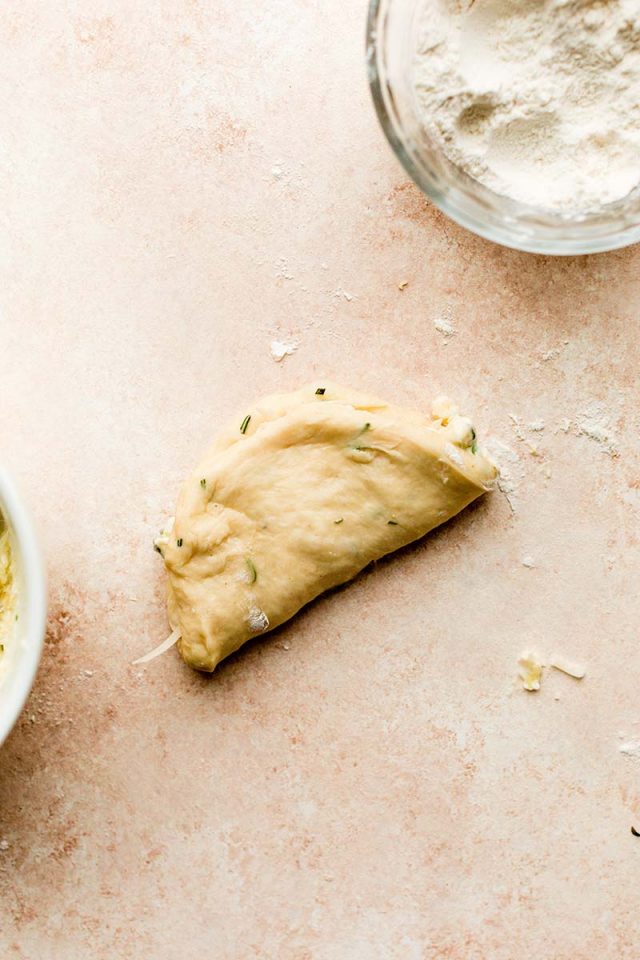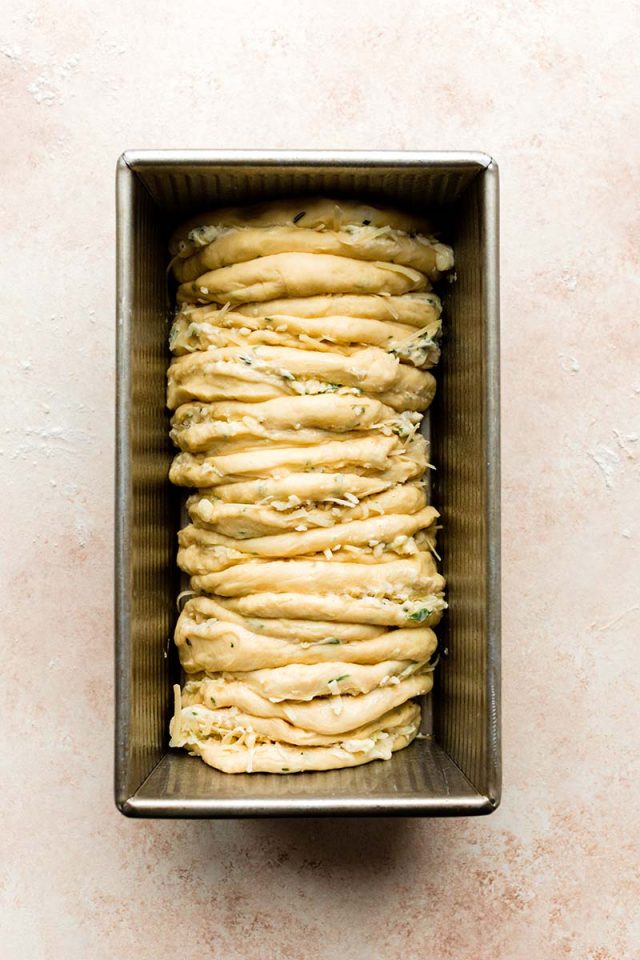 This bread makes a satisfying snack and appetizer or would be perfect alongside dinner. You can slice the loaf or tear off pieces. Whenever or however you serve it, I'm confident everyone will beg for seconds!

Rosemary Garlic Pull Apart Bread
Make a flavorful pull-apart bread using this delicious rosemary-infused yeasted dough. You can use your favorite cheese in the filling. I love and usually use shredded parmesan.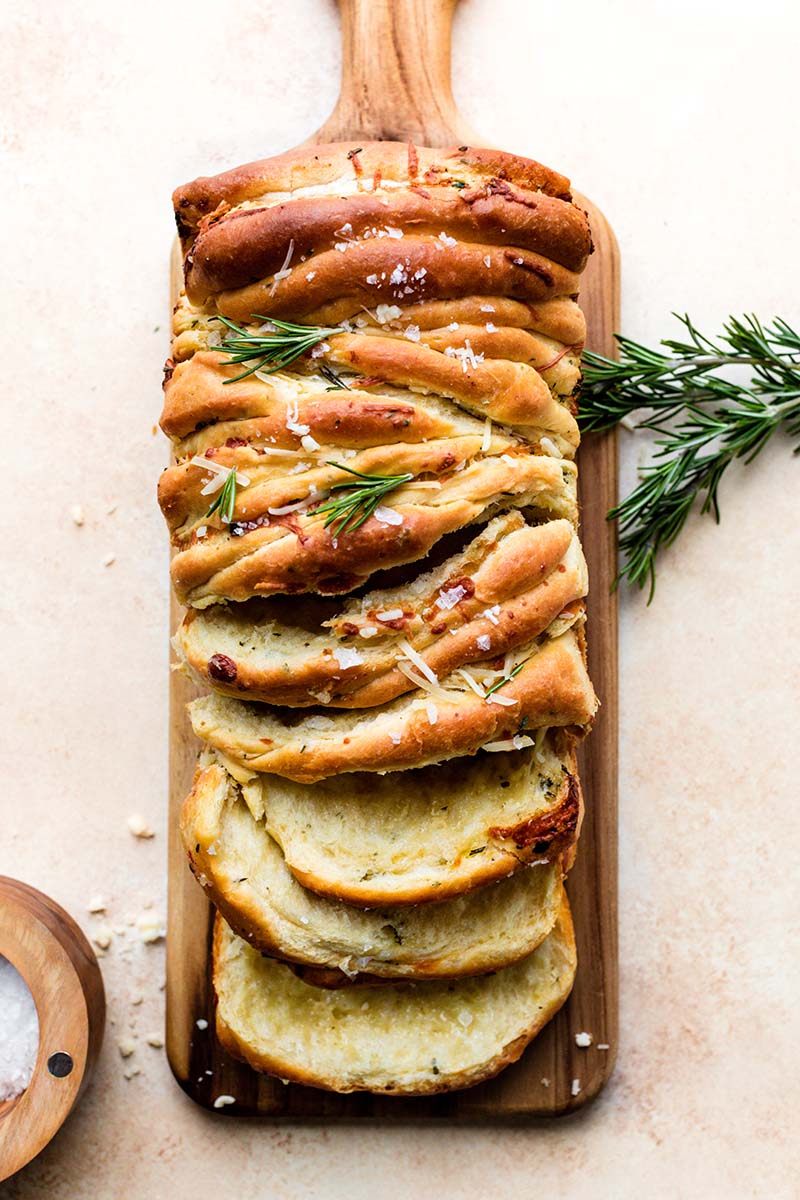 Ingredients
For the dough:
2 teaspoons Platinum yeast (slightly less than 1 packet)
1 Tablespoon granulated sugar
¾ cup whole milk
3 Tablespoons unsalted butter
1 large egg
2 and ⅓ cups all-purpose flour, plus more as needed*
1 teaspoon salt
1 teaspoon garlic powder
1 Tablespoon finely chopped fresh rosemary (or 2 teaspoons dried)
For the filling:
5 Tablespoons unsalted butter, extra soft
1 Tablespoon finely chopped fresh rosemary (or 2 teaspoons dried)
1 Tablespoon finely chopped fresh parsley (or 2 teaspoons dried)
2 garlic cloves, minced or ½ teaspoon garlic powder
¼ teaspoon salt
¾ cup shredded parmesan cheese
Optional Topping
1 Tablespoon unsalted butter, melted
Flaky/coarse sea salt for sprinkling
Instructions
Step 1. Make the dough: Place the yeast and sugar in the bowl of a stand mixer fitted with a dough hook or paddle attachment. Or, if you do not own a stand mixer, a regular large mixing bowl. Heat the milk on the stove or in the microwave until warm to touch, about 110°F (43°C). Pour warm milk on top of yeast/sugar. Whisk gently to combine, then loosely cover with a clean kitchen towel and allow to sit for 5-10 minutes. The mixture will be frothy after 5-10 minutes.


Step 2. If you do not have a mixer, you can mix by hand in this step. Add the butter, egg, flour, salt, garlic powder, and rosemary. Beat on low speed for 3 minutes. Dough will be soft. Transfer it to a lightly floured work surface. Using lightly floured hands, knead it for 1 minute. If the dough is too sticky to handle, add 1-3 more Tablespoons of flour, but you want a very soft dough. Shape into a ball.


Step 3. Place the dough in a greased bowl and cover with plastic wrap or aluminum foil. Place in a slightly warm environment to rise until doubled in size, around 60-90 minutes.


Step 4. As the dough rises, prepare the filling in the next step and grease a 9x5 inch loaf pan.


Step 5. Make the filling: In a medium bowl, mix the soft butter, rosemary, parsley, garlic, and salt together. If the butter is soft enough, you can just mix it all together with a spoon or fork. You can use an electric mixer if that's easier too. Cover tightly and set aside until ready to use. (Don't refrigerate unless making well in advance. It's easiest to spread on the dough when at room temperature. If refrigerated, let it come to room temperature before spreading on dough pieces.)


Step 6. Assemble the bread: Punch down the dough to release the air. Place dough on a lightly floured work surface. Divide it into 12 equal pieces, each about ¼ cup of dough and a little larger than a golf ball. Using lightly floured hands, flatten each into a circle that's about 4 inches in diameter. The circle doesn't have to be perfectly round. I do not use a rolling pan to flatten, but you certainly can if you want. Spread 1-2 teaspoons of filling mixture onto each. Sprinkle each with 1 Tablespoon of cheese. Fold circles in half and line in prepared bread pan, round side up.


Step 7. Cover with plastic wrap or aluminum foil and allow to rise once again in a slightly warm environment until puffy, about 45 minutes.


Step 8. Adjust the oven rack to the lower third position then preheat oven to 350°F (177°C).


Step 9. Bake until golden brown, about 50 minutes. If you find the top of the loaf is browning too quickly, tent with aluminum foil. Remove from the oven and place the pan on a wire rack. If desired, brush with melted butter for topping and sprinkle with sea salt.


Step 10. Cool for 10 minutes in the pan, then remove from the pan and serve warm.


Step 11. Cover and store leftovers at room temperature for up to 2 days or in the refrigerator for up to 1 week.
---
Baking enthusiast Sally McKenney Quinn is the blogger and photographer behind Sally's Baking Addiction, as well as the author of best-selling cookbooks Sally's Baking Addiction and Sally's Candy Addiction. The kitchen is where her creative juices flow and she enjoys sharing recipes with her millions of fans around the world. When Sally isn't in the kitchen or behind the camera, she enjoys practicing yoga, running off all those cookies, and hiking with her husband, Kevin, and their dog, Jude.