Roasted Garlic Breadsticks
No-fail breadsticks infused with roasted garlic and laced with cheese inside and out. Unbelievably delicious, yet truly simple to make.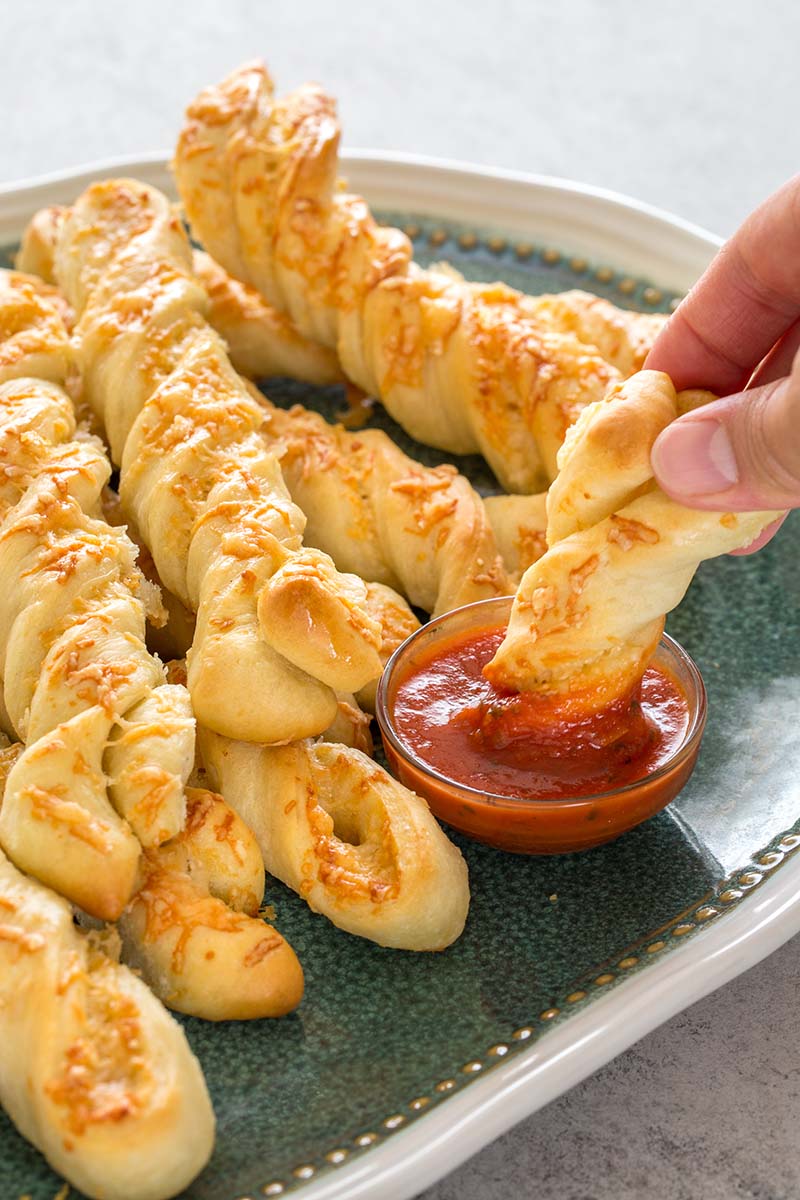 Ingredients
For the dough:
2 cups (250g) all-purpose flour
1 tsp RED STAR Platinum Superior Baking Yeast
1 tsp sugar
1 tsp salt
⅔ cup (155ml) lukewarm water
1 Tbsp olive oil
For the filling:
1 head of garlic
3 Tbsp olive oil, divided
1 cup (100g) shredded mozzarella cheese
¼ cup (15g) grated Parmesan cheese
Instructions
Make the dough:
In a large mixing bowl with dough hook attachment, combine flour, sugar, salt and yeast. Add lukewarm water and mix on low speed until the dough comes together. (Alternatively, you can make this dough by hand.)


Once the dough starts coming together, add olive oil and knead for 2-3 minutes on medium speed. If kneading by hand, knead for 5 minutes. The dough should be soft and slightly sticky.


Drizzle a little bit of oil into the bowl and coat the dough. Cover with a kitchen towel and place in warm place to rise for 1-2 hours, or until doubled in size.


Roast the garlic:
Preheat the oven to 400°F (200°C). Cut the top of the garlic head, exposing the garlic cloves, and place it in the middle of aluminum foil cut side up. Drizzle 1 tablespoon of olive oil and wrap the garlic. Roast for 45-75 minutes, or until the garlic is golden and soft. Start checking it after 45 minutes, at this point it should be ready, but for more color and flavor, continue to roast for another half hour.


Make the breadsticks:
Preheat the oven to 400°F (200°C).


Once the garlic is roasted, cool it slightly and squeeze garlic cloves out. Press through garlic press into a small bowl and mix with remaining 2 tablespoons of olive oil.


On a floured surface, roll the dough into 10x12-in (25x30cm) rectangle.


Spread the garlic-olive oil all over the dough.


Sprinkle about half of mozzarella and Parmesan cheeses over dough.


Fold the dough in half so that cheeses are covered. Cut the dough into 12 strips.


Twist each strip and arrange them on a baking sheet lined with a silicone mat or parchment paper.


Sprinkle remaining cheese over the breadsticks. Cover with a kitchen towel and rest for at least 30 minutes to rise.


Bake for 20-25 minutes, or until golden brown.


Recipe created by Sweet and Savory by Shinee.