Rich Fruit Bread
Fill your home with the cinnamon-rich aroma of the holidays with this festive holiday bread.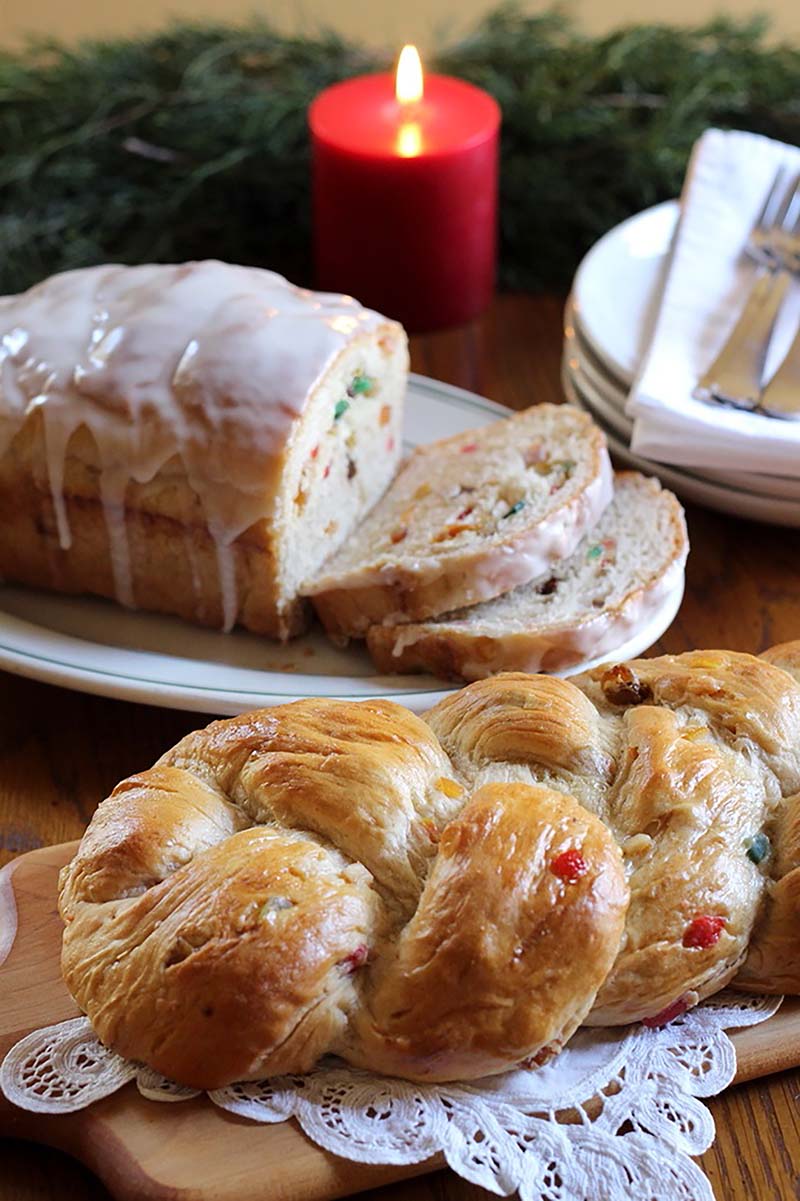 Ingredients
¼ cup melted butter or margarine
1¾ cups milk
¼ cup sugar
1 package (2¼ tsp, ¼oz, 7g) RED STAR Active Dry Yeast
1 tsp salt
4 cups bread flour
1 tsp cinnamon
⅔ cup mixed candied fruit
¼ cup currants
¼ cup raisins
Instructions
In a saucepan over medium heat melt the butter or margarine. Add the milk and heat just until 110°-115°F.


In a large bowl add the milk mixture, sugar, salt and Yeast. Beat with a wire whisk until smooth. Add 2 cups of flour, cinnamon, candied fruit, currants and raisins. Again beat until smooth. Sprinkle one more cup of flour over top, work in with a wooden spoon until all absorbed.


Gradually add the last cup of flour by hand, pressing flour into dough and turning dough over, until all worked in. Place dough in lightly oiled bowl and turn to grease top. Cover; let rise until dough tests ripe.


Punch dough down and place on a floured surface. With fingers press out to a square about 1-inch thick. Cut in half.


Oil two 9x5x2-inch loaf pans. Roll up one half of dough and pinch seams together. Do the same with the second half. Place seam side down in loaf pans. Cover and let rise until indentation remains after touching.


Preheat oven and bake at 375°F for 25 - 30 minutes. Remove from pans and cool on racks.


If desired, while bread is still warm make a glaze of ½ cup icing sugar mixed with 1 TBSP milk. Drizzle over tops.


*You can substitute Instant (fast-rising) yeast in place of Active Dry Yeast. When using Instant Yeast, expect your dough to rise faster. Always let your dough rise until ripe. Traditional methods: use equal amounts; Bread Machine: use ½ tsp Instant Yeast OR ¾ tsp Active Dry Yeast per cup of flour in your recipe. Visit our Lessons in Yeast & Baking for more information.


Recipe featured at Yesterfood.
Notes
You can also choose to braid the bread. After the first rise, just divide the dough for one loaf into three equal portions. Form the portions into long thin rolls or ropes, each about 15 inches long. Lay the three ropes on a parchment paper covered cookie sheet, all in a row, side by side, touching. Pinch the three ropes together at one end and tuck the pinched edge under to secure. Braid the ropes, then pinch the ends together and tuck under the loaf. Cover and let rise a second time, then pop it in the oven to bake. Brush with an egg wash before baking to give it a warm sheen: whisk one egg with 2 teaspoons of water until completely combined. Brush loaf lightly with egg mixture right before baking. (
Braiding directions from Yesterfood.
)