Raisin Bran Bread
A delicious breakfast bread. Try it toasted with butter.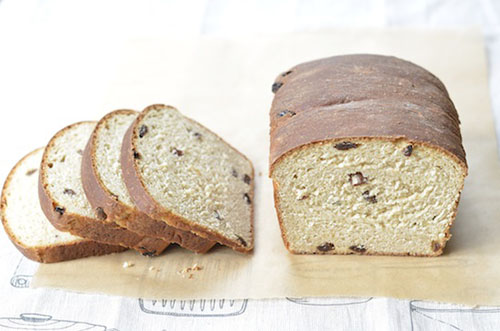 Ingredients
¼ cup melted margarine
1 cup water
½ cup milk
½ cup, packed dark brown sugar
2 Tbsp Red Star Active Dry Yeast
4 cups bread flour
1 tsp salt
½ cup bran
¼ cup wheat germ
¾ cup raisins
Instructions
Melt margarine in a saucepan, set aside.


In a large bowl dissolve 1 tsp sugar in the water. Stir in yeast and let rest 10 minutes, or until foamy. Wire whisk in milk and dark brown sugar. Beat until smooth.


Add 2 cups bread flour, the salt, bran and wheat germ. Mix with a wooden spoon until smooth. Fold in the melted margarine and raisins.


Add one more cup of flour to the dough, beat in. Gradually add what you need of the last cup of flour with your hands, pressing flour in, turning dough over until it is fairly stiff. Cover and let rise 40 minutes.


Sprinkle dough with 2 tbsp flour. Punch dough down. Place on a floured surface. Press out to a 1-inch thick square. Cut into two equal pieces. Roll each piece up and seal the edges. Place in two oiled loaf pans. Cover and let rise until double, about 1½ hours.


Bake in a preheated 375°F oven for 40 minutes. Cool on racks.


*You can substitute Instant (fast-rising) yeast in place of Active Dry Yeast. When using Instant Yeast, expect your dough to rise faster. Always let your dough rise until ripe. Traditional methods: use equal amounts; Bread Machine: use ½ tsp Instant Yeast OR ¾ tsp Active Dry Yeast per cup of flour in your recipe. Visit our Lessons in Yeast & Baking for more information.


This recipe is featured at Food Wanderings.