Pesto Mozzarella Stuffed Dinner Rolls
These Pesto Mozzarella Stuffed Dinner Rolls are not only great for a holiday recipe, they are fantastic year round! You can't go wrong with fresh mozzarella and flavorful basil pesto tucked inside these super soft yeast rolls!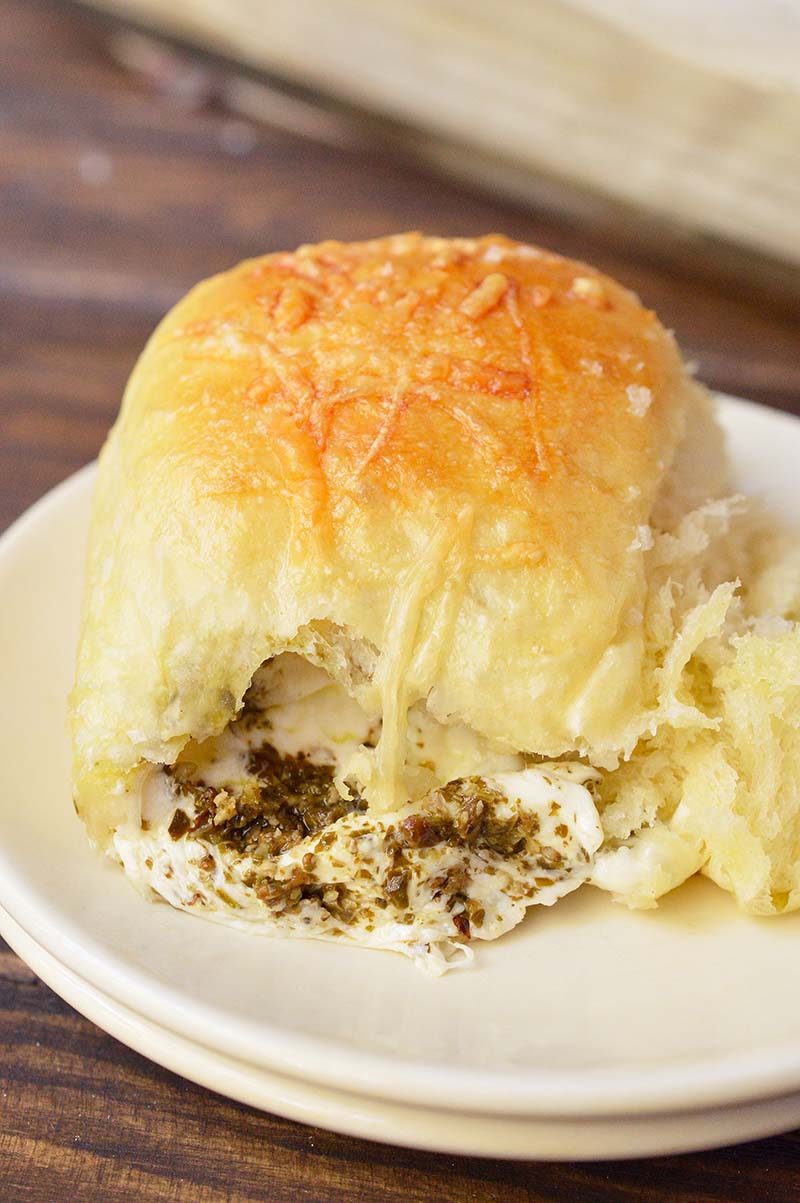 Ingredients
¾ cups milk
¼ cup unsalted butter
¼ cup warm tap water (110-115°F)
Pinch of sugar
1 package (2¼ tsp, ¼oz, 7g) RED STAR Platinum Superior Baking Yeast
1 large egg (lightly beaten)
1 tsp kosher salt
3 cups all-purpose flour
Olive oil, for bowl
8 ounces fresh Mozzarella pearls - room temp (can use fresh mozzarella round & cut into chunks)
¼ Cup pesto - room temp
Eggwash: 1 large egg + 1 Tbsp water (beaten)
Shredded Parmesan cheese (optional)
2 Tbsp melted butter
Sea salt
Instructions
In a microwave safe dish, heat milk for 1 minute. Add ¼ cup butter then let cool.


Combine warm water, sugar and yeast; stir. Set aside for 5-10 minutes until foamy.


In large bowl, combine egg, milk mixture, yeast mixture, salt and half of the flour.


Continue to stir in enough of remaining flour until dough is no longer sticky and comes together in a ball. (Add extra flour, one tablespoon at a time, if needed.)


Transfer dough to a floured board. Knead 5 minutes or until dough is smooth and elastic. Add additional flour if needed. Transfer dough into large, oiled bowl. Drizzle oil on top of dough to coat. Cover bowl with a damp towel and place in a warm spot until dough doubles in size, approximately 90 minutes.


Transfer dough to flat surface and divide into 12 equal pieces. Dough will be slightly sticky and elastic.


Prepare a 9x13-inch glass baking dish: line with greased parchment paper.


Flatten each portion and fill with a dollop of pesto and 6-8 mozzarella pearls in center of dough. Fold edges over cheese/pesto into a ball shape and pinch to close. NOTE: Do not let oil from pesto drip onto the outer edges or the dough will not stick together. Transfer rolls to prepared baking dish. Cover with towel. Place dish in warm spot and allow rolls to double in size,
approximately 60 minutes.


Preheat oven to 400ºF


Brush rolls with egg wash and sprinkle tops with Parmesan cheese (optional).


Bake for 12-14 minutes, until golden brown.


Remove from oven, brush with melted butter and sprinkle with sea salt. Let rolls rest for 5 minutes before serving.


Recipe & video created by Wonky Wonderful.