Master Recipe from "New Healthy Bread in Five Minutes a Day" using Vital Wheat Gluten!
Authors: Jeff Hertzberg and Zoë François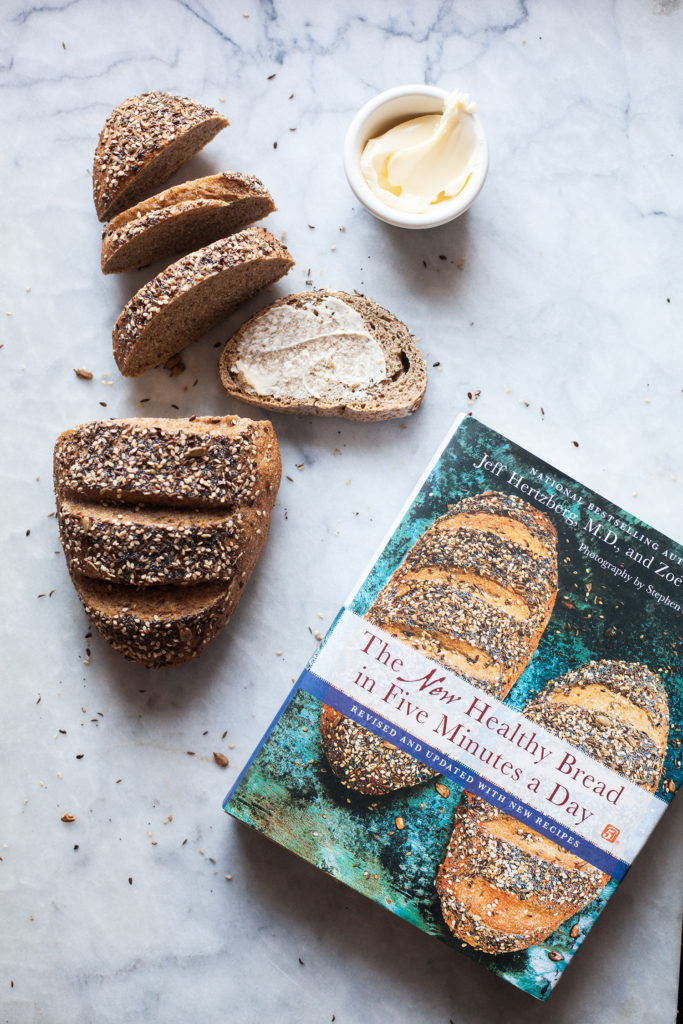 When we first wrote Artisan Bread in Five Minutes a Day in 2007 we were immediately asked how to convert the recipes to whole grains. We knew then that we'd be writing another book to satisfy the appetite for healthier breads. We also discovered gluten-free flours and developed our first breads made with them. The book answered a lot of questions and concerns about eating whole grains, but since 2009, when it first came out, we've learned even more. Our readers have become curious about ancient grains, baking with sourdough starter and they wanted even more 100% whole wheat. Well, we got the opportunity to create a new edition of the book and we're thrilled to introduce you to the The New Healthy Bread in Five Minutes a Day: Revised and Updated with New Recipes.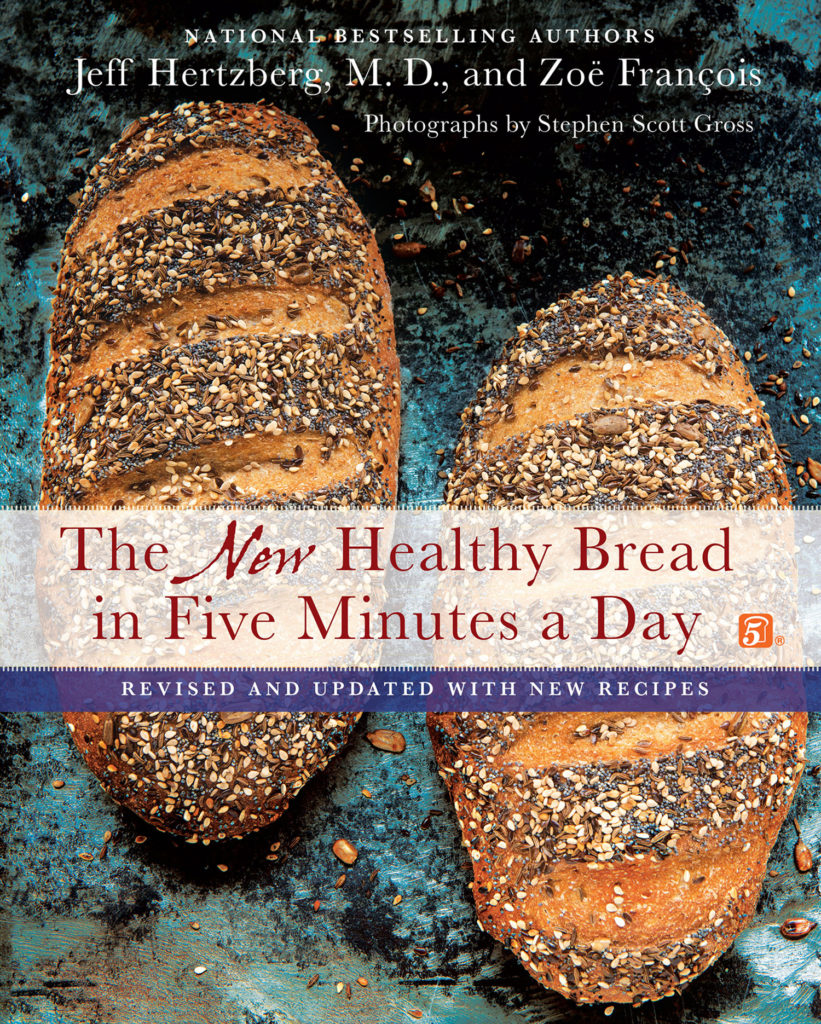 With whole grain baking you need more water, and one extra ingredient called Vital Wheat Gluten (sometimes labeled "vital wheat gluten flour"), which is available in most supermarkets, or on-line from anywhere… We found that boosting the gluten content with vital wheat gluten increased the amount of time we can store the dough. Storing the dough is why our recipes are different from all others and makes baking so fast. We also offer a version without vital wheat gluten in the book for those who prefer not to use it or can't find it.
What is vital wheat gluten?  It's the protein-rich part of wheat that creates the strands that trap gas bubbles and allow yeasted bread to rise (and stay risen).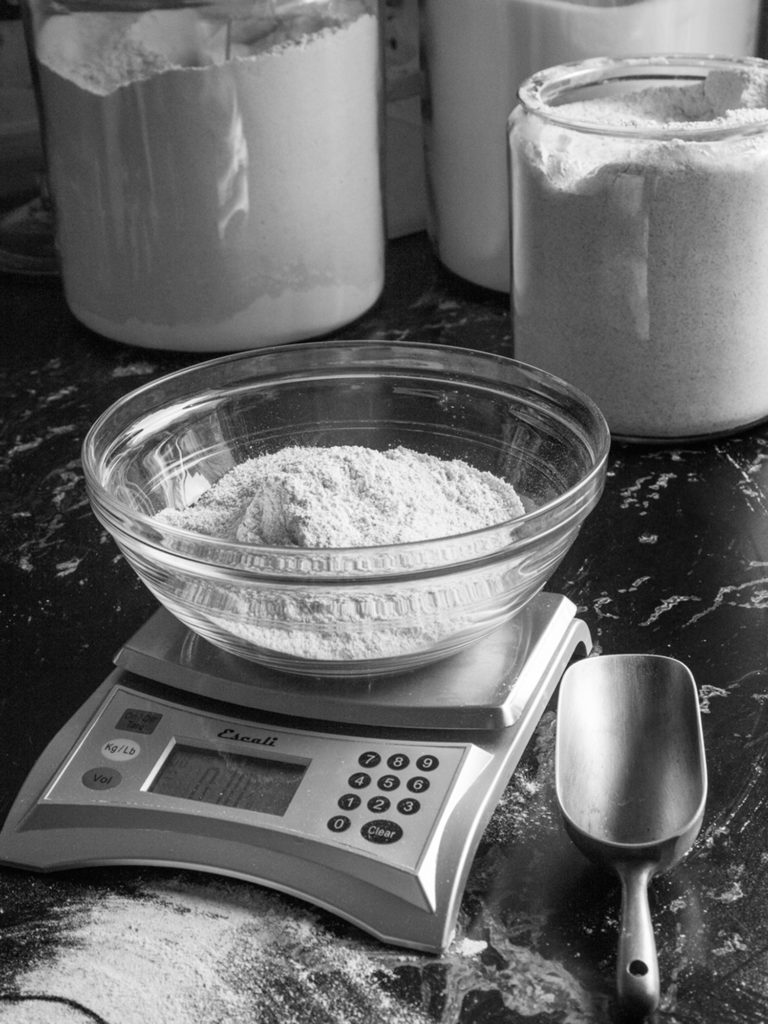 Master recipe from The New Healthy Bread in Five Minutes a Day:
Ingredients:
5 1/2 cups (750g) whole wheat flour
2 cups (300g) unbleached all-purpose flour
1 tablespoon (10g)RED STAR Platinum Superior Baking Yeast
1 tablespoon (15g) Kosher salt
1/4 cup (40g) vital wheat gluten (or vital wheat gluten flour) – Here is a version without vital wheat gluten
4 cups (910g) lukewarm water (about 100°F)
1 to 2 tablespoons of whole seed mixture for sprinkling on top crust:  sesame, flaxseed, caraway, raw sunflower, poppy, and or anise
To make the dough: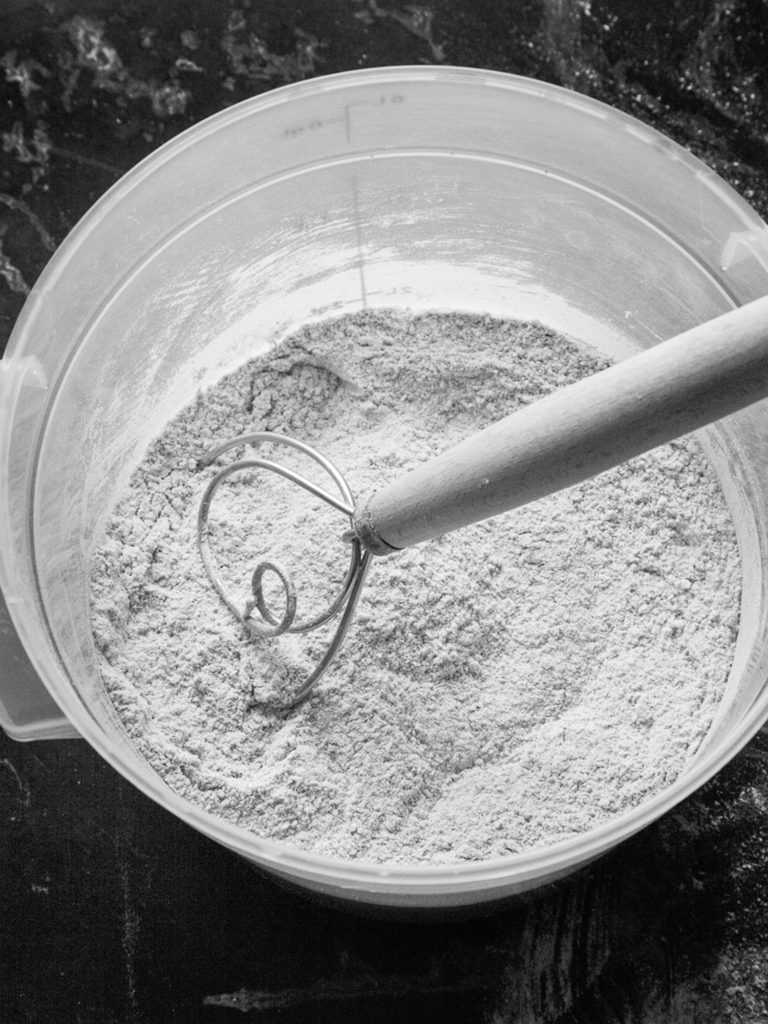 First, measure the dry ingredients into a 6-quart round container or bowl, and whisk them together (you can also use a fork, or if it's lidded, just shake them well).  Mixing the dry ingredients first prevents the vital wheat gluten from forming clumps once liquids are added.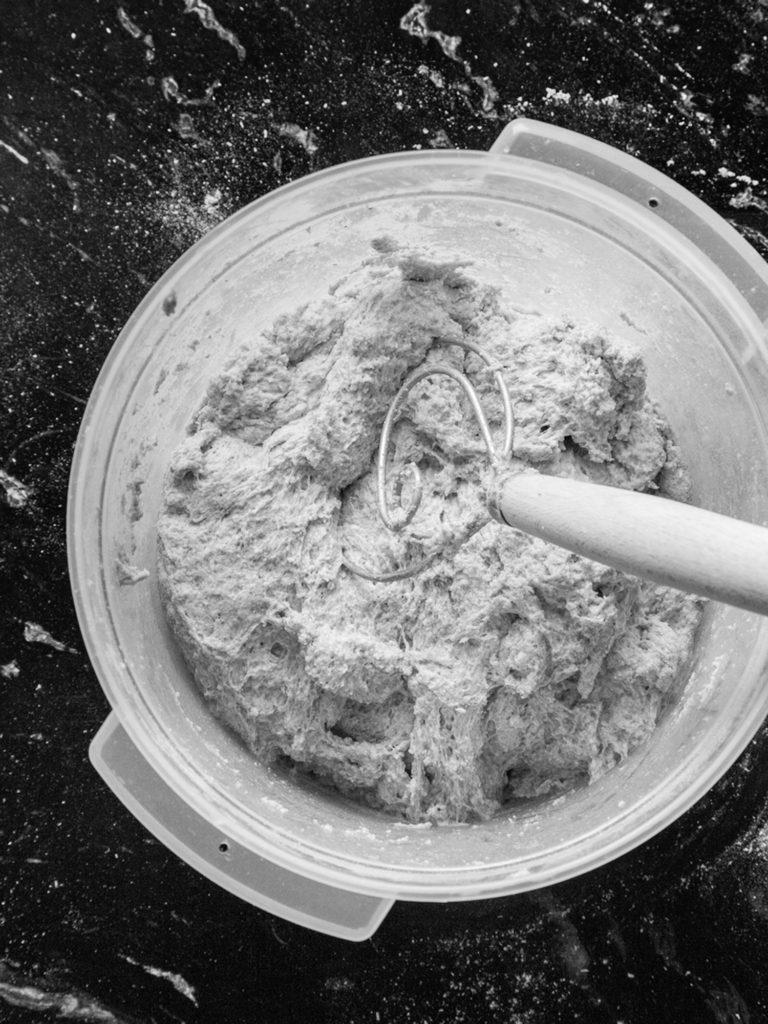 Add the water to form a wet dough and mix with a Danish dough whisk or wooden spoon.
Don't add additional flour to dry this out. It should be wet and shaggy.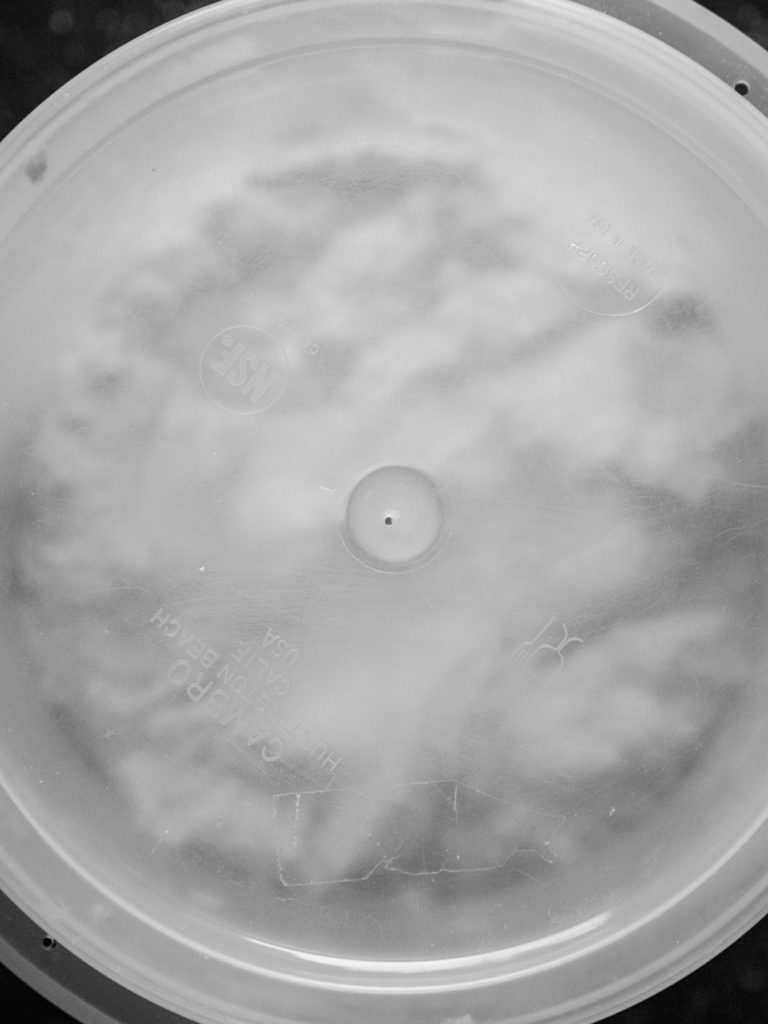 Cover loosely (leave lid open a crack) or you can pierce a small hole in the lid, as you see above. Allow to rise for two hours at room temperature (if you decreased the yeast, you'll need more time).  NEVER PUNCH DOWN.  The dough will rise and then begin to collapse.  Refrigerate and use over the next 14 days, tearing off one-pound loaves as you need them.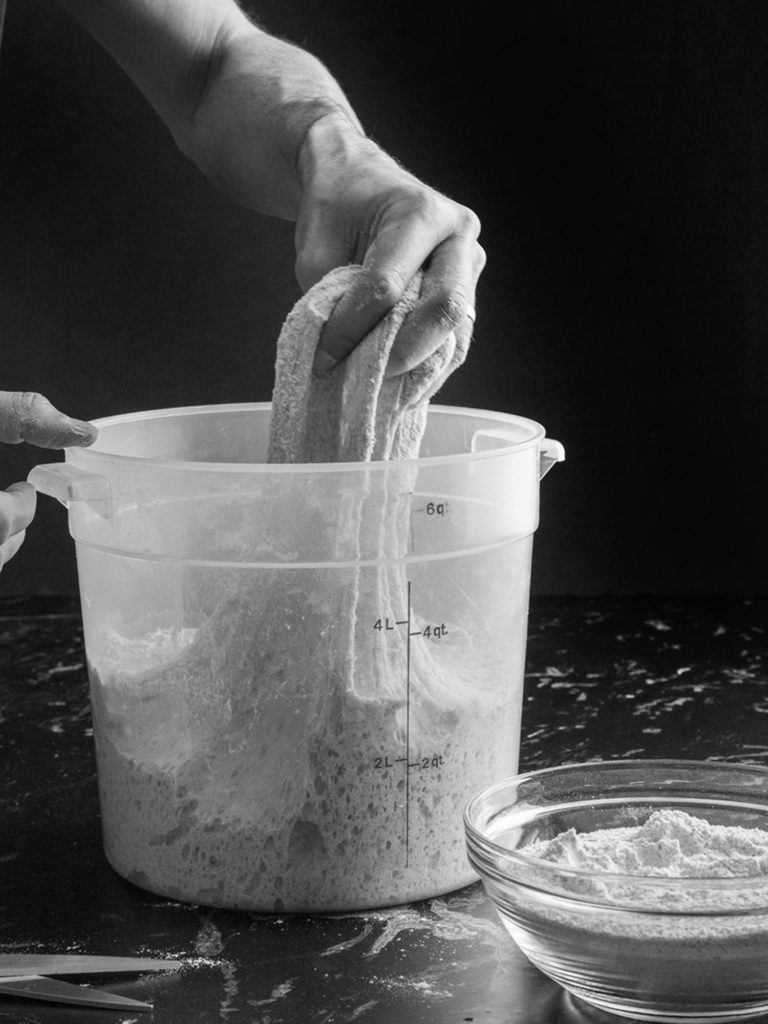 On baking day, cut off a grapefruit-sized piece of dough (about a pound), using a serrated knife or a kitchen shears.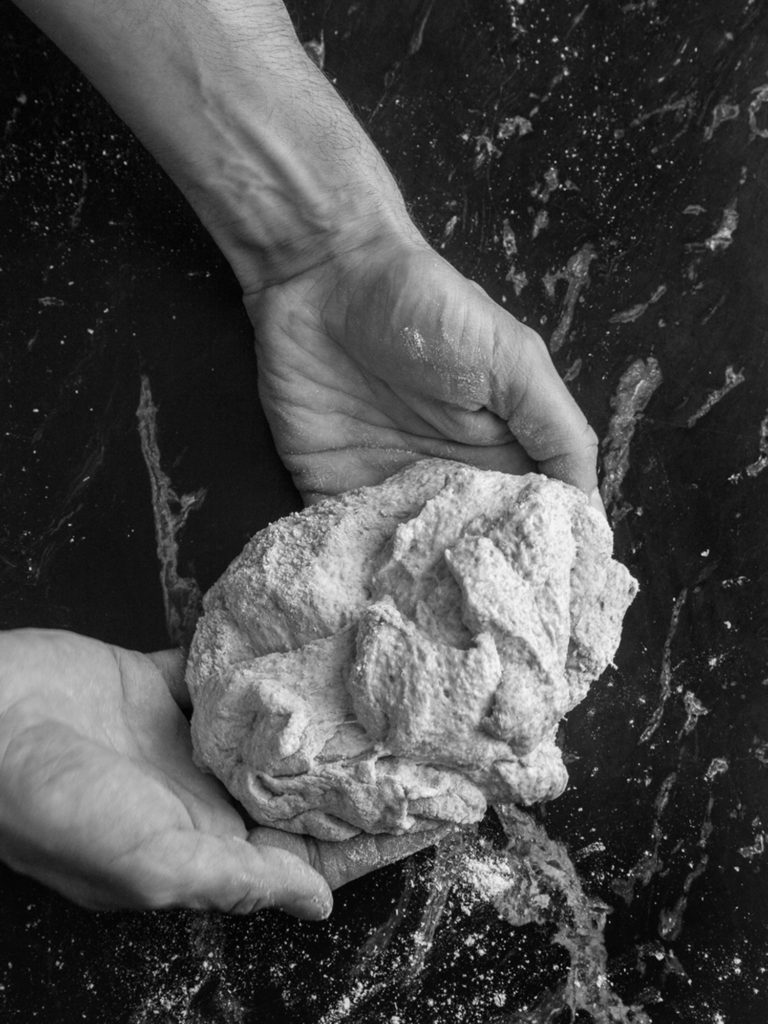 Quickly shape a loaf as you've seen in our videos here.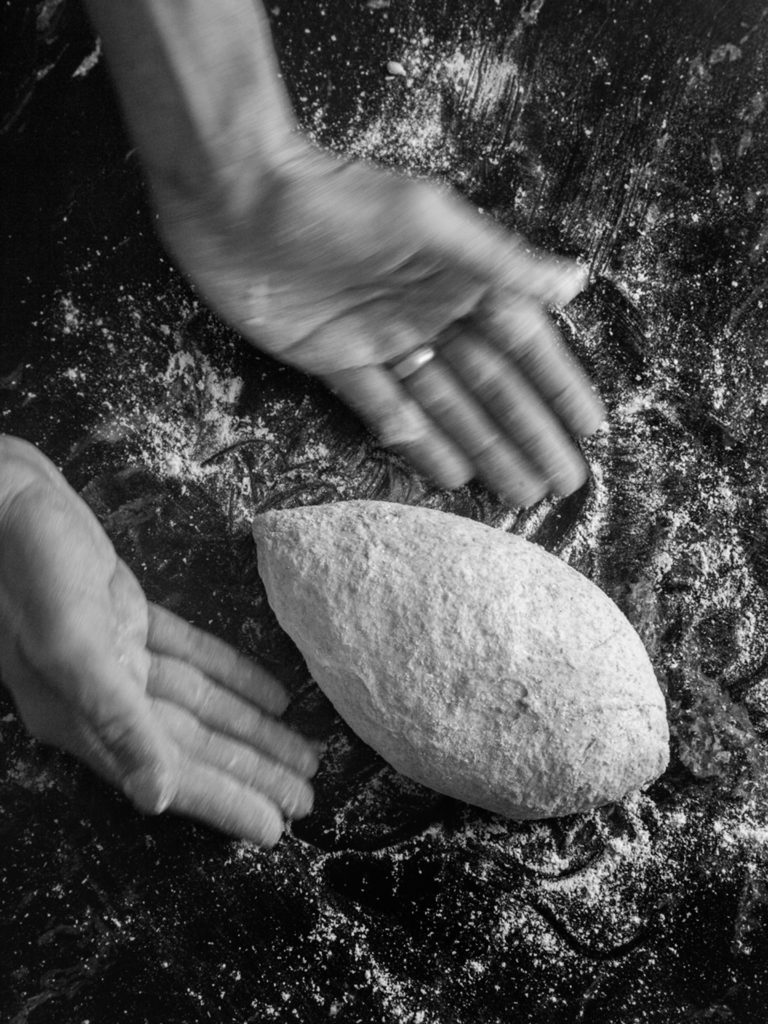 It should take less than a minute— you pull the top around to the bottom, rotating quarter-turns as you go.  DON'T KNEAD or otherwise knock all the gas out of the loaf.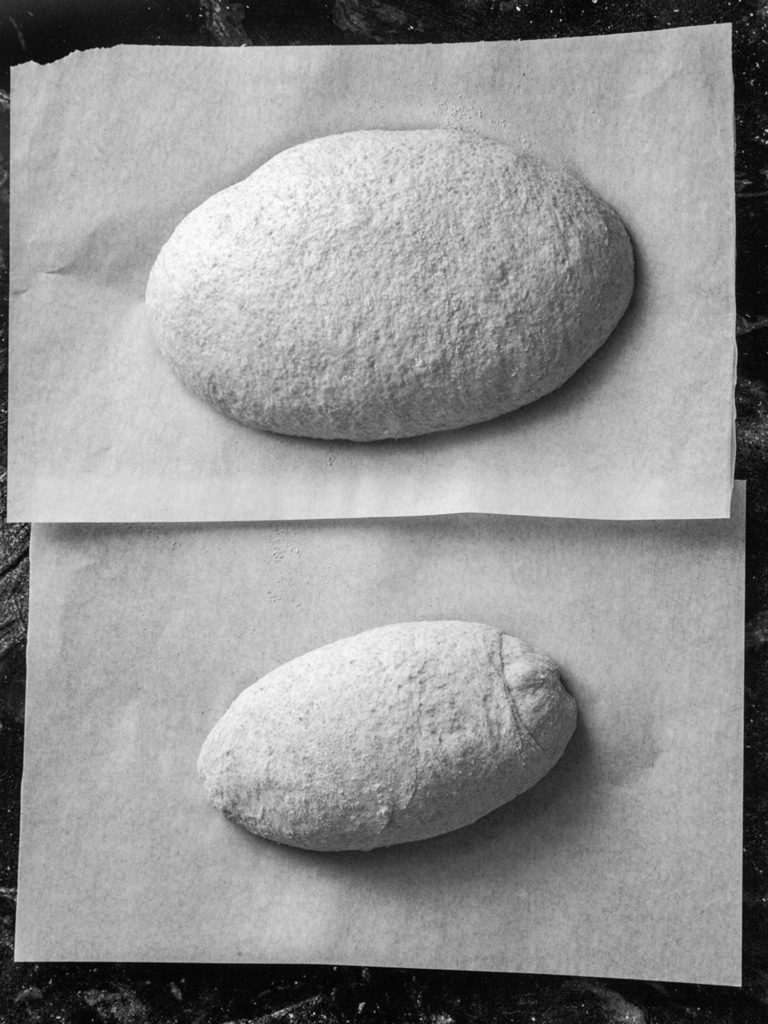 Cover the loaf loosely with plastic wrap and let it rest on a pizza peel covered with cornmeal or parchment paper for 90 minutes (40 minutes if you're using fresh, unrefrigerated dough.)
Preheat the oven to 450°F (230°C), with a baking stone placed on a middle rack.  Place an empty broiler tray for holding water on any other rack that won't interfere with rising bread.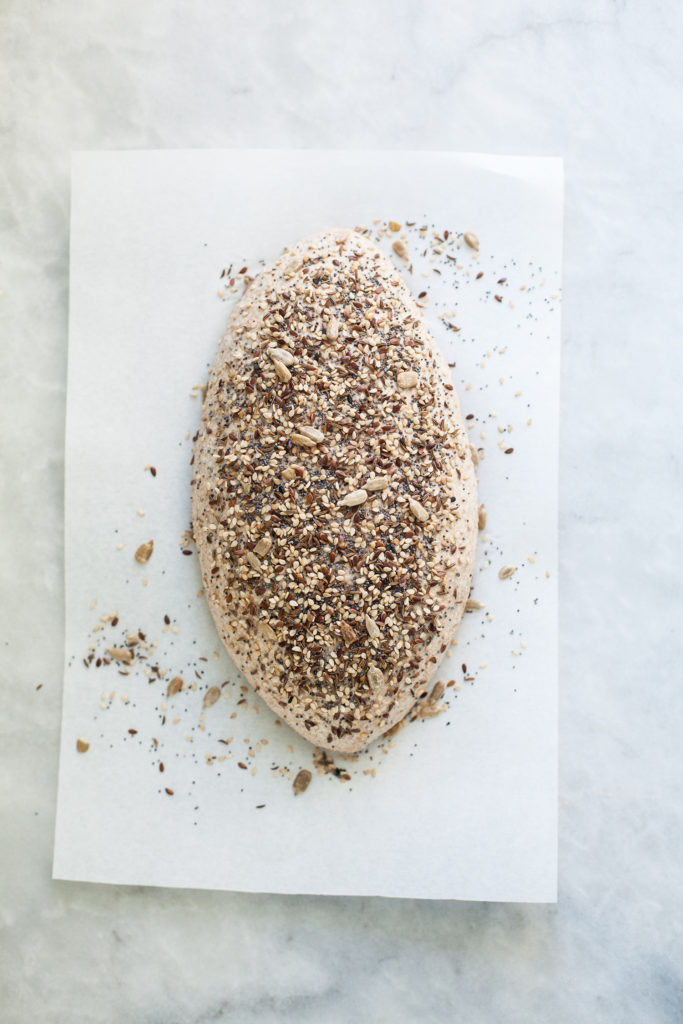 Just before baking, use a pastry brushto paint the top with water and sprinkle with seed mixture.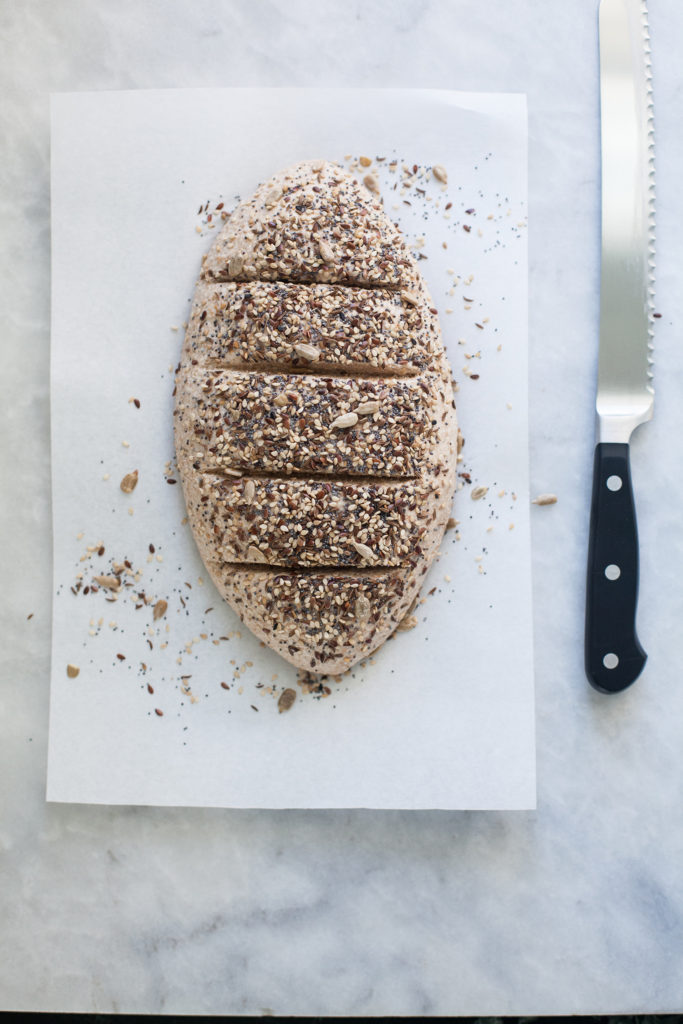 Slash the loaf with 1/2-inch deep parallel cuts across the top. Slide onto the hot stone…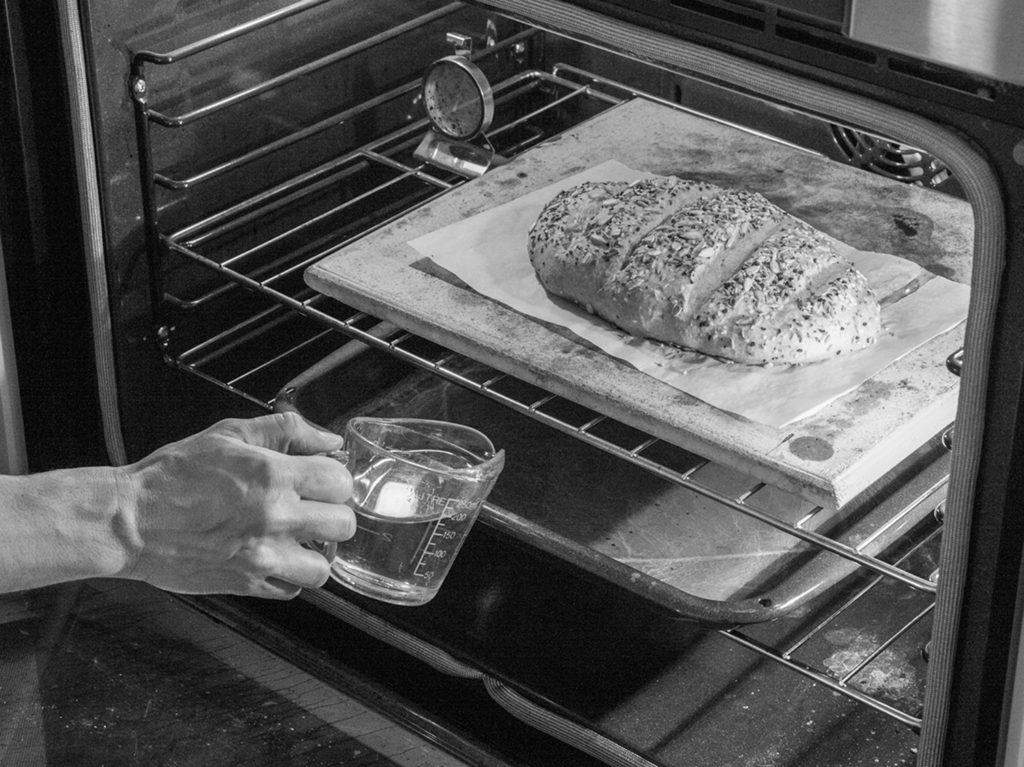 …and carefully pour 1 cup of hot tap water into the broiler tray.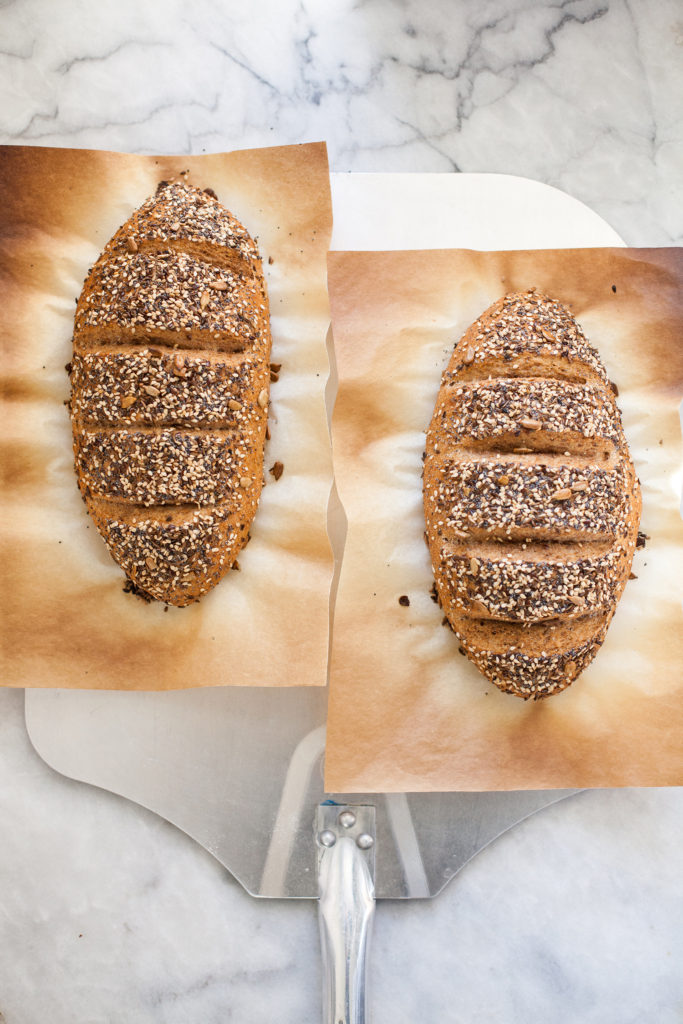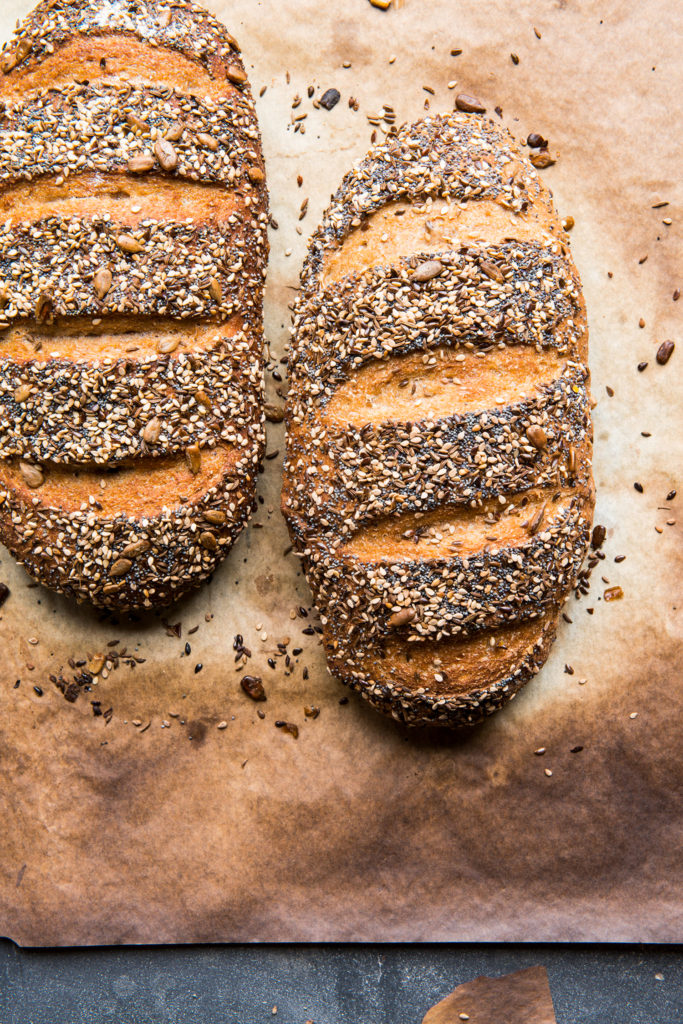 After a 30-minute bake, remove from oven and take the bread off the parchment.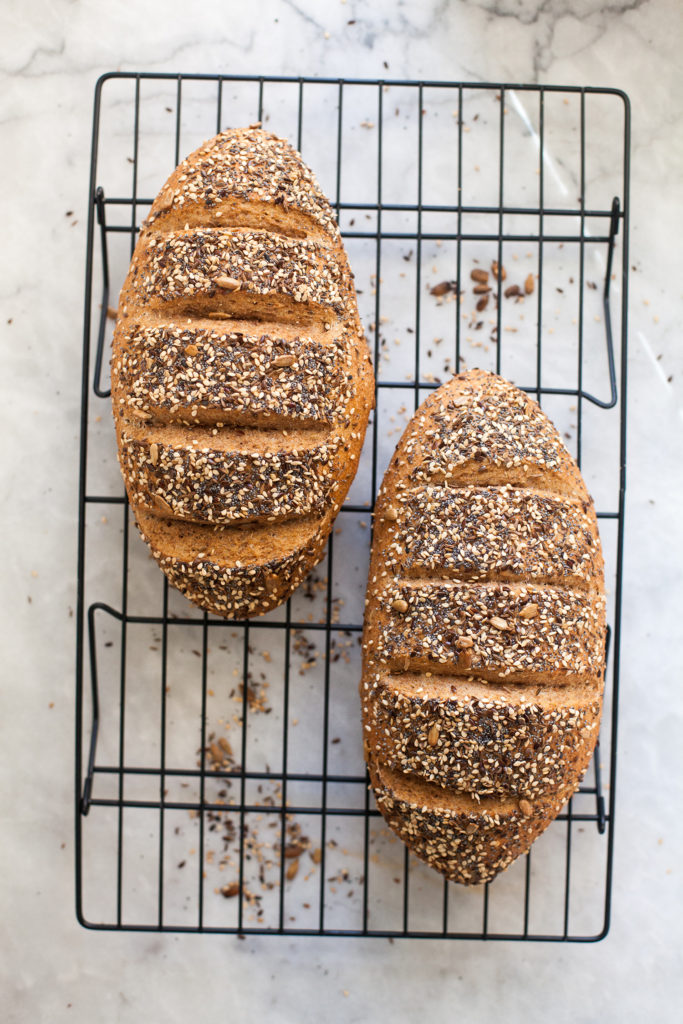 cool on a cooling rack.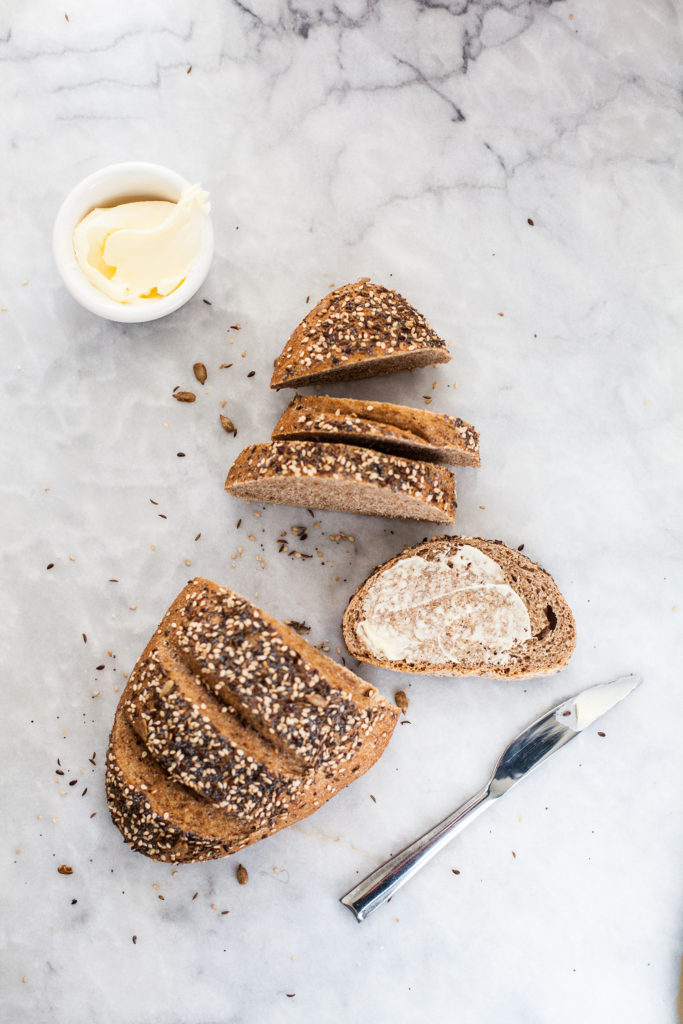 ---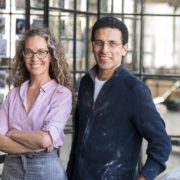 Jeff Hertzberg and Zoë François met in their children's music class in 2003 and have written bread cookbooks with more than 715,000 copies in print. Jeff, a doctor by training, is a self-taught baker who grew up eating great bread and pizza in New York City, and longed to recreate it himself.  Zoë is a pastry chef and baker trained at the Culinary Institute of America. Her work appears in blogs all over the United States, and her dessert menus grace fine restaurants in the authors' hometown, Minneapolis, Minnesota. Jeff and Zoë were among the very first cookbook authors to support their readers with personal responses on their website, BreadIn5.com, beginning in 2007, where they blog about their super-fast yeast breads.