Iced Coconut Buns
A sweet bread dough filled with toasted coconut and topped with a powdered sugar icing. Perfect for brunch or breakfast!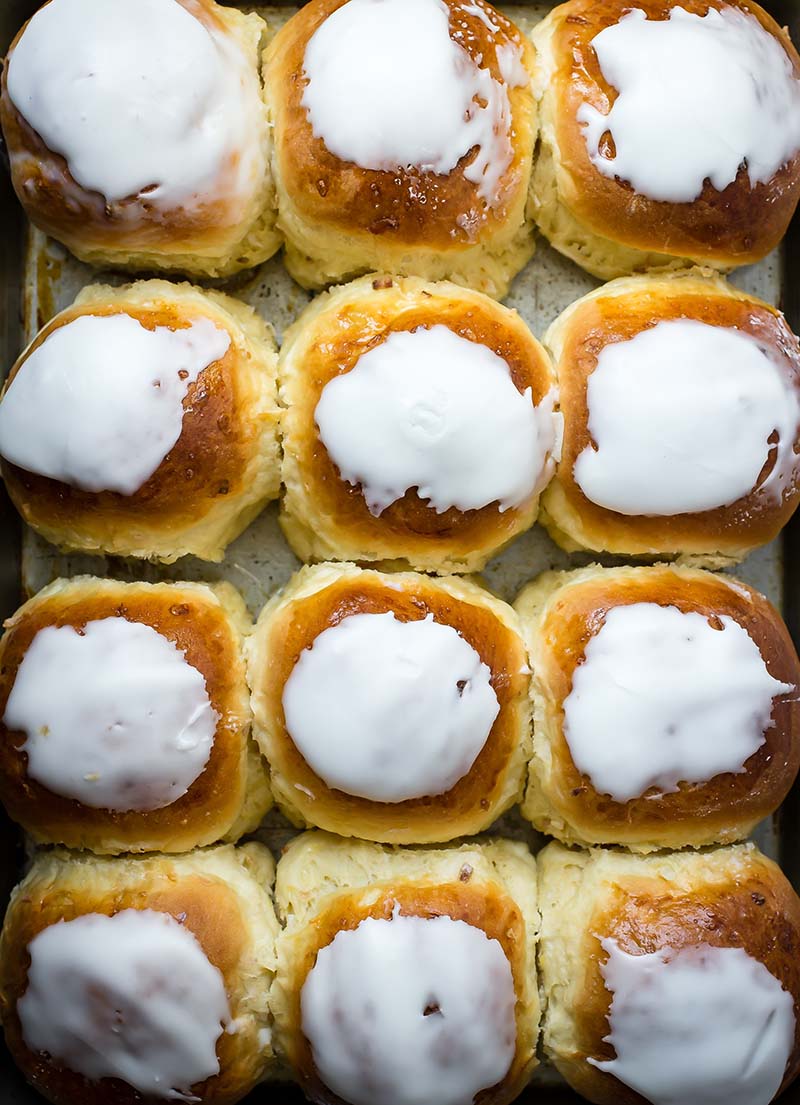 Ingredients
For the dough:
1 cup warm water (110-115°F)
3½ tsp (about 1½ packages) RED STAR Quick·Rise Yeast
3 Tbsp sugar
2 large eggs
2½ cups all-purpose flour, divided, plus more for dusting the work surface
3 Tbsp olive oil
¼ tsp salt
½ cup toasted coconut flakes
For the icing:
2¼ cups plus 2 Tbsp powdered sugar
3 Tbsp water
Instructions
In a medium sized bowl, dissolve the yeast with the warm water. Add the sugar and one of the eggs and whisk to combine. Mix in 1½ cups of flour until the batter is smooth and sticky.


Cover with a towel and let it rest for 30 minutes.


After 30 minutes add the oil and salt. Mix well with a spatula. Add the coconut and remaining 1 cup of flour to the batter and mix until the dough starts to come together.


Transfer dough onto a clean work surface which has been dusted with more flour.


The dough will be sticky, but start to fold it over on itself and kneading it at the same time. Add more flour if it becomes too sticky.


When the dough is smooth and elastic and a round ball forms, put it back into the bowl it was mixed in (spray bowl with non-stick spray) and cover for 35-40 minutes. (*see note)


Punch down dough and transfer to clean surface.


Divide the dough into 12 even-sized pieces (about 2 oz each).


Roll the dough pieces into small buns and place close together on a greased 9x13-inch baking tray in a 3 x 4 pattern.


Cover with the towel and let rise for about 20 minutes.


Preheat the oven to 375°F.


After the rolls have risen, gently glaze them with the remaining egg (lightly beaten), using a pastry brush.


Place rolls in the oven and bake for 20 minutes, or until golden brown. Cool in pan on wire rack.


Make the icing: Add the powdered sugar to a bowl and mix in the water using a whisk. The icing will seem thick but keep whisking until it becomes smooth and lump free.


Once the buns are cool, dip each one into the icing and letting the excess pour off. Transfer back to the baking pan until every bun has been iced.


Recipe created by Foodness Gracious.
Notes
*If you prefer to start making these the night before, after placing dough in greased bowl, cover with plastic wrap and store in the refrigerator overnight. The next day, set covered bowl on counter for about an hour. Continue with next step.