Honey Swirled Coffee Cake
Warm, fluffy cinnamon roll dough is filled with honey, walnuts, and raisins, then layered into a pan creates a gorgeous swirl coffee cake with a sweet surprise in every bite.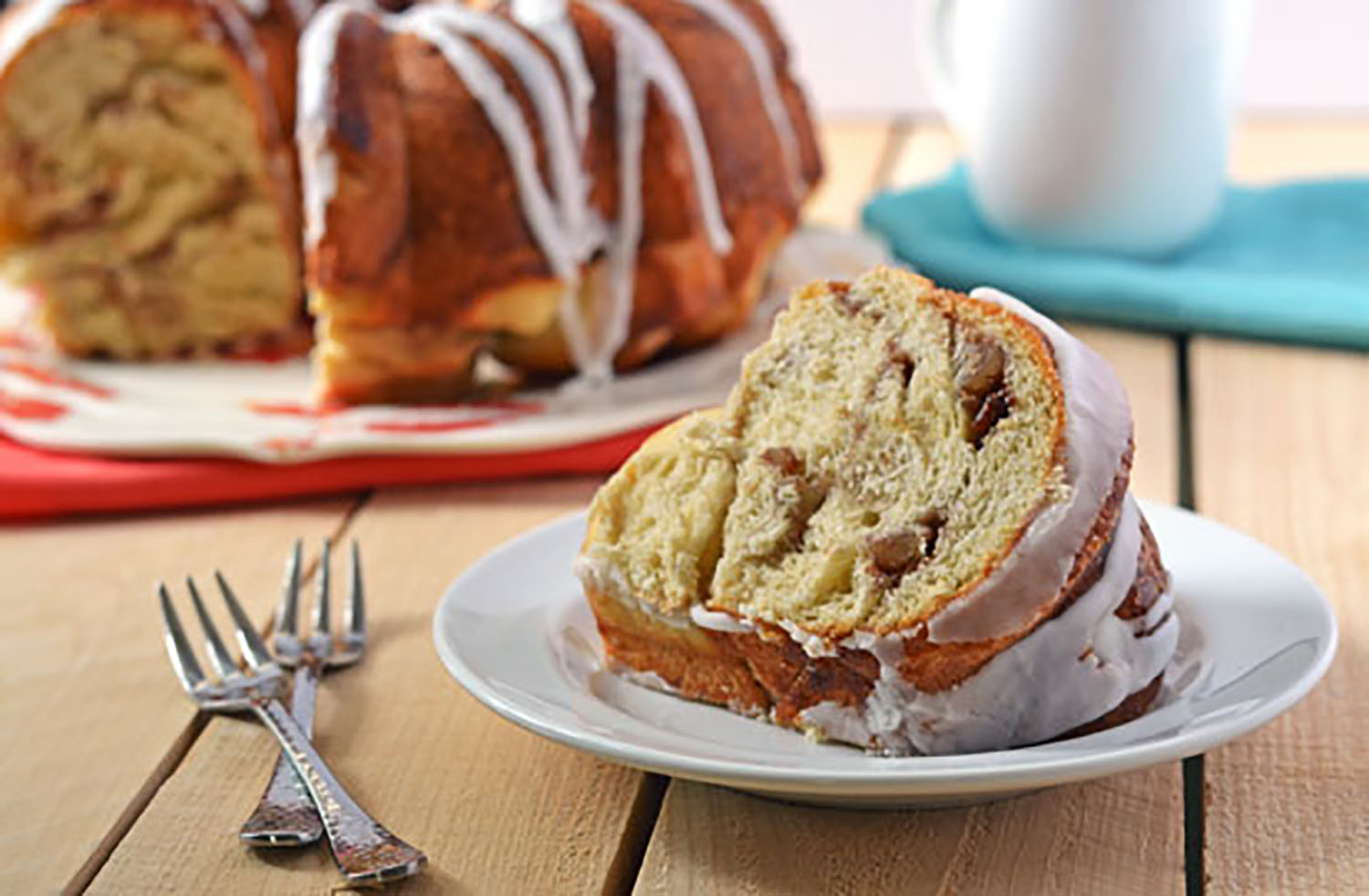 Yield:
One 10-inch bundt cake, serves 8-10
Ingredients
For the dough:
3½ to 4 cups bread flour
2 (0.25oz each) packages (14g) or 2¼ tsp Platinum Yeast
¼ cup sugar
1 tsp salt
½ cup buttermilk
½ cup water
¼ cup shortening
2 eggs
For the filling:
⅓ cup honey
¼ cup chopped walnuts or pecans
¼ cup raisins
1 Tbsp frozen orange juice concentrate, thawed, undiluted
¾ tsp cinnamon
1 Tbsp butter or margarine, softened
For the glaze:
1 cup sifted powdered sugar
1 tsp softened butter or margarine
1 to 2 Tbsp hot water or milk
Instructions
In large mixer bowl, combine 1½ cups flour, yeast, sugar and salt; mix well. In saucepan, heat buttermilk, water and shortening until warm (120°-130°F; shortening does not need to melt). Add to flour mixture. Add eggs. Blend at low speed until moistened; beat 3 minutes at medium speed. By hand, gradually stir in enough of the remaining flour to make a soft dough. Knead on lightly floured surface until smooth and elastic, 5 to 8 minutes. Place dough in lightly oiled bowl and turn to grease top. Cover; let rise until dough tests ripe.


Prepare Filling: Combine honey, nuts, raisins, juice concentrate and cinnamon; mix well. Set aside.


Punch down dough. Divide into 2 parts. On lightly floured surface, roll each half to a 12- inch square; spread with half the softened butter, then half the Filling. Roll up tightly, starting with the side nearest you; pinch edges to seal. Cut into 1-inch slices. Place slices horizontally in 4 layers in generously greased Bundt® or tubed cake pan, allowing 6 slices per layer. Alternate position of slices in each layer. Cover; let rise in warm place until indentation remains after lightly touching, about 45-60 minutes. Bake in preheated 350°F oven for 35 to 40 minutes until golden brown. Tent with foil after 20 minutes of baking to prevent over-browning. Invert immediately onto cooling rack.


Prepare Glaze: In a small bowl, combine powdered sugar, butter, and 1 tablespoon milk. Blend until smooth, adding additional milk as needed until your desired consistency is reached. Drizzle over cake and serve warm.


You can substitute Instant (fast-rising) yeast for Active Dry Yeast. Traditional methods- replace 1:1. Expect your dough to rise faster; always let your dough rise until 'ripe'. Bread Machines- use ½ tsp Instant yeast (or ¾ tsp Active Dry yeast) per cup of flour in your recipe. Visit our Lessons in Yeast & Baking for more information.