Honey Pear Loaf
The perfect sweet finish to an autumnal evening, this pear-packed honeyed loaf has a decadent, fluffy texture.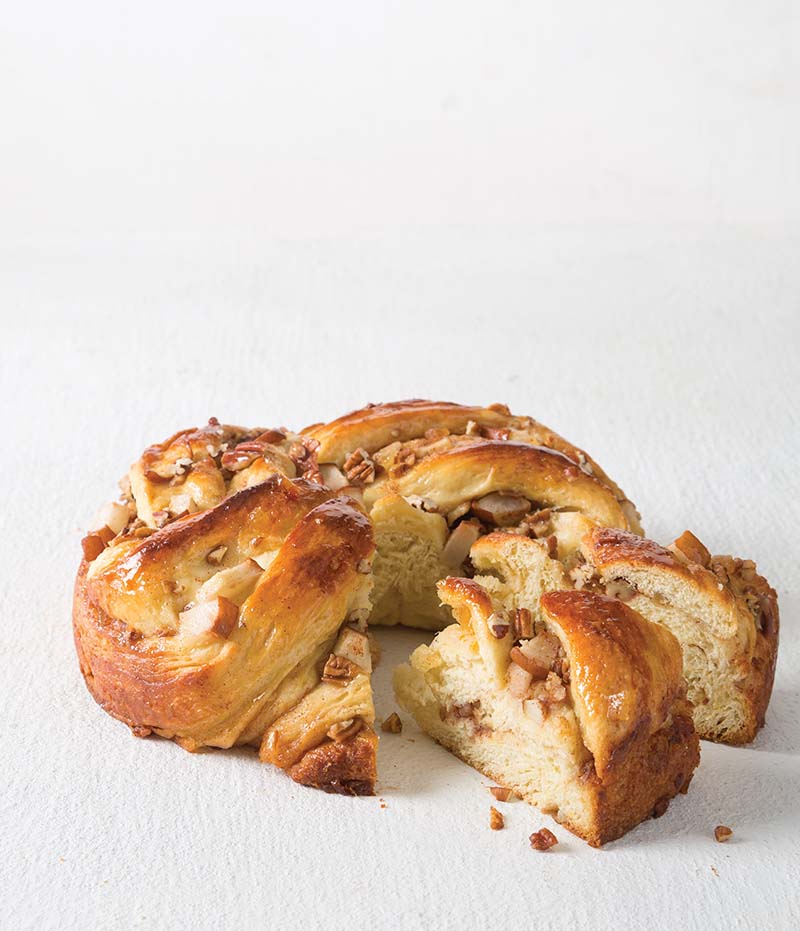 Ingredients
For the Dough:
2¾ cups (344 grams) all-purpose flour
1 (0.25-ounce) package (7 grams) Platinum Yeast
1¾ teaspoons (5.25 grams) kosher salt
1⁄3 cup plus 1 tablespoon (95 grams) warm whole milk (120°F/49°C to 130°F/54°C)
2 large eggs (100 grams), room temperature
2 tablespoons (42 grams) clover honey
1 teaspoon (5 grams) tightly packed orange zest
6 tablespoons (84 grams) unsalted butter, softened
For the Filling:
1⁄4 cup (50 grams) granulated sugar
1 teaspoon (2 grams) ground cinnamon
1⁄2 teaspoon (1 gram) ground ginger
3 large firm ripe Bosc pears (726 grams)
1⁄3 cup (76 grams) unsalted butter, room temperature*
1⁄4 cup (85 grams) clover honey
1⁄3 cup (38 grams) finely chopped toasted pecans
2 tablespoons (24 grams) packed finely chopped candied ginger
1 large egg (50 grams), lightly beaten
Turbinado sugar, for sprinkling
Instructions
Step 1. For dough: In the bowl of a stand mixer fitted with the paddle attachment, beat flour, yeast, and salt at low speed until combined, about 30 seconds. Add warm milk, and beat at low speed just until combined. (Mixture will be shaggy.) Add eggs, honey, and orange zest; beat until combined, about 1 minute, stopping to scrape sides of bowl.


Step 2. Switch to the dough hook attachment. Beat at low speed until smooth and elastic, 6 to 8 minutes. Add softened butter,1 tablespoon (14 grams) at a time, beating until combined after each addition, 6 to 8 minutes total, stopping to scrape sides of bowl and dough hook. (Dough may look slightly broken during this process but will come together later.) Increase mixer speed to medium-low; beat until a smooth, elastic dough forms, about 6 minutes, stopping to scrape dough hook. Turn out dough onto a clean surface, and knead 4 to 5 times. Shape dough into a smooth round.


Step 3. Spray a large bowl with cooking spray. Place dough in bowl, turning to grease top. Cover and let rise in a warm, draft-free place (75°F/24°C) until doubled in size, 40 minutes to 1 hour.


Step 4. Spray a 9-inch springform pan with baking spray with flour; line bottom of pan with parchment paper.


Step 5. Punch down dough; let stand for 5 minutes. On a lightly floured surface, roll dough into a 16x14-inch rectangle.


Step 6. For filling: In a small bowl, stir together granulated sugar, cinnamon, and ground ginger.


Step 7. Chop 1 to 2 pears into ⅛-inch pieces (1/2 cup [80 grams]). Chop remaining pears into 1⁄2- to 3⁄4-inch pieces (1/3 cup [56 grams]).


Step 8. In another small bowl, stir together room temperature butter and honey until well combined; reserve 3 tablespoons (46 grams) honey butter in a small microwave-safe bowl. Using a small offset spatula, spread remaining butter mixture evenly onto dough rectangle, leaving a 1⁄2-inch border on one long side. Top with sugar mixture; sprinkle with 1⁄8-inch- chopped pears, pecans, and candied ginger. Starting with long side opposite border, roll dough into a log, pinching seam to seal. Gently shape log to 16 inches and even thickness, if necessary. Using a very sharp knife or a metal bench scraper, cut log in half lengthwise. Place halves, cut sides up, in an "X" shape. Twist dough halves together tightly, keeping cut sides up; pinch ends together. (This will be slightly messy but worth it.) Starting at one end, shape dough around itself to form a spiral, tucking end under; carefully place in prepared pan. Tuck 1⁄2- to 3⁄4-inch-chopped pears into spiral as desired. Cover and let rise in a warm, draft- free place (75°F/24°C) until doubled in size and dough holds an indent when poked, 25 to 35 minutes.


Step 9. Preheat oven to 350°F (180°C).


Step 10. Gently brush dough with beaten egg; sprinkle with turbinado sugar.


Step 11. Bake until golden brown and an instant- read thermometer inserted in center registers 190°F (88°C), 35 to 40 minutes, rotating pan halfway through baking and loosely covering with foil to prevent excess browning, if necessary. Let cool in pan for 5 minutes; remove sides of pan.


Step 12. Heat reserved honey butter on high in 10-second intervals, stirring between each, until melted; brush onto bread. Serve warm, or let cool completely on base on a wire rack.


Recipe featured in Bake From Scratch Sep/Oct 2020 magazine.
Notes
*Unlike softened butter, room temperature butter should provide no resistance when pressed with a finger. At this point, the butter is softened enough to easily mix with the honey in this recipe.