Homemade Cinnamon Raisin Swirl Bread
This simple recipe for homemade cinnamon swirl bread is a family favorite. It's soft and tender with the most unbelievably gooey cinnamon swirl inside!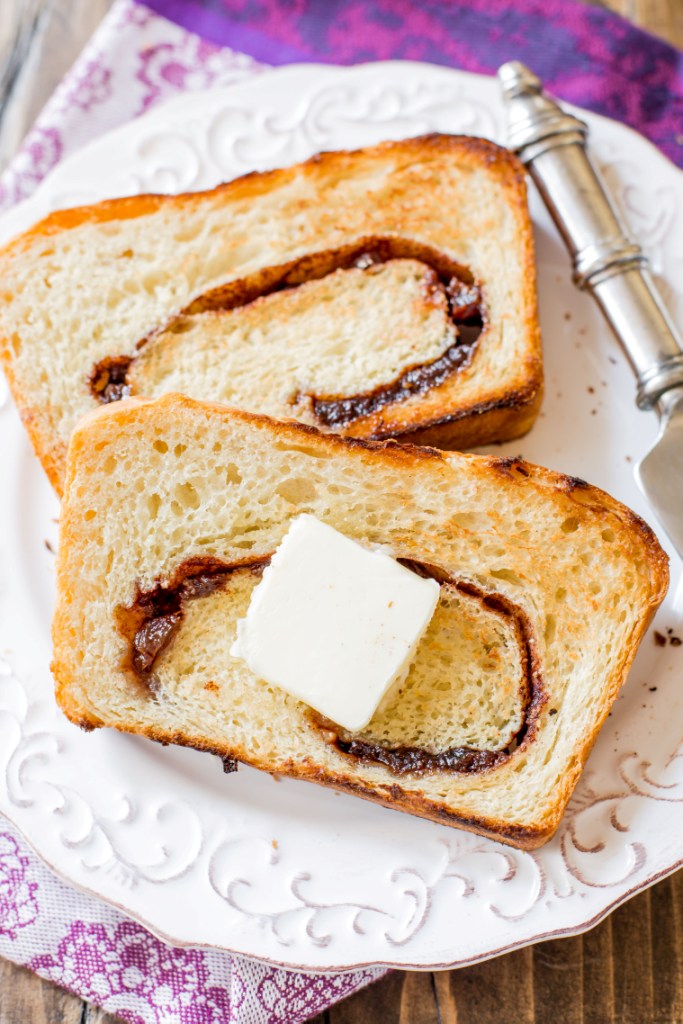 Ingredients
½ cup (120ml) water
½ cup (120ml) whole milk*
½ cup (100g) granulated sugar, divided
2 and ¼ teaspoons (1 standard package) Red Star Platinum Yeast
5 Tablespoons (72g) butter, softened to room temperature
3 cups (390g) bread flour (plus more for your hands and work surface)**
1 teaspoon salt
2 teaspoons ground cinnamon
½ cup (75g) raisins (optional)
Instructions
Recipe created by Sally's Baking Addiction.


(1) Grease a large bowl with butter or spray with nonstick spray. Set aside.


(2) Combine the water and milk together in a medium heat-proof bowl and microwave for 20 seconds. You want it slightly warm but not hot (110-115°F). Then, whisk them with ¼ cup sugar and yeast in the bowl of a stand mixer fitted with a hook attachment***. Let stand for 5 minutes or until slightly frothy. Add 4 Tablesooons butter and beat with the hook attachment on low speed for 1 minute until the butter is slightly broken up. Add 2 and ½ cups bread flour and the salt. Mix on medium-low speed, then add enough flour (typically around ½ cup) to make a soft dough that no longer sticks to the sides of the bowl. Then knead the dough with the mixer on medium speed for 5 minutes until the dough is smooth but still slightly soft. On a lightly floured surface with floured hands, smooth into a ball. Place into prepared greased bowl and turn to coat all sides. Cover tightly with plastic wrap or aluminum foil and place in a warm spot to rise until doubled in size-- around 1½ - 2 hours.


(3) Grease a 9x5-inch loaf pan with butter or spray with nonstick spray. In a small bowl, toss remaining ¼ cup sugar, the cinnamon, and raisins together. Set aside.


(4) Punch down the dough and turn out onto a floured work surface. Lightly flour your rolling pin and roll the dough into a 9-inch square. Sprinkle the cinnamon/sugar mixture on top, leaving a 1-inch border around the sides. Roll the dough up very tightly into a log. Pinch the edges to seal the seams. Then, place into prepared loaf pan, bottom seam side down. Cover loosely and allow to rise in a warm environment once again-- until the dough rises to the top of the pan, about 45 minutes - 1 hour.


(5) Preheat oven to 350°F (177°C). Melt the remaining 1 Tablespoon of butter and gently brush on top of the loaf. Bake until the top of the loaf is golden brown and, when gently tapped, the top of the loaf sounds hollow-- about 35-45 minutes. Transfer to a wire rack and allow to cool in the pan for 10 minutes. Then use a spatula to help loosen the bread from the pan and allow it to cool completely on the wire rack before slicing and serving.


(6) Make ahead tip: Cover the bread tightly and store at room temperature for up to 5 days or in the refrigerator for up to 7 days. Freeze the bread for up to 2 months. Thaw overnight in the refrigerator. This is not an overnight dough and should not rise for longer than the periods listed.
Notes
* Whole milk is preferred. 2% is OK. Any other milk is not recommended.

** Higher protein flour like bread flour is required for this bread recipe because of its strong gluten formation and high rise. Using all-purpose will yield a flimsy bread with gaps between the layers of swirl.

*** If you do not have a stand mixer fitted with a hook attachment, you can mix the ingredients together with a wooden spoon or rubber spatula, then knead the dough by hand for 6-8 minutes.