Homemade Ciabatta
This high hydration dough is made using a folding technique to create the open crumb structure and big air pockets you expect in light, airy ciabatta. This recipe yields one large loaf that's perfect for sharing. You can even use it to make family-style sandwiches. Watch video below for folding & shaping tips.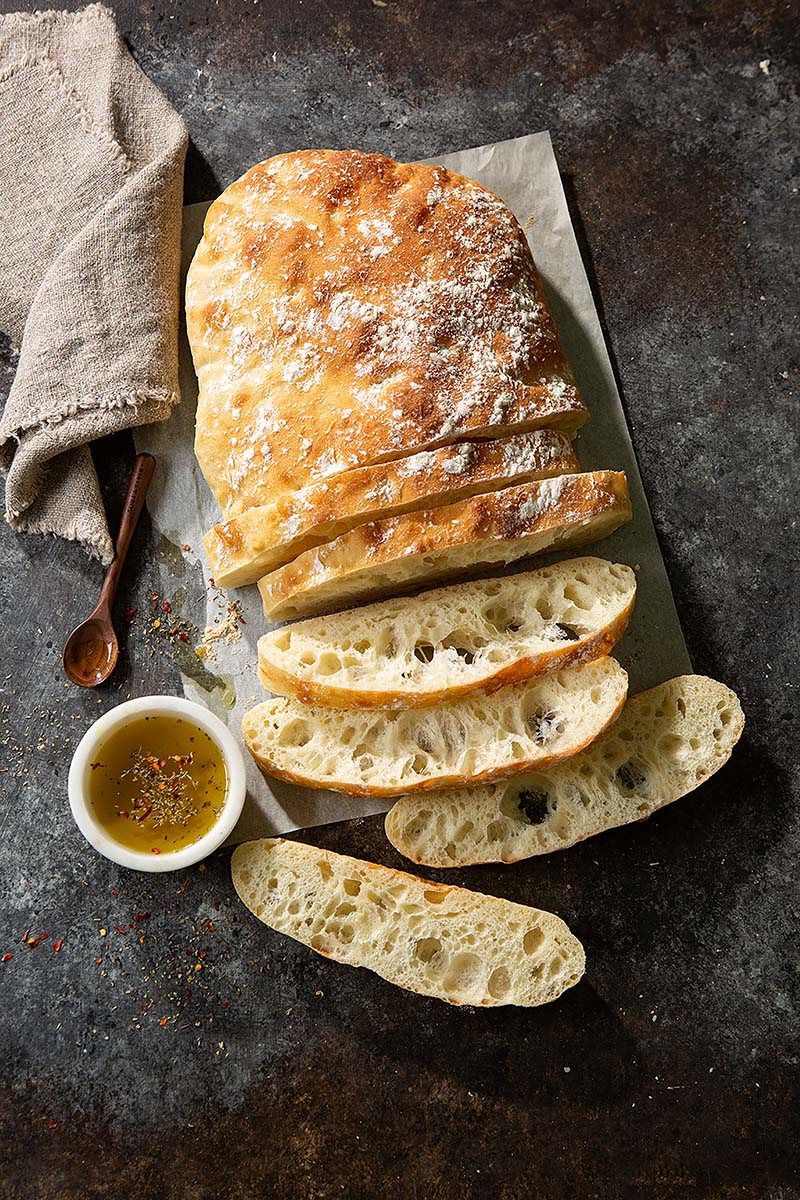 Ingredients
For the poolish:
1½ cups (191 grams) bread flour
¾ cup plus 1 tablespoon (195 grams) room temperature water (70°F/21°C to 75°F/24°C)
⅛ teaspoon Platinum Yeast
For the dough:
1 cup (240 grams) cool water (60°F/15°C to 65°F/18°C)
2 tablespoons (28 grams) extra-virgin olive oil
3 cups (381 grams) bread flour
1 tablespoon (9 grams) kosher salt
2⅛ teaspoons (6.5 grams) Platinum Yeast* (remainder of packet)
Instructions
Step 1. For poolish: In a medium bowl, stir together flour, ¾ cup plus 1 tablespoon (195 grams) room temperature water, and yeast until flour is completely moistened. Cover with plastic wrap, and let stand at room temperature for 8 to 12 hours.


Step 2. For dough: In the bowl of a stand mixer fitted with the paddle attachment, place poolish. Add 1 cup (240 grams) cool water and oil. Add flour, salt, and yeast, and beat at low speed for 4 minutes. Scrape down sides of bowl. Increase mixer speed to medium, and beat until dough pulls away from sides of bowl and forms a ball on paddle, 2 to 3 minutes. (To test if dough is ready, perform a windowpane test; see Notes.)


Step 3. Oil a large bowl. Place dough in prepared bowl. Cover with plastic wrap, and let rise in a warm, draft-free place (75°F/24°C) for 1½ hours, folding dough in bowl every 30 minutes. (To fold, use floured hands to reach under one side of dough; gently stretch up, and fold over center. Repeat 3 more times around bowl. See Notes.) Watch video below for folding tips.


Step 4. Line a rimmed baking sheet with parchment paper; dust with flour.


Step 5. On a heavily floured surface, turn out dough (use bowl scraper to help to keep dough from tearing and losing air pockets). Flour hands; using your fingertips, gently stretch dough into a 15x8½-inch rectangle, re-flouring hands as needed. Lift dough with two hands, and place on prepared pan. Using your fingertips, dimple surface of dough. Dust top generously with flour. Cover and let rise in a warm, draft-free place (75°F/24°C) until almost doubled in size, about 1 hour.


Step 6. Preheat oven to 425°F (220°C).


Step 7. Bake until golden and an instant-read thermometer inserted in center registers 205°F (96°C), 12 to 15 minutes. Let cool on pan for 10 minutes. Remove from pan, and let cool completely on a wire rack.
Notes
*For this recipe, 1 (0.25-ounce) package (7 grams) Platinum Yeast is used.

Test the dough for proper gluten development using the windowpane test. Pinch off (don't tear) a small piece of dough. Slowly pull the dough out from the center. If the dough is ready, you will be able to stretch it until it's thin and translucent like a windowpane. If the dough tears, it's not quite ready. Beat for 1 minute, and test again.

Make sure dough is not stuck to bowl before trying to stretch. Use your fingertips or bowl scraper to loosen dough from the sides of the bowl.
How to Fold & Shape Ciabatta video tutorial