Homemade Breakfast Pastries with Shortcut Homemade Dough

Author: Sally McKenney Quinn
Fruit or cheese-filled Danish pastries are a true breakfast treat. But did you know you can make them at home using a simplified Danish pastry dough?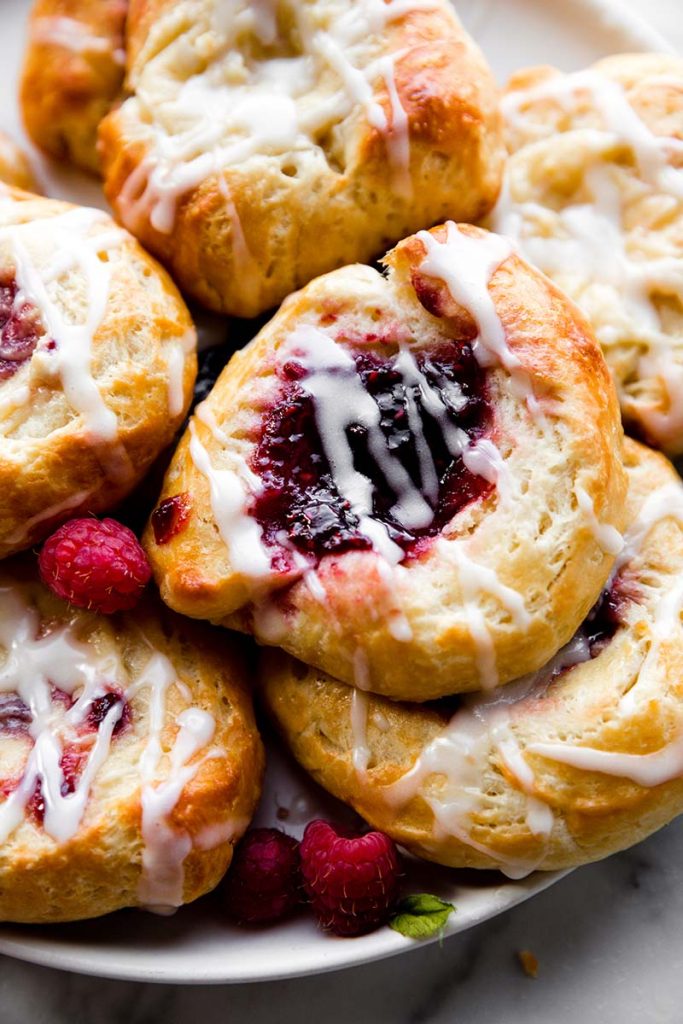 Breakfast Pastries Video Tutorial
Before I teach you how to make them, let me explain this pastry dough variation. This is not the traditional method of making real Danishes where the dough is laminated between layers of butter. Instead we're using a food processor to work the butter directly into the dough. We're still rolling out and folding the dough, just as you do when you laminate dough with butter, but we're not folding it up with a separate layer of butter.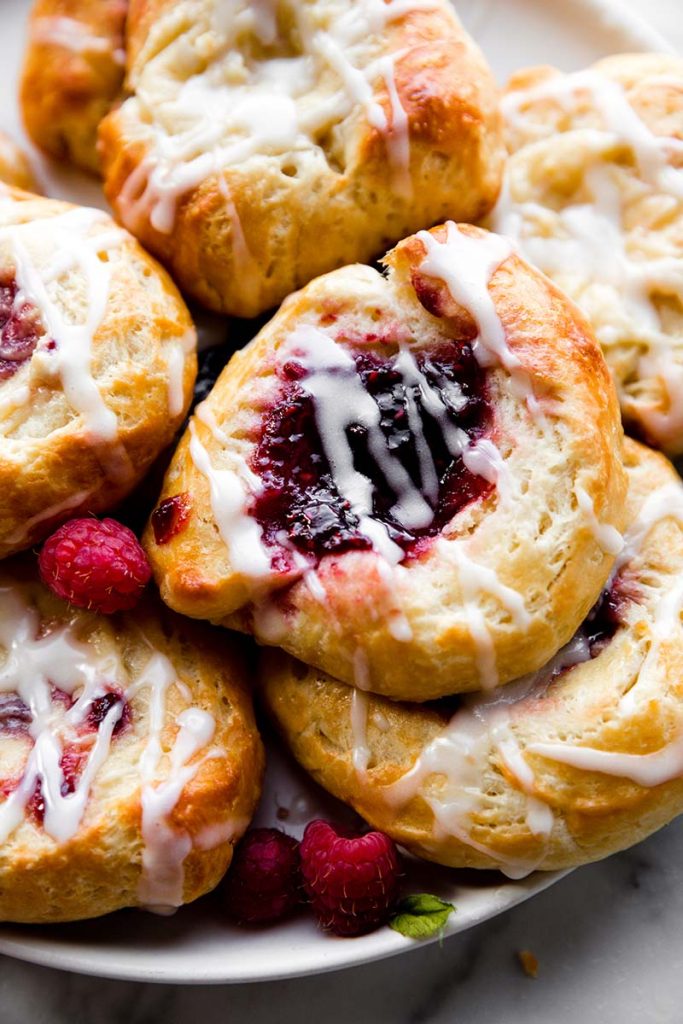 I use the term "shortcut" loosely as this dough still takes at least 5-6 hours with 2 rounds of refrigeration. But the pastries are just as buttery and flaky as the real thing!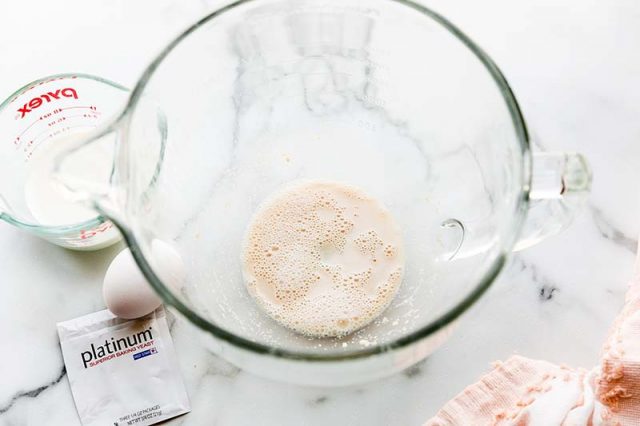 For the best tasting pastries, use a quality yeast. I recommend Platinum Yeast from Red Star, which is an instant yeast that is blended with natural dough improvers. And while you're working, have extra flour on hand for the rolling and folding step. The dough is pretty sticky, so you'll use a lot of it!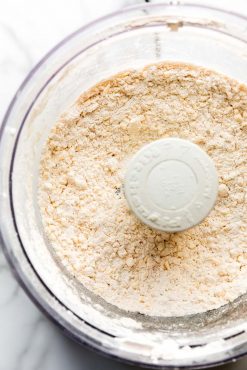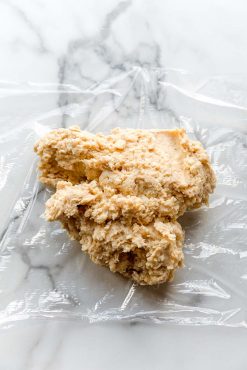 Breakfast pastries like this aren't complete without a filling. My favorite fillings are raspberry jam, lemon curd, a sweet cream cheese filling, or even apple butter or pumpkin butter. See recipe notes for options.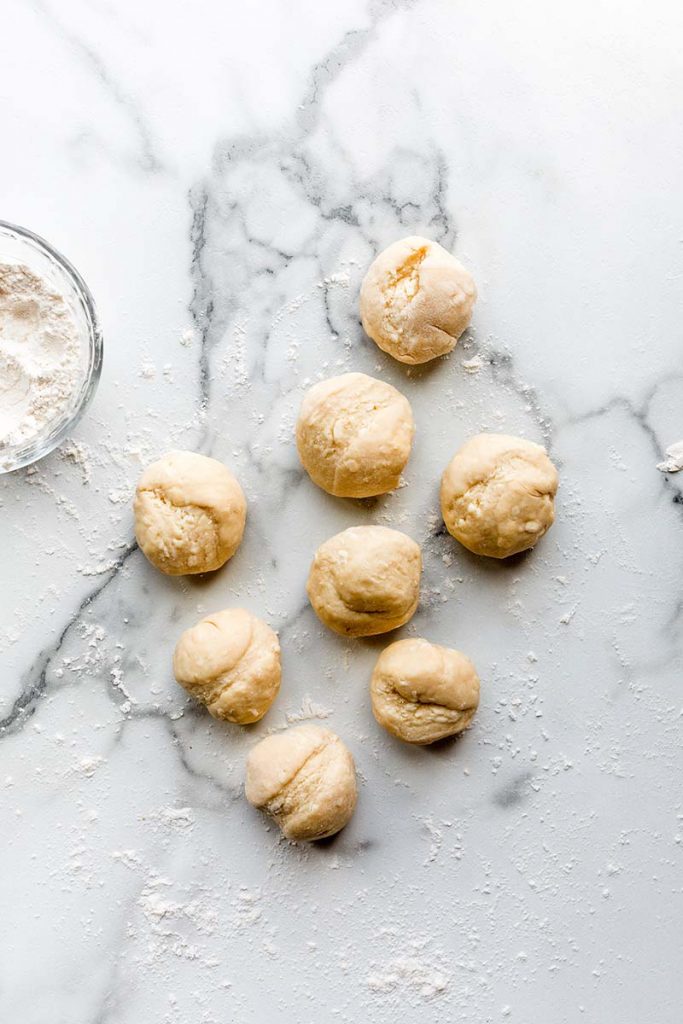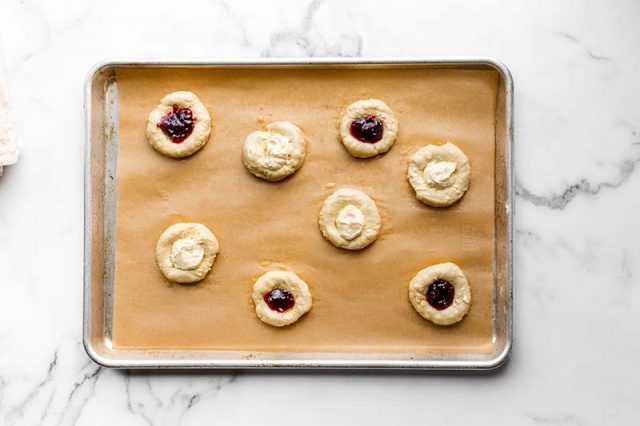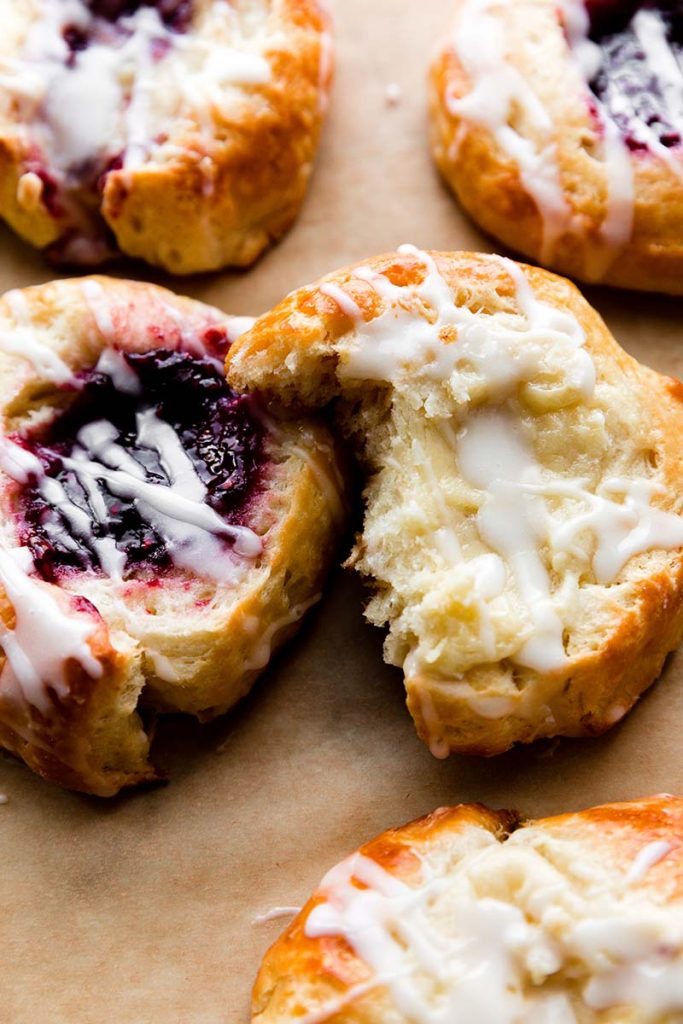 Homemade Breakfast Pastries
These homemade breakfast pastries use a variation of classic Danish pastry dough. We're working the butter directly into the dough, which is a different method from laminating it with separate layers of butter. Make sure the butter is very cold before beginning. This recipe yields 2 pounds of dough.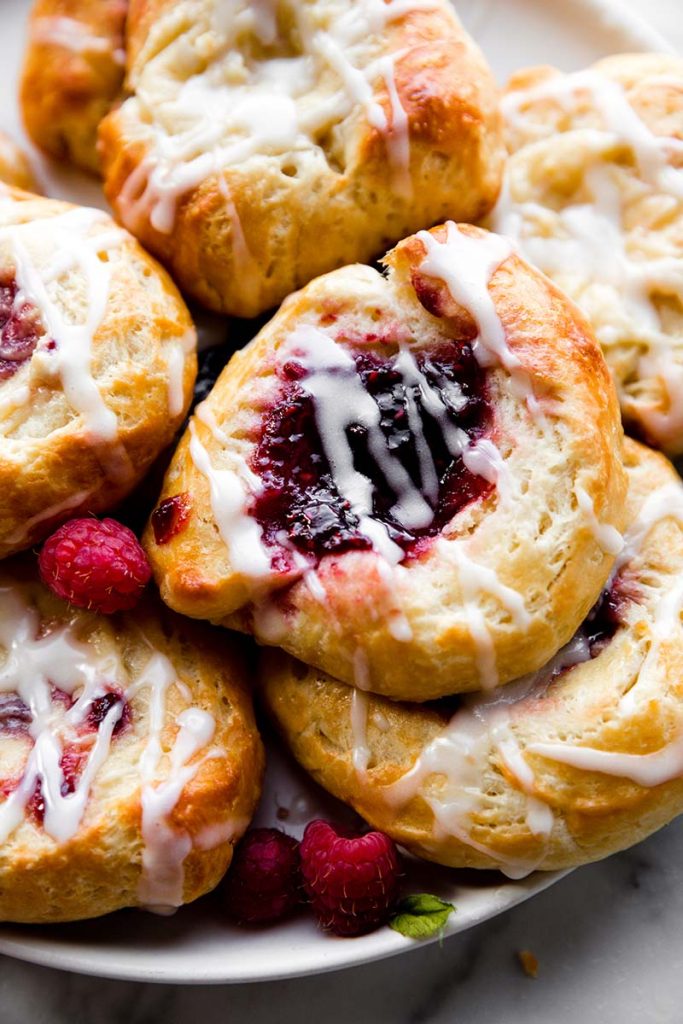 Yield:
16 breakfast pastries
Ingredients
For the pastry dough:
¼ cup warm water (between 100-110°F)
One ¼-oz. package (2¼ tsp) Platinum Yeast
¼ cup granulated sugar
½ cup whole milk, at room temperature (between 68–72°F)
1 large egg, at room temperature
1 teaspoon salt
14 Tablespoons unsalted butter, cold
2 and ½ cups all-purpose flour, plus more for generously flouring hands, surface, and dough
For the filling:
⅔ cup filling (see recipe notes for options & cheese filling)
For the egg wash:
1 large egg
2 Tablespoons milk
For the vanilla icing (optional)
1 cup confectioners' sugar
2 Tablespoons milk or heavy cream
1 teaspoon pure vanilla extract
Instructions
Step 1. Make the Pastry Dough: Whisk the water, yeast, and 1 Tablespoon sugar together in a large bowl. Cover and allow to rest until foamy on top, about 5 minutes. Whisk in remaining sugar, the milk, egg, and salt. Once these wet ingredients are mixed together, lightly cover and set the bowl aside as you work on the next step.


Step 2. Cut the cold butter into ¼ inch slices and add to a food processor or blender. Top with 2 and ½ cups flour. Pulse the mixture 12-15 times, until butter is crumbled into pea-size bits.


Step 3. Pour the flour mixture into the wet yeast mixture. Very gently fold everything together using a rubber spatula or wooden spoon. Fold just until the dry ingredients are moistened. Turn the sticky dough out onto a large piece of plastic wrap, parchment paper, aluminum foil, or into any container you can tightly cover.


Step 4. 1st Refrigeration: Wrap the dough/cover up tightly and refrigerate for at least 4 hours and up to 48 hours.


Step 5. Roll & Fold: Take the dough out of the refrigerator. Very generously flour a work surface. The dough is very sticky, so make sure you have more flour nearby as you roll and fold. Using the palm of your hands, gently flatten the dough into a small square. Using a rolling pin, roll out into a 15x8-inch rectangle. When needed, flour the work surface and dough as you are rolling. Fold the dough into thirds as if it were a business letter. Turn it clockwise and roll it out into a 15-inch long rectangle again. Then, fold into thirds again. Turn it clockwise. Repeat rolling and folding 1 more time for a total of 3 times.


Step 6. 2nd Refrigeration: Wrap up/seal tightly and refrigerate for at least 1 hour and up to 24 hours.


Step 7. Line two large rimmed baking sheets with parchment paper or silicone baking mats.


Step 8. Take the dough out of the refrigerator and cut it in half. Wrap 1 half up and keep refrigerated as you work with the first half.


Step 9. Shape into rounds: Cut the first half of dough into 8 even pieces. This will be about ¼ cup of dough per pastry. Roll each into balls. Flatten each into a 2.5 inch circle. Use your fingers to create a lip around the edges. Press the center down to flatten the center as much as you can so you can fit the filling inside. (Center puffs up as it bakes.) Arrange pastries 3 inches apart on a lined baking sheet. Repeat with second half of dough.


Step 10. Spoon 2 teaspoons of fruity filling or 1 Tablespoon of cheese filling inside each.


Step 11. Egg Wash: Whisk the egg wash ingredients together. Brush on the edges of each shaped pastry.


Step 12. Chill the shaped pastries in the refrigerator, covered or uncovered, for at least 15 minutes and up to 1 hour.


Step 13. Preheat oven to 400°F (204°C).


Step 14. Bake for 19-22 minutes or until golden brown around the edges. Some butter may leak from the dough, that's completely normal and expected.


Step 15. Remove baked pastries from the oven. Cool for at least 5 minutes before icing/serving.


Step 16. Make the icing: Whisk the icing ingredients together. If you want a thicker icing, whisk in more confectioners' sugar. If you want a thinner icing, whisk in more milk or cream. Drizzle over warm pastries and serve.


Fruity Fillings: You need around ⅔ cup of filling for the entire recipe (16 pastries). Use jam or fruit preserves, pumpkin butter, apple butter, lemon curd, cherry pie filling, etc. You need 2 heaping teaspoons per pastry. Feel free to mix and match, making different flavors in your batch.


Cheese Filling: Using a handheld or stand mixer fitted with a paddle attachment on medium speed, beat one 8 ounce block of full-fat cream cheese that is softened at room temperature in a medium bowl until smooth. Beat in 1 large egg yolk, ⅓ cup granulated sugar, ½ teaspoon fresh lemon juice, and ½ teaspoon pure vanilla extract until smooth. Use 1 scant Tablespoon per pastry.
---
Baking enthusiast Sally McKenney Quinn is the blogger and photographer behind Sally's Baking Addiction, as well as the author of best-selling cookbooks Sally's Baking Addiction and Sally's Candy Addiction. The kitchen is where her creative juices flow and she enjoys sharing recipes with her millions of fans around the world. When Sally isn't in the kitchen or behind the camera, she enjoys practicing yoga, running off all those cookies, and hiking with her husband, Kevin, and their dog, Jude.