Gluten Free - Pani Popo Recipe (Polynesian Coconut Rolls)
Fluffy, soft gluten-free rolls baked in a sweet coconut milk syrup.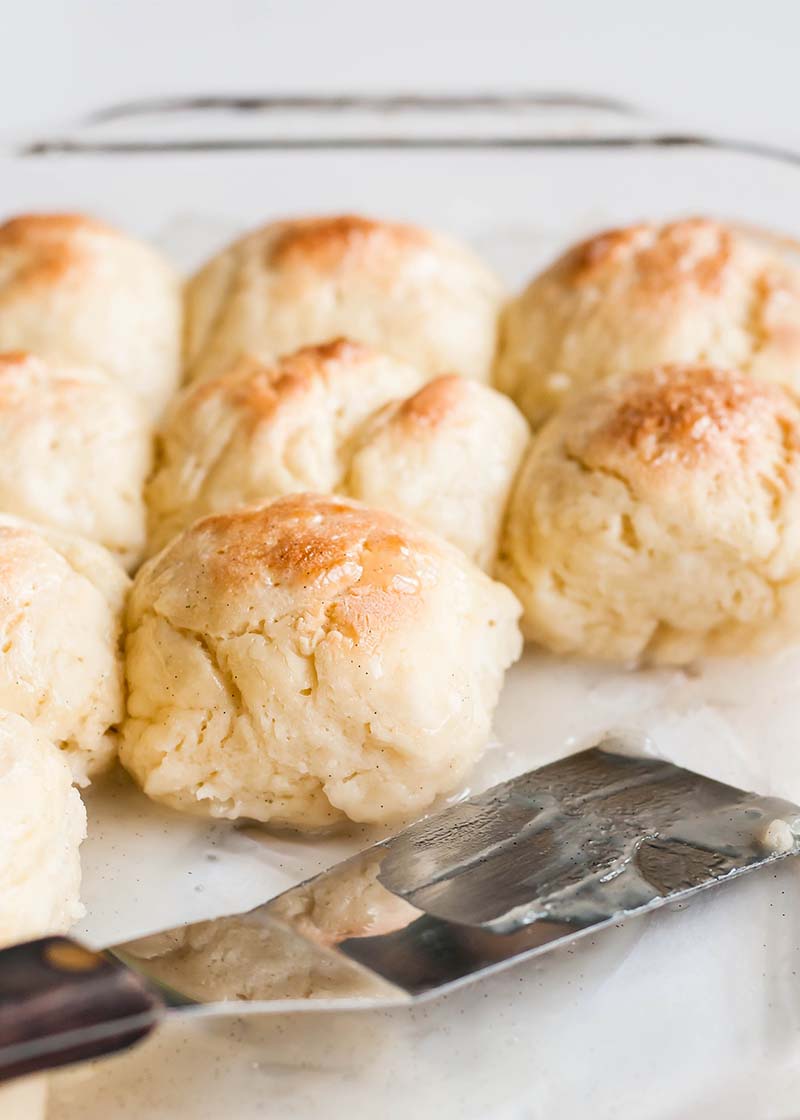 Ingredients
For the rolls:
½ cup warm tap water (110-115°F)
1 package (2¼ tsp, ¼oz, 7g) RED STAR Active Dry Yeast
1 cup coconut milk
6 Tbsp pure vegetable shortening
⅓ cup plus ¼ tsp sugar
1½ tsp sea salt
4 large eggs, lightly beaten
4 cups gluten free all-purpose flour (*see below)
Rice flour, for shaping rolls
For coconut syrup:
1¼ cups coconut milk
½ cup sugar
1½ tsp cornstarch (optional)
½ tsp vanilla paste
A generous pinch of salt
For topping (optional):
*Gluten Free Flour Blend:
1 cup (168 grams) white rice flour
1 cup (168 grams) brown rice flour
¾ cup (86 grams) potato starch
¾ cup (94 grams) tapioca starch
½ cup plus 1 Tbsp (86 grams) sticky rice flour
4 tsp (16 grams) xanthan gum
Sift together or place in a blender or food processor and pulse to blend. Store in an airtight container in the freezer. Before using shake the bag, whisk, or sift again.
Instructions
For the rolls - Dissolve yeast and ¼ teaspoon sugar in the ½ cup warm water. Stir and let stand until foamy, 5-10 minutes.


Heat the coconut milk, shortening, sugar, and salt in a small saucepan or large measuring cup in the microwave. Don't let it boil, but it should be hot enough to dissolve sugar and salt. Stir and let cool a bit.


Place the eggs in the bowl of a stand mixer fitted with the paddle attachment. Turn mixer on low and beat eggs for a few seconds. Add the warm milk mixture to the eggs in a slow, steady stream.


Add half of the gluten-free flour and mix well. Add the proofed yeast to the bowl and mix well. Scrape down the sides of the bowl, if needed. With mixer running on low, add the remaining flour. The dough will be pretty sticky, and that's fine.


Remove the bowl and paddle from the mixer. Scrape the dough off the paddle and sides of the bowl. Let stand for about 15-20 minutes in a warm place. During this time, the dough will thicken/set up a bit and start to rise.


Sprinkle a little rice flour on a clean surface. Turn dough out onto the flour and sprinkle with a little more rice flour. Pat it into a thick disk. This will help with creating evenly sized rolls. Coating your hands with a little flour each time, divide the dough into 15 evenly sized pieces. You can use a knife, but the dough is very, very sticky, so your hands are a bit easier.


Gently pat the dough and form into balls. Don't overwork the dough too much or they won't be as light and fluffy after they bake.


Grease a 9x13-inch glass baking dish. Place the rolls in five rows with three rolls in each row. Cover loosely with plastic wrap and let rise for about 45 minutes.


Meanwhile, prepare the coconut syrup. Place coconut milk, sugar, cornstarch (if using), vanilla, and pinch salt in a small saucepan. Bring to a boil and cook for 60 seconds, whisking constantly. Remove from heat and let cool until slightly warm, but not hot. Set aside.


Preheat oven to 400°F. Pour the warm syrup over the raised rolls, allowing some to drip over the top of each rolls. Place pan in oven and bake for 25-30 minutes.


To serve, let cool slightly and serve from the pan or turn them out onto a serving platter, coconut syrup side up.


Recipe created by Café Johnsonia.
Notes
Substitutions:
-regular milk can be used in place of coconut milk in the roll recipe
-butter, coconut oil, or another oil can be used in place of the vegetable shortening, though it might alter the texture a bit (the shortening does help make them very soft)
-Egg replacer is not recommended for this recipe as it would completely alter the texture of the rolls.
-Coconut cream can be used in place of the coconut milk and cornstarch. Mix the coconut cream with sugar, vanilla, and salt and gently warm before pouring over the rolls. It will thicken as the rolls bake and make a richer sauce.
-If using sweetened coconut cream, such as the Coco Lopez brand, omit the sugar from the syrup.