Everything Bundt The Bagel
A unique take on cream cheese & bagels wrapped up in a monkey bread! This is the ultimate party food!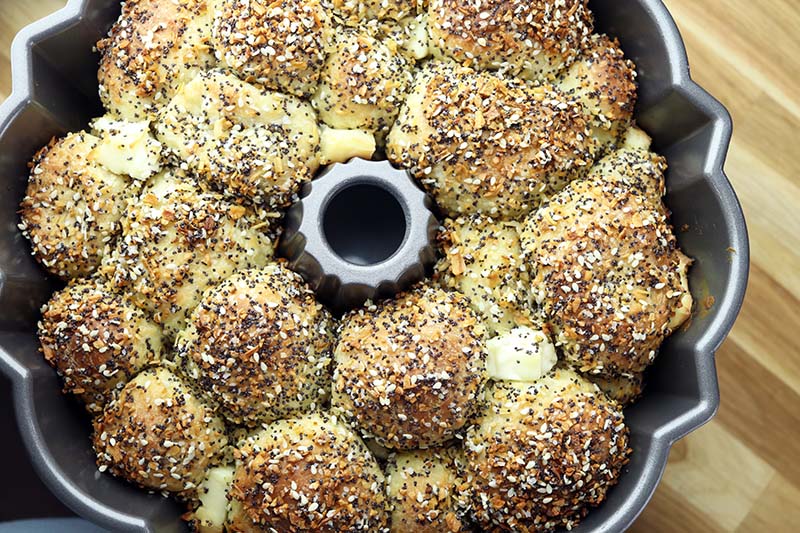 Yield:
1 monkey bread, 12 servings
Ingredients
For the dough:
1 cup warm tap water
1 package (2¼ tsp, ¼oz, 7g) RED STAR Platinum Superior Baking Yeast
2 tsp kosher salt
1 cup bread flour
3 whole eggs + 2 egg yolks
½ cup extra virgin olive oil
½ cup sugar
6 cups bread flour
For the coating:
½ cup extra virgin olive oil
1 cup Everything But the Bagel spice blend
8 oz. package of softened cream cheese, cut into ¼-inch cubes
Instructions
See recipe video below.


Stir warm water, yeast, salt and 1 cup flour together and cover. Let stand at room temperature for at least 30 minutes and up to 2 hours until the surface resembles a sponge.


Add eggs and yolks, olive oil, sugar and flour to sponge. Knead dough until it is tacky but not sticking to your hands.


Cover and let rise for 2 hours or refrigerate overnight. (to cover the dough and prevent a "skin" from forming-grease a piece of parchment or plastic wrap and lay it directly on the surface of the dough.) If refrigerating dough, let come to room temperature before proceeding.


Grease a 12-cup bundt pan with cooking spray or dip a paper towel in olive oil and rub inside the bundt pan to fully coat with oil.


Place olive oil in a shallow pan and place everything spice on small plate. Roll dough into walnut sized balls. Dip each ball into olive oil and then into everything spice. Arrange balls in bundt pan. Dot each layer with a few cubes of cream cheese. Repeat until all dough and cream cheese is added.


Cover and allow to rise at room temperature until doubled in size, about 1 hour.


Preheat oven to 350°F. Bake for 45 minutes until browned. Cool briefly on cooling rack before unmolding on a plate.


Serve with more cream cheese and lox or cream cheese and chive shmear.


Recipe in partnership with Joy of Kosher.