Double Stuffed Cinnamon Crumb Buns
Cinnamon buns meet crumb coffee cake. Fluffy whole wheat honey rolls stuffed with coffee cake crumb topping on the inside, with even more crumb topping sprinkled all over the outside. A must try for all crumb-topping lovers!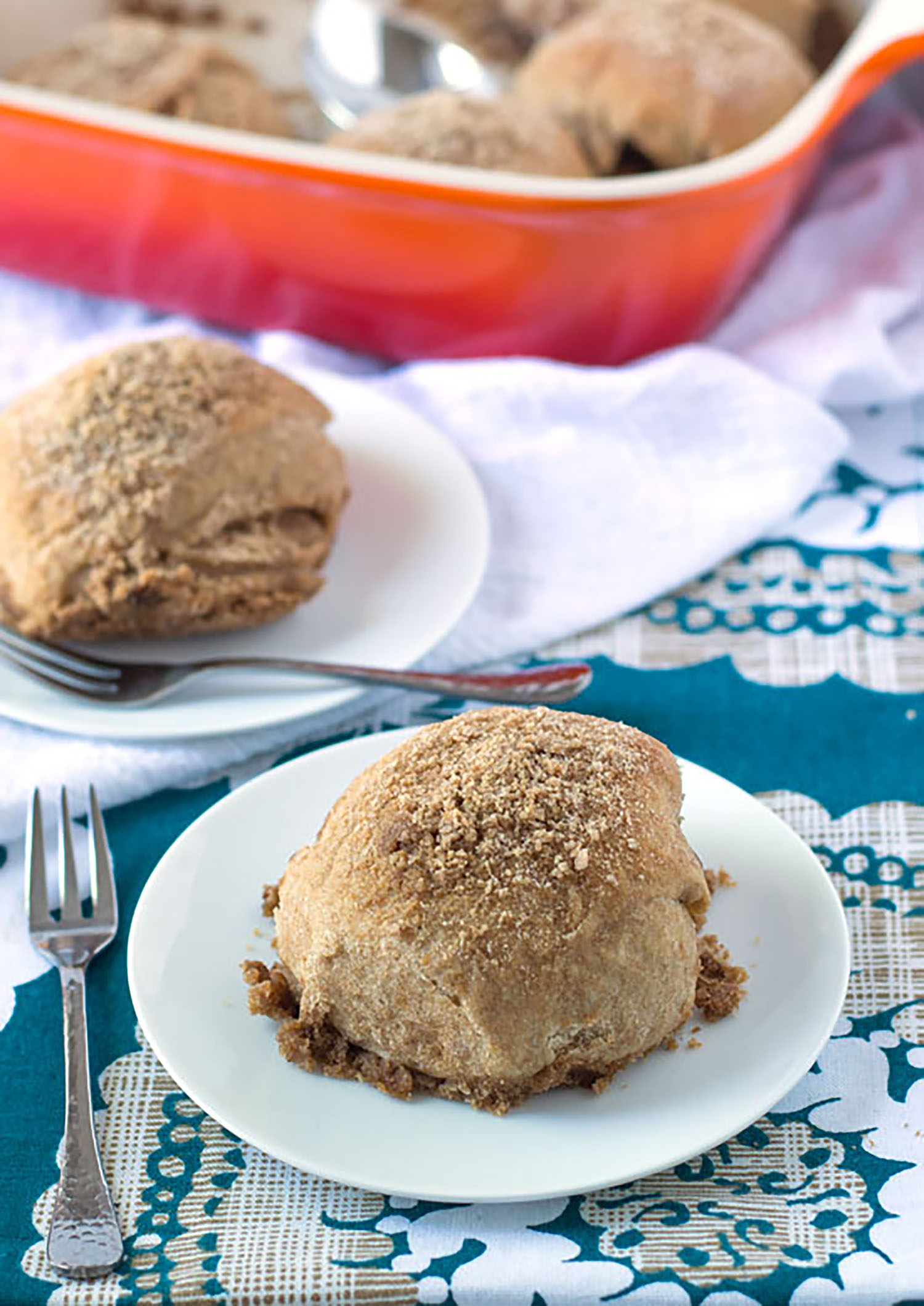 Ingredients
For the dough:
2½ cups all-purpose flour, divided, plus a few additional tablespoons as needed
1½ cups whole wheat flour (or substitute additional all-purpose flour)
1½ packages (3¼ tsp) RED STAR Platinum Superior Baking Yeast
1 tsp ground cinnamon
¾ tsp kosher salt
¼ cup unsalted butter, cut into small pieces
¼ cup honey
2 large eggs
¾ cup buttermilk
¼ cup water
For the filling and topping:
½ cup (1 stick) unsalted butter, cut into small pieces
¾ cup brown sugar (light or dark)
¾ tsp ground cinnamon
¼ tsp nutmeg
¼ tsp kosher salt
1 tsp pure vanilla extract
¾ cup all-purpose flour
¾ cup whole wheat flour (or substitute additional all-purpose flour)
2 Tbsp milk, plus additional as needed
Instructions
To prepare dough: In the bowl of a standing mixer fitted with the paddle attachment or a large mixing bowl, stir together 2 cups all-purpose flour, whole wheat flour, yeast, cinnamon, salt. Add the butter, honey, and eggs and stir briefly to roughly combine. Heat buttermilk and water to 120-130°F. If the buttermilk separates, simply whisk it back together, then add to the bowl. Mix until evenly moistened, then switch to a dough hook (or turn out onto a lightly floured surface) and knead for 6 minutes by machine or 8 minutes by hand, adding the remaining all-purpose flour 1 tablespoon at a time. Add only enough extra flour to prevent the dough from being excessively sticky (it should still be tacky.) Transfer dough to a large bowl coated with cooking spray. Turn to coat, then cover and let rise in a warm, draft free place until doubled in size, about 1 hour. Lightly grease a 9x13-inch pan and set aside.


Meanwhile, make the filling and crumb topping: In a large mixing bowl, beat together the butter, brown sugar, cinnamon, nutmeg, salt, and vanilla until thoroughly combined. Add the all-purpose flour and whole wheat flour, and mix until dry crumbs form. Do not over mix, or the crumbs will become a large mass.


To assemble the buns: Transfer the dough to a lightly oiled work surface. Divide in half. Working with one half at a time, roll the dough into an 8x10-inch rectangle. Lightly brush the dough with milk, then sprinkle ¾ cup of the crumb mixture over the dough. Take one of the long edges and fold it over the center like a letter (you will be folding the dough into thirds.) Brush the top of the folded edge with milk. Gently lift the other long edge and fold it over the first so that the edges align (again, as if you are folding a letter.) Press all four edges to seal. Repeat with second half of the dough and another ¾ cup filling.


Gently pat and stretch each length of dough until it is 12-inches long and even in diameter. Cut each piece into six 2-inch slices. Lift each slice and pinch the cut edges to seal in the filling, forming a "bun." Some topping may fall out, but simply poke what you can back in and save any excess for sprinkling. Do not worry if the buns do not completely seal.


Space the slices evenly in the prepared pan and sprinkle with remaining topping (much of the topping will fall into the pan.) Cover the pan with lightly greased plastic wrap, then place in a warm, draft free place to rise for 1 hour. (The rolls will only puff slightly.) Place a rack in the center of the oven and preheat oven to 350°F.


Bake buns until the crust and crumbs are golden and the crumbs in the bottom of the pan are bubbly, 25 to 30 minutes. Remove from oven and let cool in pan for 10 minutes. Gently lift the rolls from the pan and transfer to a rack to cool. Serve warm or at room temperature with any excess pan crumbs scraped out of the pan.


Recipe created by Well Plated by Erin.