Cream Cheese Dessert Coffee Cake
A very rich coffee cake that makes an excellent dessert! The cream cheese filling is sandwiched between a yeast-raised pastry-like dough.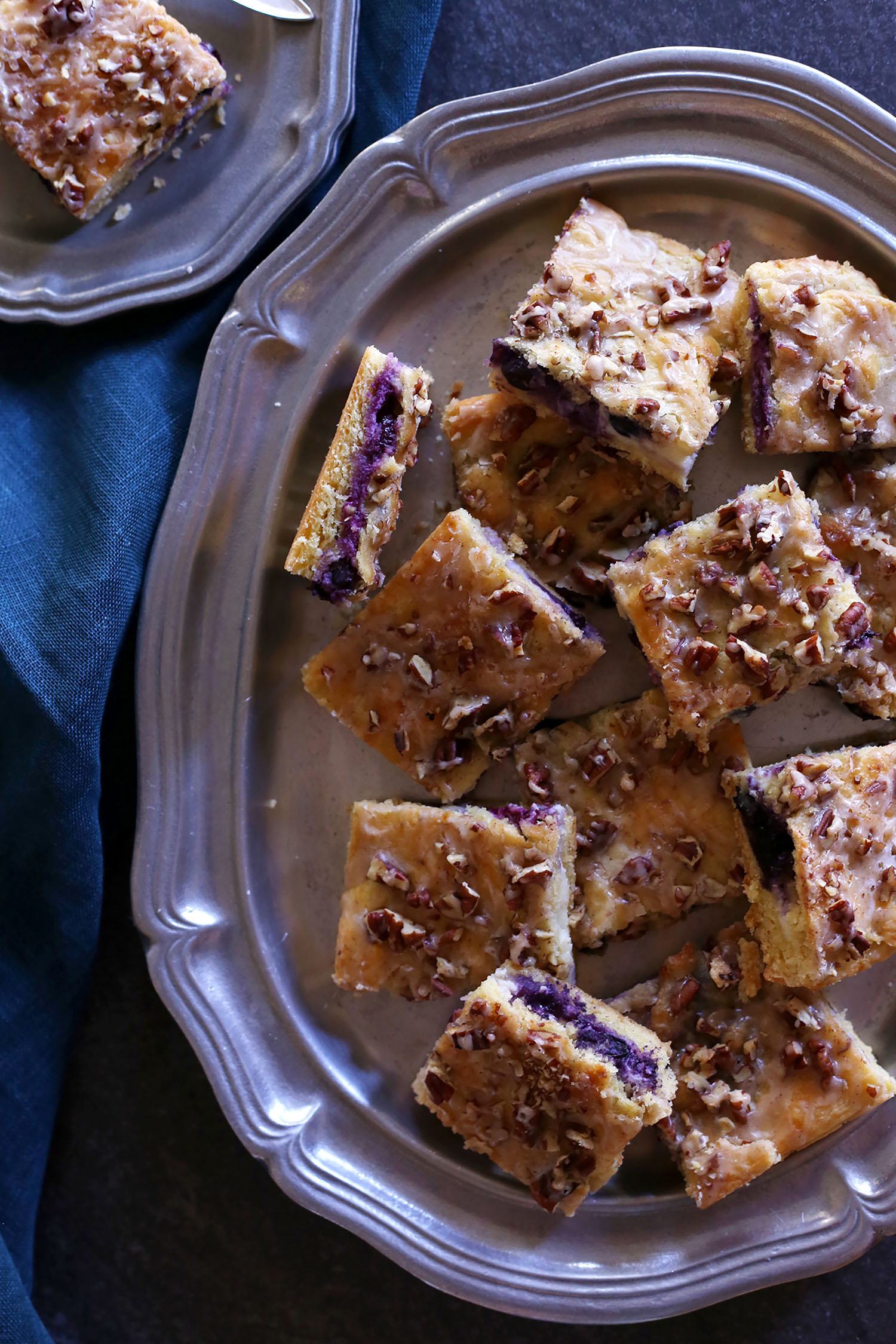 Ingredients
For the dough:
1 package (2¼ tsp, ¼oz, 7g) RED STAR Active Dry Yeast
¼ cup water
1 Tbsp sugar, divided
2½ cup all-purpose flour
1 tsp salt
1 cup butter, cut into pieces
4 egg yolks
For the filling
Two 8 oz. packages cream cheese, softened
1 cup sugar
1 egg yolk
1½ cups blueberries (optional)
For the glaze
1 cup powdered sugar
1 tsp vanilla
2 to 3 Tbsp water
For the topping
1 egg white, slightly beaten
½ cup pecans, finely chopped
Instructions
In small bowl, dissolve yeast in water heated to 110 - 115°F with 1 teaspoon of the sugar. Let stand 5 minutes. In large bowl, combine flour, remaining sugar and salt. Mix well. With pastry blender, cut in butter until the consistency of cornmeal. Add dissolved yeast and egg yolks to flour mixture; mix lightly with fork. Shape prepared dough into a ball. Cover with plastic wrap; refrigerate for 2 hours. (This is a rich dough; it rises very little.)


Prepare Filling: Beat cream cheese, 1 cup sugar and egg yolk until smooth; set aside.


Prepare Glaze: Combine Glaze ingredients; blend until smooth.


Divide dough into 2 parts. On lightly floured surface, roll each half into a 15x10-inch rectangle. Roll rectangle onto rolling pin to transfer to a greased 15x10-inch jelly roll pan. Spread prepared filling over dough. Top evenly with blueberries (optional), pressing gently into the filling. Carefully place remaining rectangle over filling. Topping: Brush top of dough with slightly beaten egg white. Sprinkle pecans evenly over top of dough. Cover; let rise in warm place about 1 hour. Bake in preheated 350°F oven for 20-25 minutes. Drizzle Glaze over warm coffee cake. When cool, cut into squares or bars. Store in refrigerator. Reheat in warm oven.


Recipe featured at Tutti Dolci.