Cranberry Raspberry Star Bread
Author: Zoë François
This show-stopper bread is so easy to make! A simple no-knead enriched dough layered with almond and cranberry-raspberry filling, this gorgeous star bread is perfect for holiday celebrations or an everyday treat.
Cranberry Raspberry Star Bread Video Tutorial
Make the dough:
This easy no-knead dough recipe and method is by Breadin5.com. Simply add all ingredients to a 6-quart bucket and stir to combine. Cover; let dough rise on the counter for 2 hours. Then refrigerate for 4 hours (or up to 5 days) before shaping.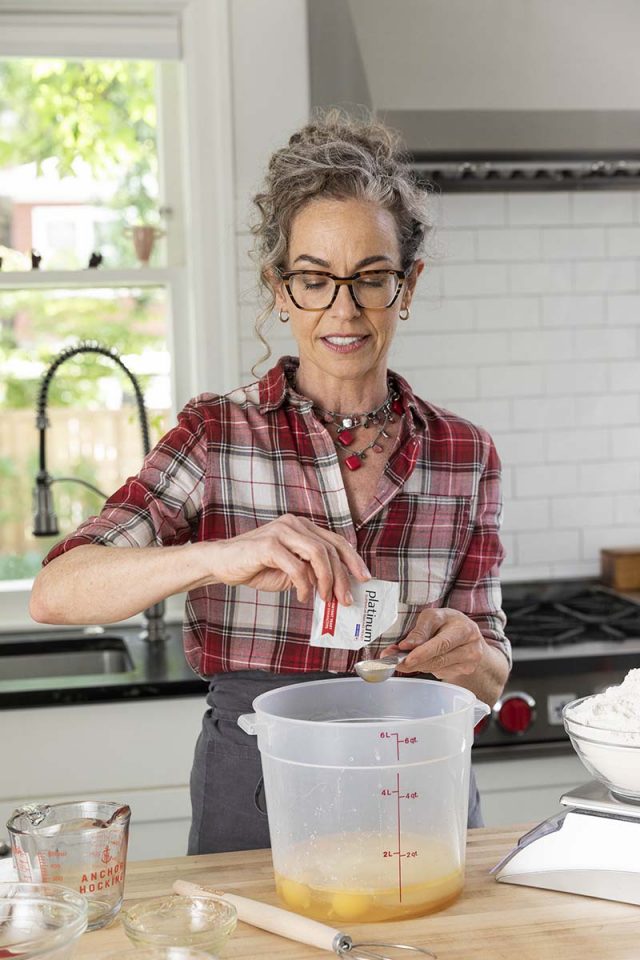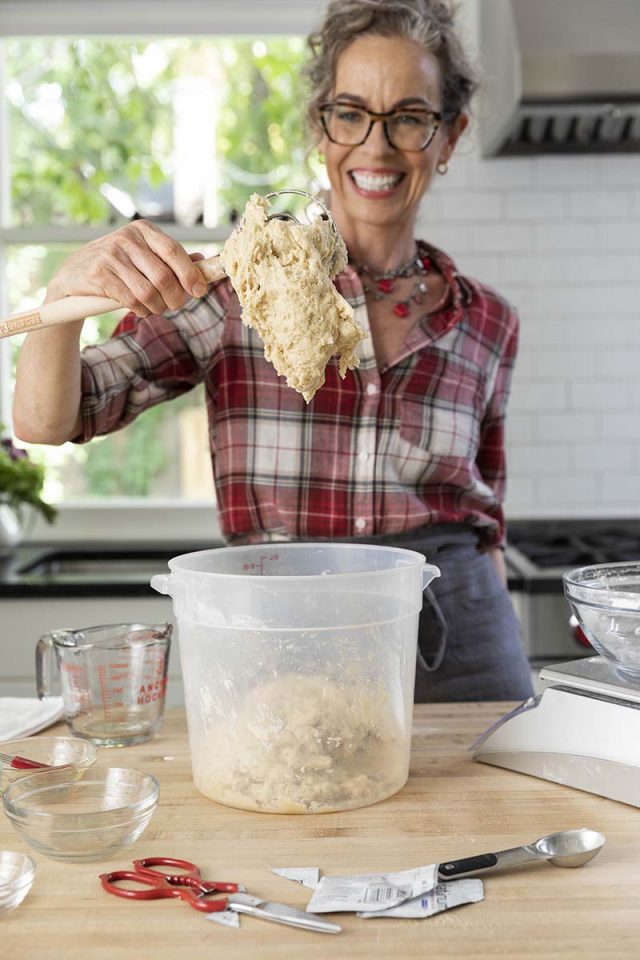 Shape the Star Bread:
Cut off a cantaloupe-sized dough piece (1/2 of the dough). Divide into 4 equal pieces. Shape each piece into a 10-inch round.
Add 1/3 of each filling to the first round. Top with next round and repeat 2 more times. Top with final round.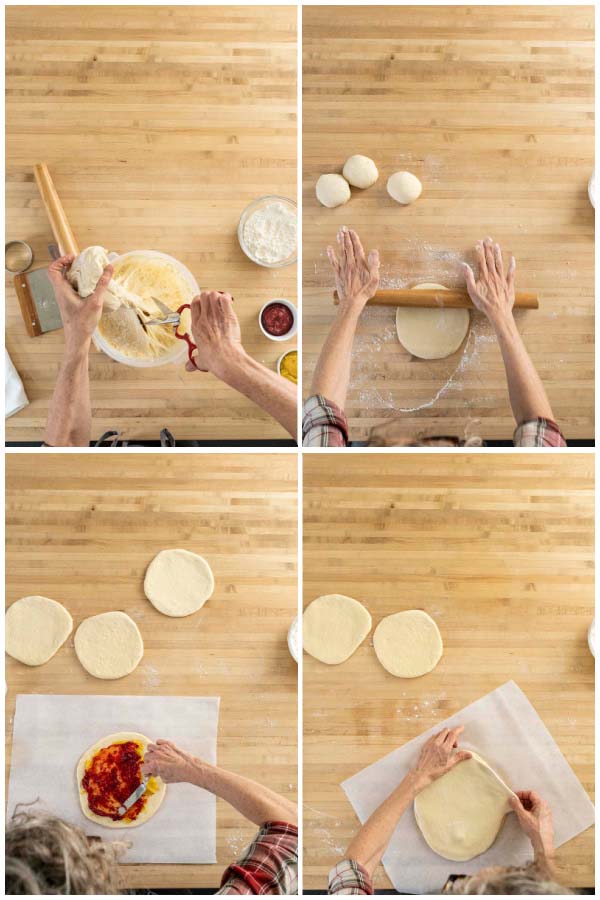 Use donut cutter to mark middle circle as a guide. Cut 16 equal spokes from edge to middle guide.
Twist 2 spokes towards each other, twice. Pinch edge to seal. Repeat with remaining spokes.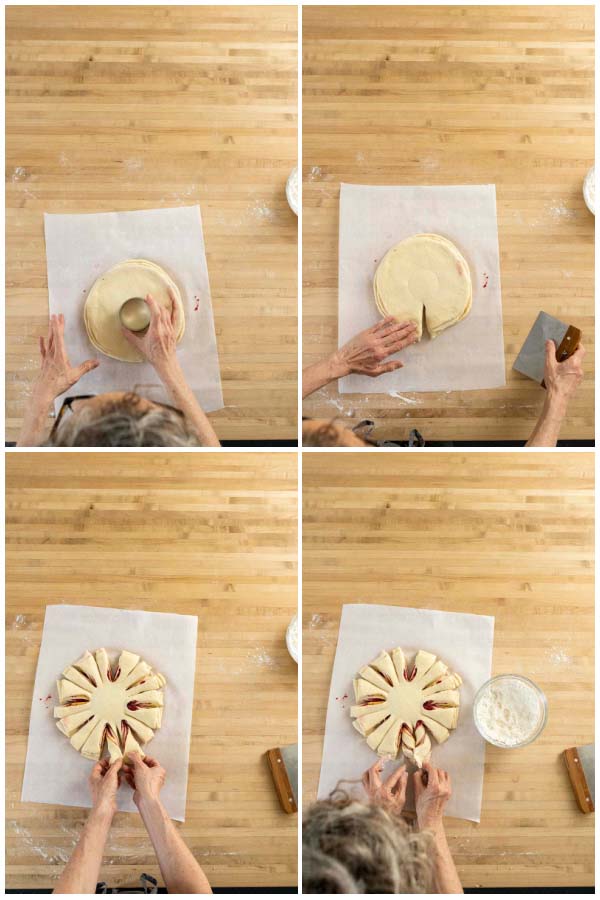 Pinch all seams one more time. Cover; let rise for 90 minutes.
Add egg wash to edges and middle. Sprinkle with decorating sugar.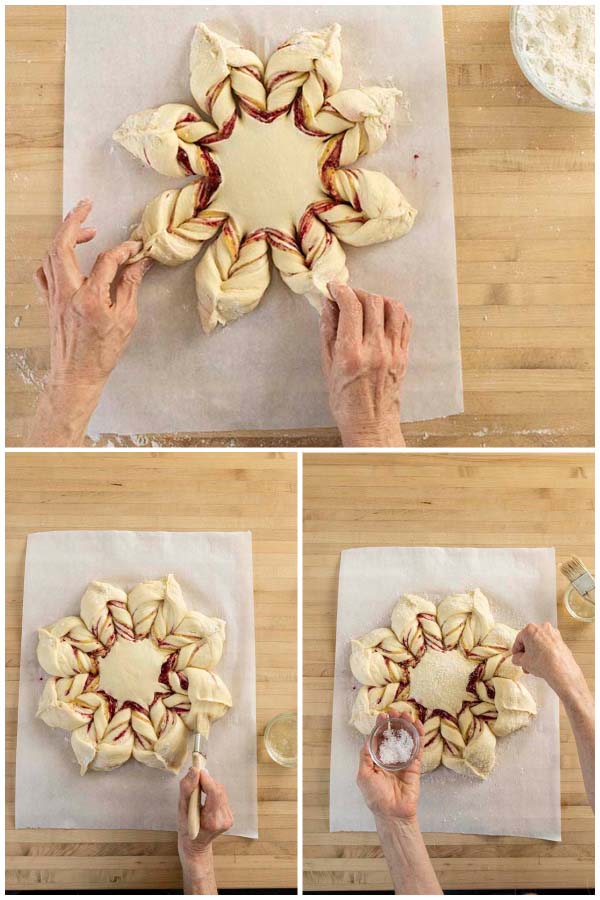 Bake at 350°F for 25 to 30 minutes, until golden brown. Dust with powdered sugar, if desired.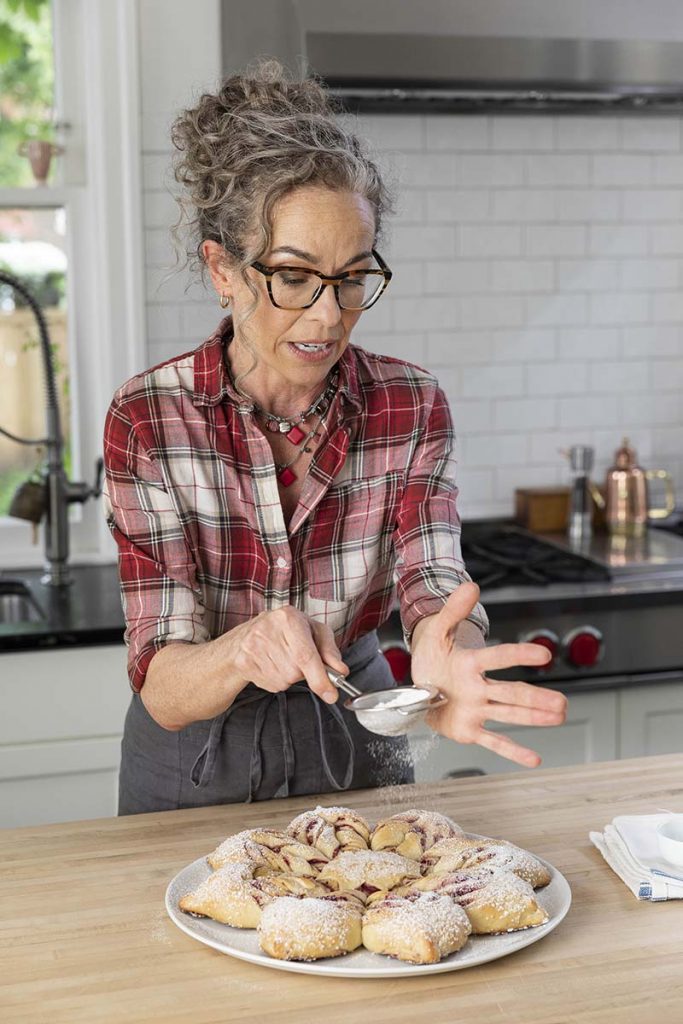 ---
Alternate filling options
Pesto & Cheese:
6 tablespoons pesto
1 cup of cheese
1 tablespoon of sesame seeds for sprinkling on top of egg washed star
Spread 2 tablespoons of pesto on the first round, top with 1/3 cup grated cheese, top with next round and repeat with the next two rounds of dough. Top with the final round of dough and shape the star. Brush the center and star tips with egg wash, then sprinkle with sesame seeds. Bake as directed.
Pumpkin: use the filling from here.
---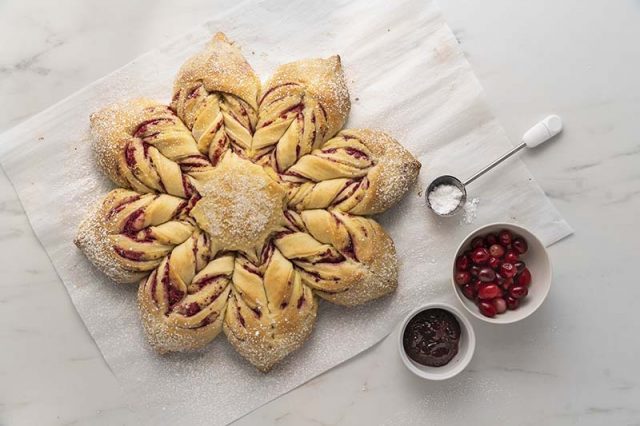 Cranberry Raspberry Star Bread
This show-stopper bread is so easy to make! A simple no-knead enriched dough layered with almond and cranberry-raspberry filling, this beautiful star bread is perfect for holiday celebrations or an everyday treat.
Yield:
1 large star bread
Ingredients
For the Enriched Sweet Dough*:
(Makes two 2-pound (907g) star breads)
1¾ cups (420g) lukewarm water
1 tablespoon Platinum Yeast
1 tablespoon kosher salt
4 large eggs
½ cup (170g) honey
8 tablespoons (113g) unsalted butter, melted
7 ½ cups (1060g) all-purpose flour
For the Star Bread:
(Makes one large star bread)
2 pounds (about 907g) (half of above recipe) Enriched Sweet Dough
6 tablespoons (120g) almond paste
1 tablespoon (8g) all-purpose flour
2 tablespoons (25g) sugar
½ teaspoon almond extract
2 egg yolks
Pinch salt
½ cup raspberry preserves
¾ cup fresh or frozen cranberries
Egg wash (1 egg white mixed with 1 tablespoon water)
Decorator sugar
Confectioners' sugar, if desired
Instructions
Make the dough:
Step 1. Mixing and storing the dough: In a 6-quart container, add the water, yeast, salt, eggs, honey, melted butter and flour. Using a large spoon or Danish dough whisk, stir until ingredients are mixed and uniform. (You can also mix ingredients in a stand mixer fitted with a paddle attachment.) Cover (not airtight) and allow to rise at room temperature for about 2 hours; then store in refrigerator for at least 4 hours to chill the dough before using.


Step 2. Dough can be used as soon as it's chilled after the initial rise, stored in the refrigerator or frozen for later use. Refrigerate remainder in a non-airtight lidded container and use over the next 5 days. If you plan to keep the dough longer, it stores well in the freezer for up to four weeks in an airtight container. Freeze in one-pound portions.


NOTE: When using frozen dough, thaw in refrigerator for 24 hours before use, then allow usual rest and rise times.


Make the Star Bread:
Step 1. Make the Almond Filling: In a food processor mix together the almond paste, flour, sugar, almond extract, egg yolks and salt until it is a smooth paste. Set aside in a small bowl and clean the processor.
Step 2. Make the Cran-Raspberry Filling: Add the raspberry preserves and cranberries to the clean processor and chop until the cranberries are fine pieces. Set aside.


Step 3. Dust the surface of the refrigerated dough with flour and cut off a 2-pound (cantaloupe-size) piece. If you don't have a scale, it's half of the dough. Place the remaining dough back in the refrigerator. Divide the piece into four equal pieces, dust with more flour and quickly shape them into balls by stretching the surface of the dough around to the bottom, rotating the ball a quarter-turn as you go. Cover and let dough balls rest for 20 minutes to allow dough to relax.


Step 4. Roll out the dough balls into four circles about 10-inch wide. As you roll out the dough, add flour as needed to prevent sticking. If the dough shrinks back, let it rest for a few more minutes.


Step 5. Place one of the dough rounds on a piece of parchment paper. Top with ⅓ the almond filling, then ⅓ the raspberry-cranberry mixture. Cover with next round. Repeat with next two layers of dough and fillings. Top with the final layer of dough.


Step 6. Place a 2½-inch biscuit cutter, or anything that size, and round in the center of the dough. Press lightly to make an indent (do not cut the dough) or leave biscuit cutter there as a guide.


Step 7. Use a pizza cutter or bench scraper to cut 16 equal spokes from the edge of the biscuit cutter to the outer edge of the dough.


Step 8. Twist two of the sections toward each other with two rotations, then pinch the two sections together at the end to form a point. Continue with the rest of the sections until you have 8 points. Pinch seams one more time to ensure they won't come apart during rising.


Step 9. Loosely cover the star and rise for 90 minutes.


Step 10. Preheat oven to 350°F.


Step 11. Once star bread has risen, press edges together one last time. Brush the star point edges and center of star with egg wash; sprinkle decorating sugar along edges and center.


Step 12. Bake on stone or sheet pan for 25-30 minutes until golden brown and set.


Step 13. Dust with confectioners' sugar, if desired.


Step 14. Allow to cool on a rack.
Notes
*Dough recipe and method is by Breadin5.com.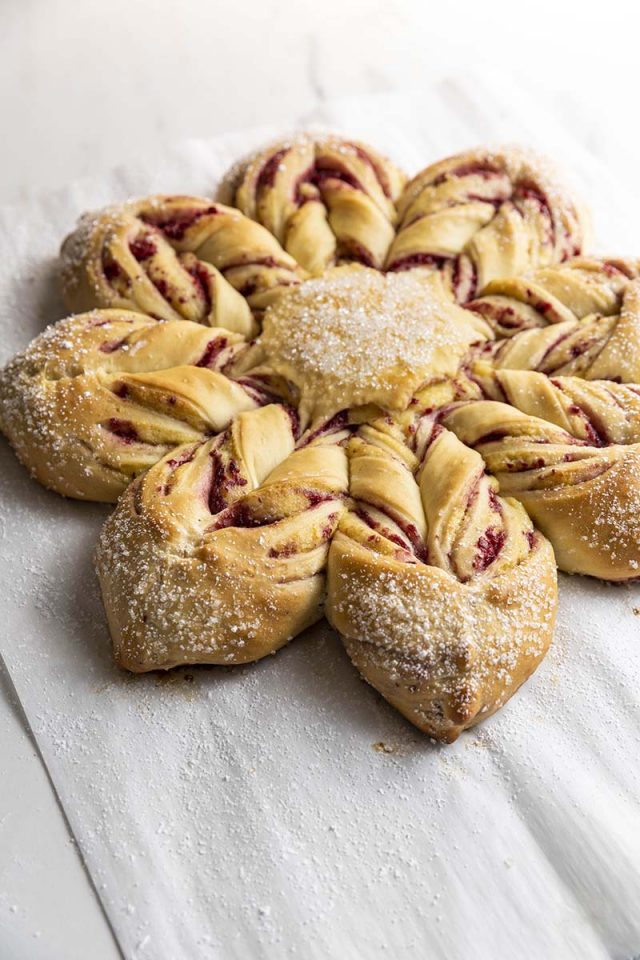 ---
Author: Zoë François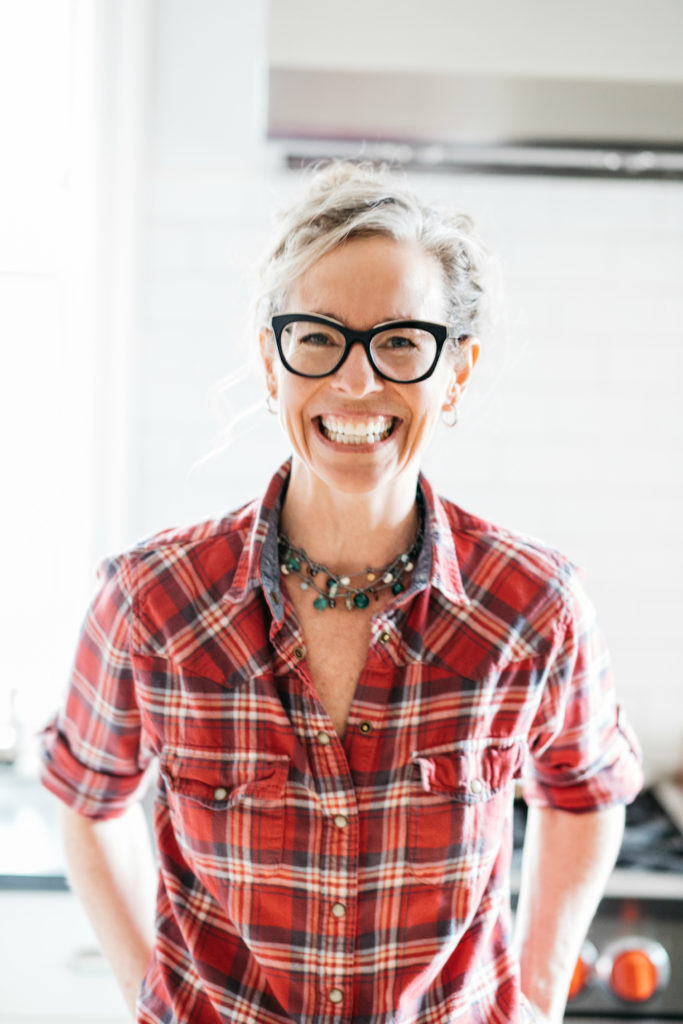 Zoë François is the co-author of the bestselling cookbook series Artisan Bread in Five Minutes a Day. Her latest book in the series, Holiday and Celebration Breads, came out in 2018. She is now working on a Book about cakes due out in Spring 2021. Zoë's recipes have also been featured in the New York Times, Food 52, The Today Show, Cooking Channel, Fine Cooking, Disney, Bake from Scratch, Easy Eats, Washington Post, Better Homes and Gardens, and many other media outlets.
Zoë shares the tricks of the trade she learned while a student at the CIA's pastry program and her decades in professional kitchens, through her websites, ZoeBakes and Breadin5, her books and her award winning Instagram video tutorials (@zoebakes). Zoë also offers long form baking classes through BluePrint.com and Yummly.com.