Ciabatta Rolls
Chewy and crusty these traditional Italian rolls are perfect for making the ultimate sandwich.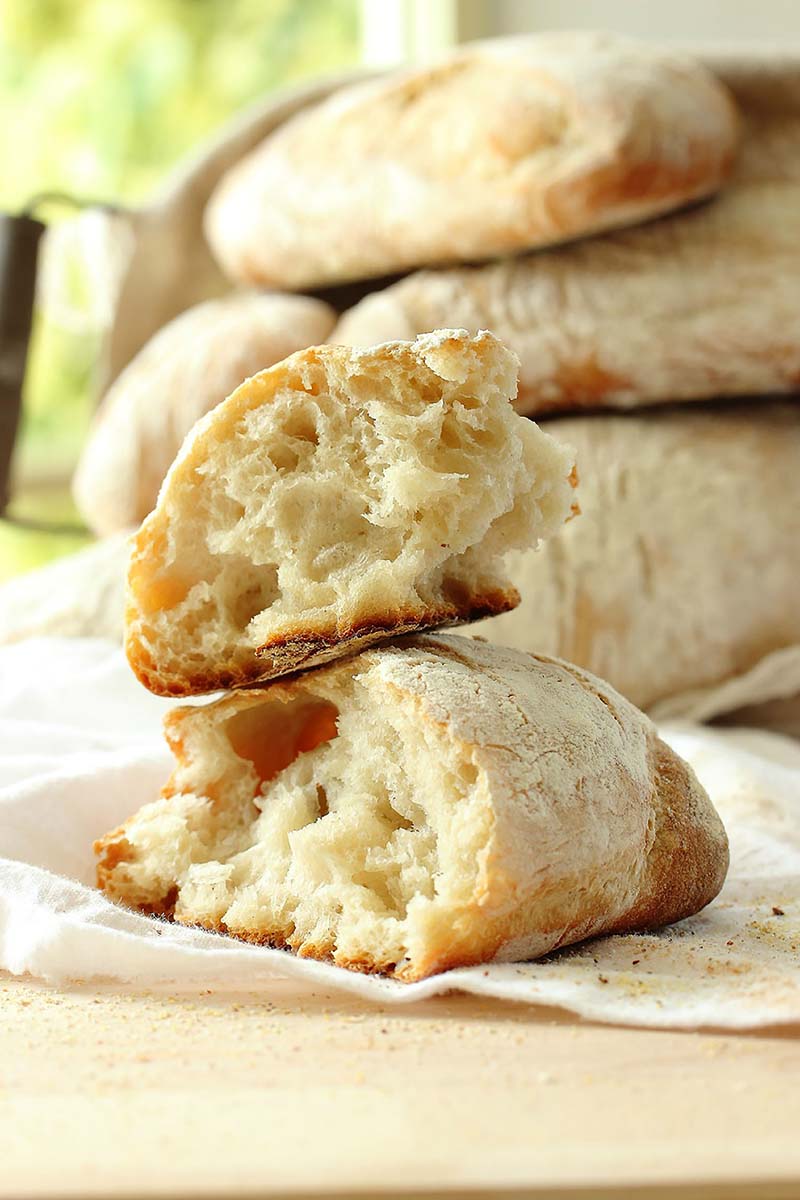 Ingredients
For the starter dough (Biga):
¼ teaspoon Platinum Yeast
1 cup warm water (110-115°F)
2¼ cups all-purpose flour
¾ cup water (room temperature)
For the second stage dough:
2¼ cups all-purpose flour
1¼ teaspoons Platinum Yeast
2¼ teaspoons kosher salt
1½ cups warm water (110-115°F)
1 teaspoon olive oil
Biga from previous day
Cornmeal for dusting baking sheets
Instructions
Biga:
Combine the ¼ teaspoon yeast with one cup warm water, stir to dissolve. Let stand for 10 minutes.


Take one teaspoon of this yeast/water mixture and add it to the ¾ cup regular water. Dispose of remaining first yeast/mixture water.


In a medium sized bowl, add the flour and yeast/water mixture and mix together to form a stiff dough. Cover with plastic wrap and leave on the counter overnight.


Second Stage Dough:
The next day, combine the flour, yeast and salt in a bowl.


Add the water and mix gently. Add the Biga from the previous day and mix it through the dough. Squeeze the biga to break it up, it'll still be slightly stringy and chunky but the dough will get smoother.


The dough will be sticky, dump it onto a well floured surface and dust dough with flour. Carefully turn dough over multiple times to knead it adding just enough flour to prevent it from sticking. A dough scraper is an excellent tool to use for this task.


Transfer dough to a large bowl which has been coated with olive oil. Cover again and let sit for about three hours or until the dough has doubled in size.


Turn dough out onto a floured surface and fold it in three times like folding a letter. Cut into roughly 9 square pieces. Transfer each piece, seam side down, to a towel which has been heavily dusted with flour.


Let the rolls sit covered for another hour. Preheat the oven to 450°F and dust a pizza stone or some baking trays with a little cornmeal.


After an hour, carefully flip the rolls over transferring them to the stone or baking trays, finishing seam side up.


Bake in the oven for about 20 minutes until there is a nice golden color on the top and bottom of the rolls.


Recipe by Foodness Gracious.
Notes
The dough will be sticky, handle it quickly but gently, using flour to prevent it sticking to your hands too much. These rolls are rustic so don't worry too much about the size or shape being uniformed.