Chocolate Cinnamon Crisps
These large crisp rolls, also known as elephant ears, are sure to be a hit as an after school snack. They include children's two favorite flavors - chocolate and cinnamon.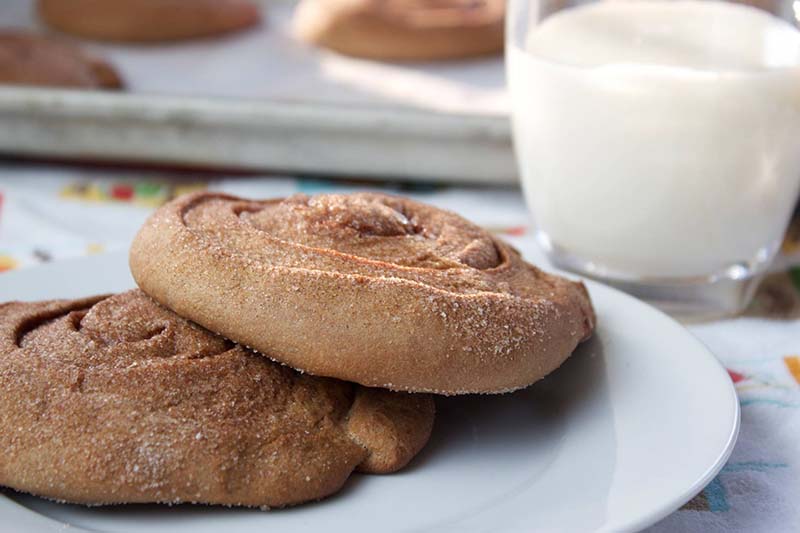 Ingredients
For the dough:
3½ cups bread flour, divided
1 package (2¼ tsp, ¼oz, 7g) RED STAR Active Dry Yeast
⅓ cup non-fat dry milk
¼ cup sugar
½ tsp salt
1 cup water
¼ cup shortening
2 (1 oz. squares) semi-sweet chocolate
1 egg
For the filling:
⅓ cup sugar
1 tsp cinnamon
3 tsp butter, melted
For the topping:
½ cup sugar
¼ cup pecans or walnuts, finely chopped
1 tsp cinnamon
3 tsp butter, melted
Instructions
In large mixer bowl, combine 1½ cups flour, yeast, dry milk, sugar and salt; mix well. In saucepan, heat water, shortening, and chocolate pieces until very warm (120-130º F; shortening and chocolate do not need to melt). Add to flour mixture. Add egg. Blend at low speed until moistened; beat 3 minutes at medium speed. By hand, gradually stir in enough remaining flour to make a soft dough. Knead on floured surface 3 to 5 minutes. Place dough in lightly oiled bowl and turn to grease top. Cover; let rise until dough tests ripe, about 1 to 1½ hours.


Prepare filling: Combine sugar and cinnamon; set aside.


Punch down dough. On lightly floured surface, roll dough to a 12-inch square. Brush dough with melted butter. Sprinkle filling over dough. Roll up tightly. Pinch edge to seal. Cut into 12 slices. Place on greased cookie sheets, 3 to 4 inches apart. Flatten each slice with your hand (spray with cooking spray if needed) to a 4-inch diameter. Cover; let rise in warm place until almost double, about 15-25 minutes.


Preheat oven to 400ºF.


Prepare topping: Combine sugar, finely chopped pecans or walnuts and cinnamon; set aside.


After rising, cover rolls with wax paper. With rolling pin, flatten to ⅛-inch thickness. Brush rolls with melted butter. Sprinkle topping over rolls. Cover with wax paper again. With rolling pin, roll topping into rolls. Remove wax paper. Bake at 400º F for 15 to 18 minutes until crisp around edges. Remove from cookie sheets; cool on wire rack.


*You can substitute Instant (fast-rising) yeast in place of Active Dry Yeast. When using Instant Yeast, expect your dough to rise faster. Always let your dough rise until ripe. Traditional methods: use equal amounts; Bread Machine: use ½ tsp Instant Yeast OR ¾ tsp Active Dry Yeast per cup of flour in your recipe. Visit our Lessons in Yeast & Baking for more information on baking.


This recipe is featured at Thyme In Our Kitchen.[
Notes
To keep their crispness, store loosely covered or wrap in foil or freezer wrap.