Chocolate Cinnamon Rolls
These Chocolate-Cinnamon Cinnamon Rolls are perfect for Valentine's Day breakfast in bed. Chocolate brioche, chocolate-cinnamon filling, chocolate ganache, and red hots make up these yummy rolls.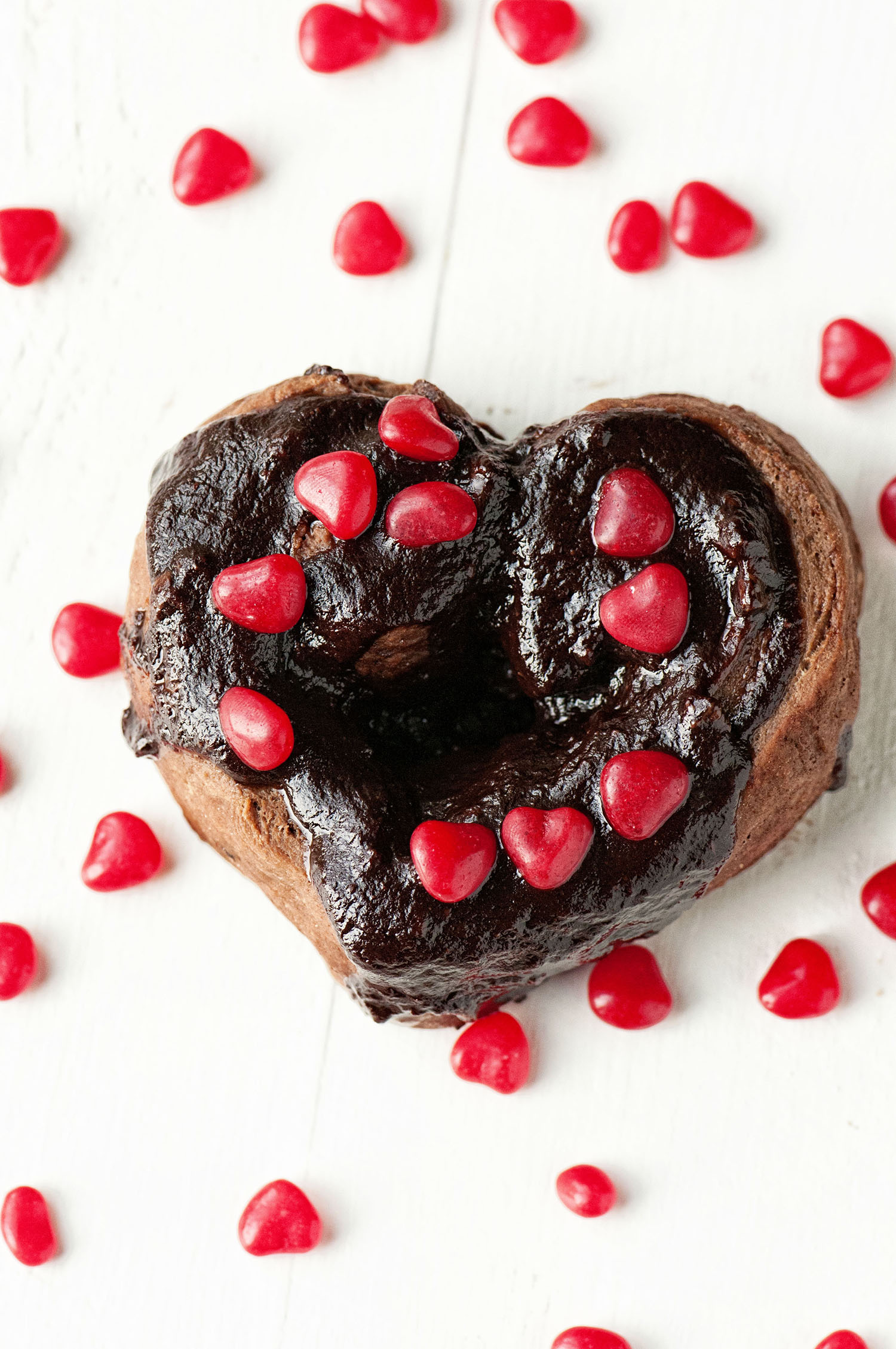 Ingredients
For the chocolate brioche:
Sponge:
1 package (2¼ tsp, ¼oz, 7g) RED STAR Platinum Superior Baking Yeast
¼ cup warm water (110-115°F)
¾ cup lukewarm milk (80°F)
½ cup all-purpose flour
⅓ cup granulated sugar
Dough:
¼ cup unsweetened cocoa powder
3 cups all-purpose flour
1¾ tsp salt
2 oz semisweet chocolate, melted and cooled to room temperature
4 egg yolks, lightly beaten
4 oz unsalted butter, at room temperature
chocolate chips
For the filling:
½ cup granulated sugar
1 Tbsp cinnamon
1 Tbsp unsweetened cocoa powder
2 Tbsp melted butter
For the topping:
5 Tbsp butter
8 oz semisweet chocolate
¼ cup heavy whipping cream
Red Hot candies (optional)
Instructions
For the sponge:
Combine yeast and water in the bowl of a standing mixer fitted with the paddle attachment and whisk until he yeast is dissolved. Let stand for 5 minutes. Mix in remaining sponge ingredients, forming a thin batter. Cover with plastic wrap and let rest at room temperature for 30 minutes until bubbles form.


For the dough:
Sift flour, unsweetened cocoa powder, and salt into sponge. Add yolks and melted chocolate, and mix with paddle attachment on low speed for 2 minutes, until yolks are absorbed. Increase to medium speed; knead for 5 minutes or until smooth and satiny. On medium low speed, add butter, one tablespoon at a time.


Switch to dough hook; knead until well developed, smooth and shiny. Add chocolate chips, mix on low until incorporated. Cover with plastic wrap and let rise for about 2 hours until doubled in size. Punch down and rise again until double, about 45 to 60 minutes (or refrigerate for 4 hours or overnight).


For the rolls:
Filling: Combine the cinnamon, sugar, and unsweetened cocoa in a small bowl.


(If dough is refrigerated, let sit on counter for about an hour, then proceed.)
Turn the dough out onto a lightly floured work surface. Using a rolling pin, roll dough into a rectangle approximately 12x16 inches. Use a pastry brush to coat the entire surface of the dough with the melted butter. Sprinkle the filling evenly over the surface of the dough, leaving a 1-inch margin at the top edge.


Round rolls: Starting from the long side closest to you, roll up the dough like a jellyroll. OR
Heart-shaped rolls: Starting from the long side closest to you, roll up the dough only to the middle. Repeat with side farthest away from you, rolling it towards you up to the middle.


Transfer the rolled dough to a greased or parchment paper-lined baking sheet, cover with plastic wrap and freeze for 10 minutes. This will make cutting the buns clean and even.


Using a bench scraper or very sharp knife, cut the rolled dough crosswise into 12 pieces, about 1 ½ inches thick. Place a bun in each muffin cup, cut side up or arrange them 1 inch apart in the cake pan (hearts) (After cutting hearts, pinch bottom to create a point for the bottom of the heart). Cover the dough with plastic wrap and let rise for 1½ - 2 hours, or until the buns have doubled in size.


Toward the end of the proofing, preheat the oven to 400°F.
Adjust the rack to the center of the oven, with a baking sheet on the lower rack to catch drips. Bake for 10 minutes. Turn down the oven temperature to 350°F and bake for 15-20 minutes more, or until the crust is golden (slightly hard to tell with the chocolate - be careful not to burn them!).


While rolls are baking make the chocolate ganache: Over a double boiler simply add the chocolate, butter, and cream and whisk until smooth. Set aside.


Let rolls cool for about 10 minutes. Spread ganache over rolls and top with red hots (optional).


Recipe created by Sweet Recipeas.