Chocolate Cinnamon Babka
A light and fluffy sweet bread filled with swirls of rich dark chocolate and cinnamon. Toast a slice for breakfast with some butter or cream cheese. This chocolate babka would also make great French toast.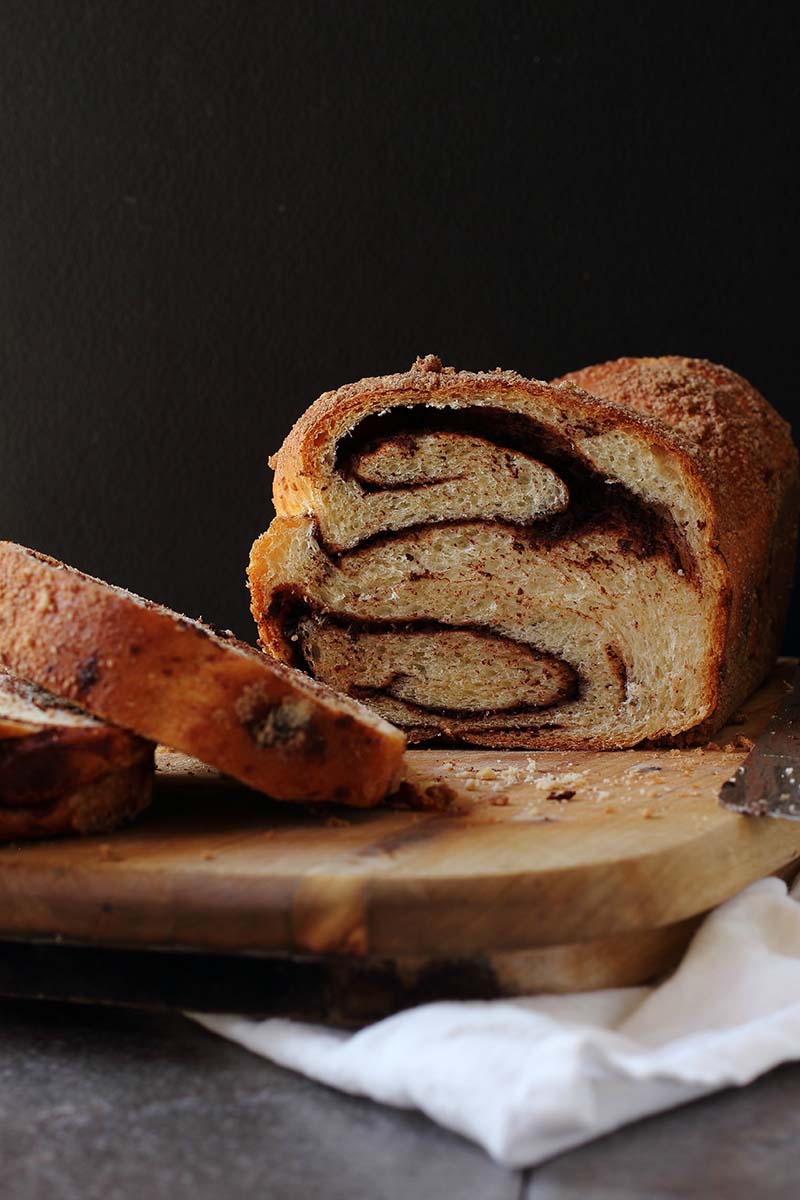 Ingredients
For the dough:
1 cup warm tap water (110-115°F)
1 Tbsp RED STAR Quick·Rise Yeast
3 Tbsp sugar
⅓ cup dried milk powder
1 large egg
3½ cups all-purpose flour, plus extra for dusting your worktop
3 Tbsp olive oil
½ tsp salt
1 egg + 1 tsp water, beaten together for egg wash
1 Tbsp olive oil, for coating pan
For the filling:
½ stick (2 oz) unsalted butter
2 Tbsp cocoa powder
2 Tbsp sugar
6 ounces dark chocolate chips
1½ Tbsp ground cinnamon
For the topping:
¼ cup all-purpose flour
1 Tbsp ground cinnamon
2 Tbsp unsalted butter
Instructions
To Make The Filling:
Combine the butter, cocoa powder, sugar and chocolate chips in a pan; whisk over a medium heat until everything has melted and come together. Set aside. (NOTE: Cinnamon will be added later.)


To Make The Dough:
Grease two 9 x 5-inch baking loaf tins with butter and set aside.


In a mixing bowl combine the warm water and yeast. Whisk briefly to dissolve the yeast. Add the sugar, dried milk and egg and whisk to combine. Add 2 cups flour and mix together using a wooden spoon, until a dough is formed and there are no visible lumps. Let the mixture rest, covered with a towel, for 30 minutes.


After 30 minutes, add the olive oil and salt. Mix with the wooden spoon. Add the remaining 1½ cups flour, mixing well until fully combined.


Transfer the dough to a stand mixer fitted with a dough hook. Mix on low speed for about 2-3 minutes. Or knead by hand on a lightly floured surface for 5-7 minutes.


Form the dough into a ball and place back in a greased bowl, cover and let rise for another 30 minutes.


After 30 minutes, turn dough out onto a well-floured worktop and using a rolling pin, roll it into a rectangle shape about 12x15-inches.


Spread the chocolate filling over the dough covering it well. Evenly distribute the 1½ tablespoons cinnamon on top of the chocolate filling. Starting on the short end, cut the dough in half - you will now have two 6x15-inch pieces. Take the long edge of each piece and roll it towards you like you would do with cinnamon rolls.


You will have two long tube shapes side by side. Take each piece and twist them tightly against one another, tucking in the ends. Cut the 'braided' loaf in half and place each half in the prepared loaf pans.


Preheat the oven to 350°F.


In a small bowl combine the ingredients for the topping and make a crumble with your hands. Glaze the loaves with the beaten egg and generously top with the crumble topping.


Cover lightly with some plastic wrap and let rise for 20 -30 minutes until the bread has risen to about the level of the baking pan. (You can let the bread sit on top of the stove to capture some of the heat from the oven.)


Bake for about 30 minutes or until the bread turns a deep golden brown. Let cool before slicing.


Recipe created by Foodness Gracious.