Cherry Almond Coffee Cake
This versatile cake falls somewhere between a dessert and a bread. It's not so sweet that you feel guilty about having a slice for breakfast, but it will still satisfy your cravings for a sweet treat in the afternoon!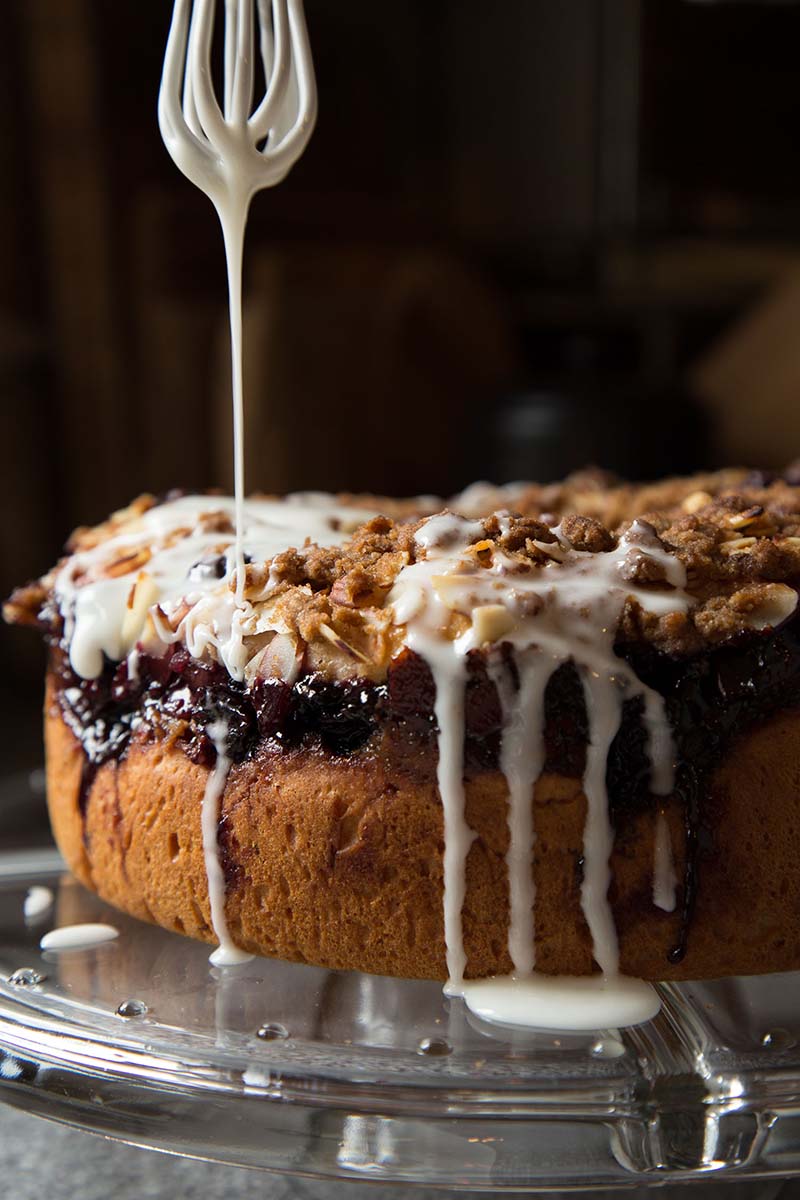 Yield:
One cake; serves approx. 12 - 15
Ingredients
For the cake batter/dough:
1 cup buttermilk
½ cup milk
¼ cup (½ stick) unsalted butter, cut into pieces
2 eggs
¾ cup granulated sugar
2 packages (4½ tsp, ½oz, 14g) RED STAR Quick∙Rise Yeast
½ tsp salt
3 ½ cups bread flour, divided
For the topping:
¼ cup dark brown sugar
2 Tbsp unsalted butter, cold and cut into small pieces
2 Tbsp all-purpose flour
1 cup frozen sweet cherries
½ cup sliced almonds
For the glaze:
1 cup powdered sugar
2 Tbsp half and half (light cream or whole milk are also fine)
½ tsp pure vanilla extract
Instructions
Begin by preparing the batter/dough for the cake. Lightly grease a tube pan and set aside.


Combine the buttermilk, milk, and butter in a microwave safe bowl. Heat until the butter has
melted. Set aside to cool. (You want the mixture to be warm, but not hot to the touch.)


Meanwhile, in a large mixing bowl, combine the eggs, sugar, yeast, salt, and 1 cup of bread
flour. Once the liquid mixture has cooled, add that to the bowl. Use a wooden spoon to beat
vigorously until the mixture is smooth.


Gradually add the remaining flour, working it into the batter with the wooden spoon so that a soft and sticky dough forms. Transfer the dough to the prepared tube pan and spread evenly. Cover and let the dough rise for about 1 ½ hours in a warm place. It will not quite double in volume, but it should be visibly puffier.


Preheat the oven to 375°F.


To prepare the topping, combine the brown sugar, butter, and flour in a small mixing bowl. Use
a fork (or you can just use your fingers) to blend the mixture until it is well combined and crumbly. Arrange the cherries on top of the risen dough in the cake pan and sprinkle with the
sliced almonds and prepared crumb topping.


Bake the cake for about 45-50 minutes, until the top is golden.


Let the cake rest in the cake pan for about 10 minutes before transferring it to a wire rack to cool completely.


Before serving, whisk together the powdered sugar, half and half, and vanilla to make the glaze. Drizzle the glaze over the cake.


Recipe created by My Kitchen Addiction.