Bread Sticks
This recipe makes 24 bread sticks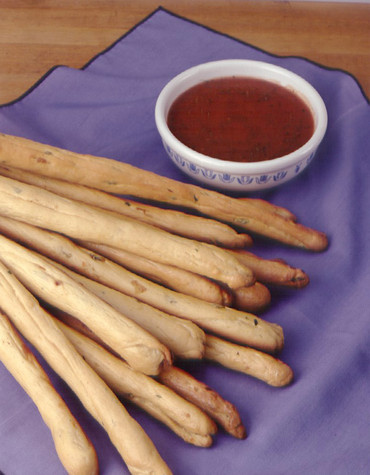 Ingredients
1 cup Water
2 TBSP Shortening
2+1/4 to 2+3/4 cups Bread Flour
2 tsp Salt
1 TBSP Sugar
2+1/4 tsp Active Dry Yeast


Topping


1 Egg white, slightly beaten
1 TBSP Water
3 to 4 TBSP Poppy or sesame seeds
Instructions
In large mixer bowl, combine 1 cup flour, yeast, sugar, and salt; mix well. In saucepan, heat water and shortening until very warm (120° – 130°F; shortening does not need to melt). Add to flour mixture. Blend at low speed until moistened; beat 3 minutes at medium speed. By hand, gradually stir in enough remaining flour to make a soft dough. Knead on floured surface until smooth and elastic, 5 to 8 minutes. Place dough in lightly oiled bowl and turn to grease top. Cover; let rise until dough tests ripe.


Punch down dough. Divide into 4 parts. Divide each fourth into 6 pieces. On lightly floured surface, roll each piece to an 8-inch rope. Place on greased cookie sheets. Combine egg white and water; brush tops of bread sticks. Sprinkle with poppy or sesame seed. Cover; let rise in warm place until indentation remains after touching. Bake at 400º for 15 to 20 minutes until deep golden brown. Remove from cookie sheets; cool.


*You can substitute Instant (fast-rising) yeast in place of Active Dry Yeast. When using Instant Yeast, expect your dough to rise faster. Always let your dough rise until ripe. Traditional methods: use equal amounts; Bread Machine: use ½ tsp Instant Yeast OR ¾ tsp Active Dry Yeast per cup of flour in your recipe.