Braided Rum Raisin Bread
Author: Tessa Arias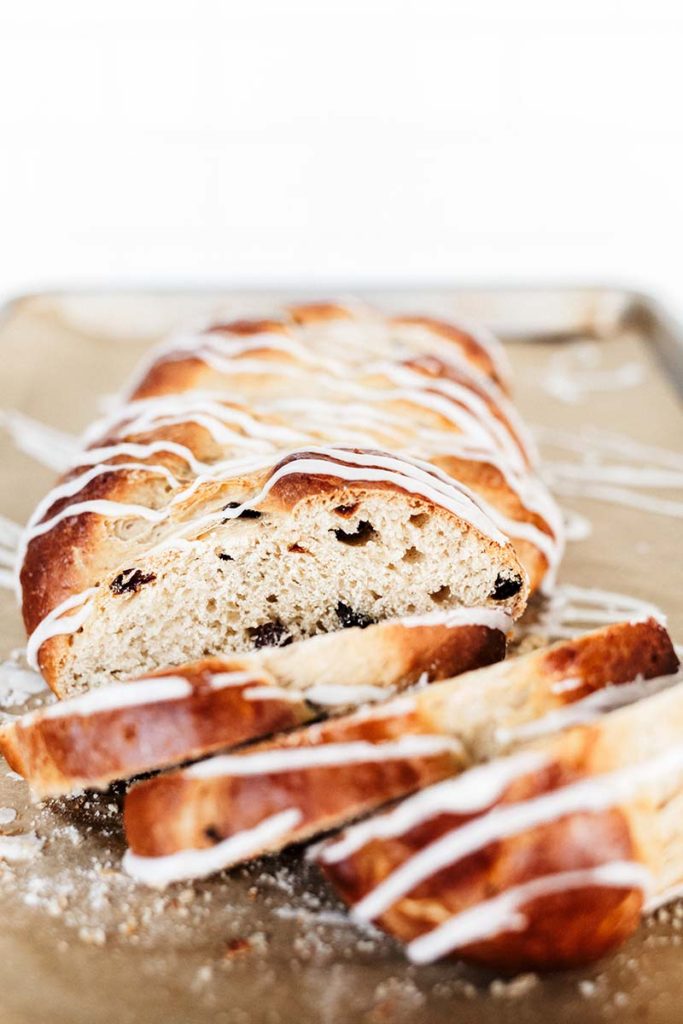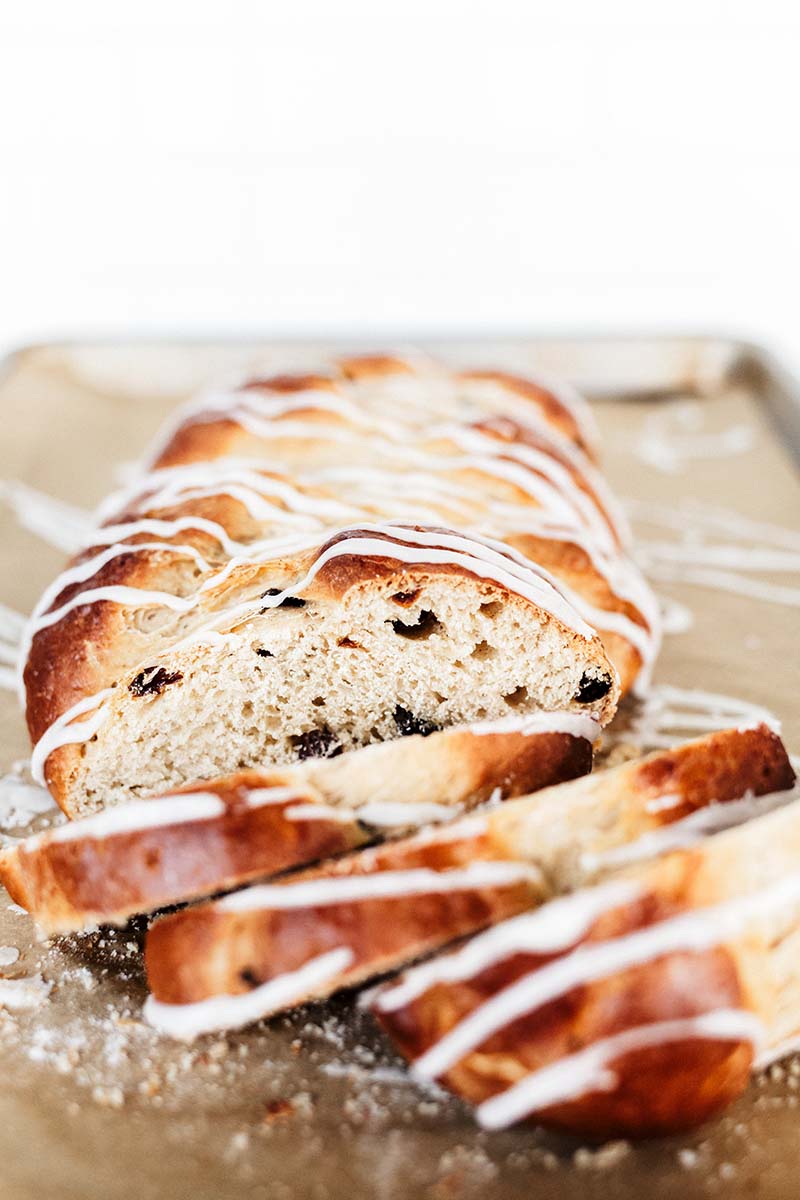 This Rum Raisin Bread is beautifully braided and loaded with comforting flavors, making it perfect for the holiday season. A super impressive recipe, but surprisingly achievable!
(Scroll down for full recipe)
Rum raisin will always remind me of my late Grandpa. It was one of his favorite ice cream flavors, but as a kid I could never understand that.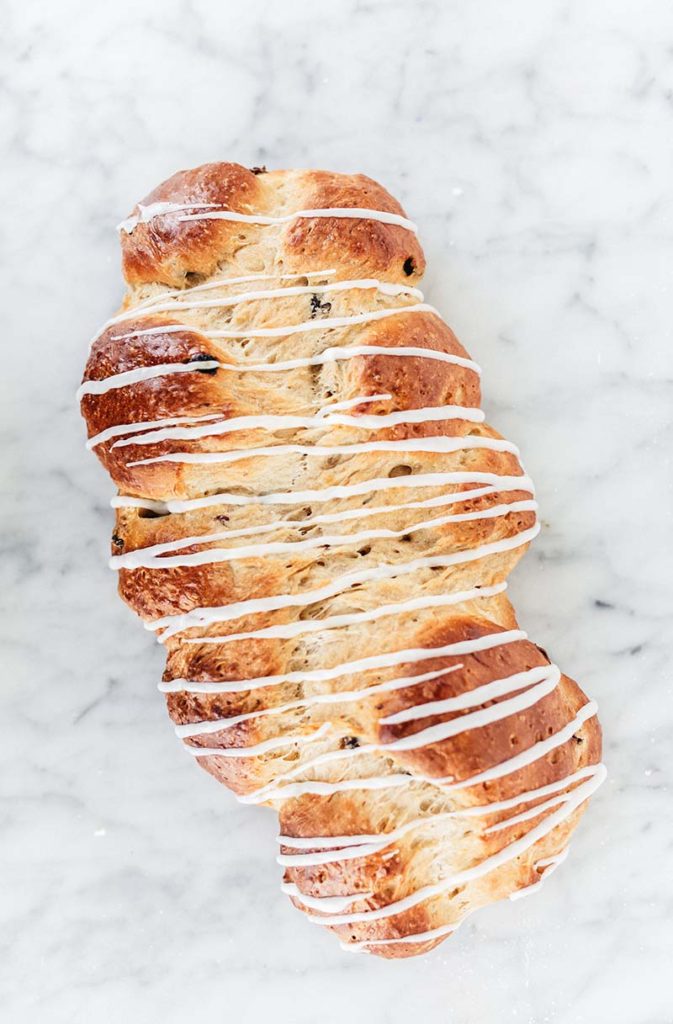 Not when there's chocolate and sprinkles and caramel to enjoy! But now that I'm a little older I can see the attraction.
Rum raisin offers a complex depth of sweetness, and that's exactly what you'll find in this bread recipe. I added a teaspoon of cinnamon to the loaf to make it extra comforting, but feel free to skip that if you'd prefer.
There's also a sweet glaze drizzled over the top with an extra hint of rum. The entire loaf just smells simply amazing, even after it's done baking!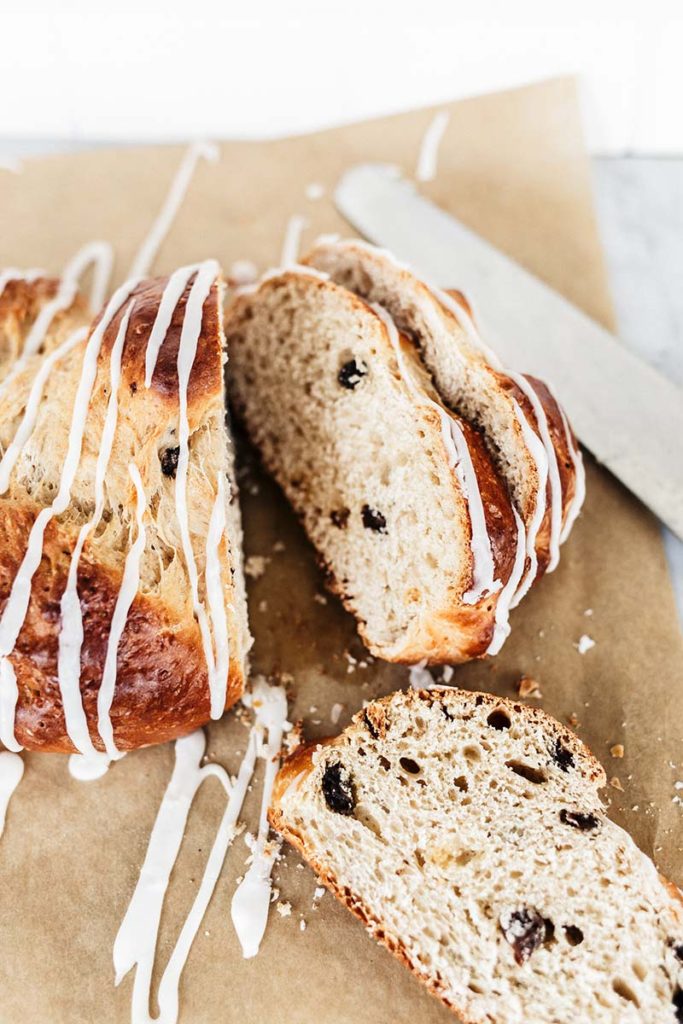 Tip: To intensify the rum raisin flavor, allow the raisins to soak in the rum overnight before you add them into the dough.
This dough is considered a "rich dough," because it's made with sugar, eggs, butter, and milk. These ingredients lend that wonderfully soft texture and bold flavor. They can also slow things down in the bread making process. So, be sure to give this dough some extra kneading time and rising time.
I'm partnering again with my favorite brand of baker's yeast, Red Star Yeast, to bring you this recipe. I used their Platinum Yeast to make this perfectly fluffy yet rich loaf of Rum Raisin Bread.
The Platinum Yeast takes the stress out of homemade bread baking. It's made with dough enhancers that strengthen and improve your dough, and even increase oven spring, so every bread-baking project turns out wonderfully.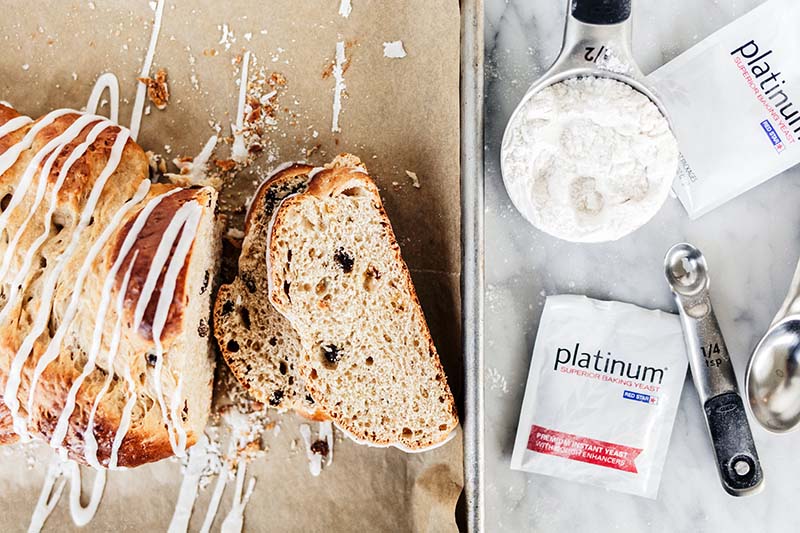 By the way, if you don't finish this loaf the day it's baked the somewhat stale leftovers make for excellent French toast or bread pudding!
If you decide to give this recipe a try, be sure to snap a picture and tag us on Instagram so we can see and share: @handletheheat @redstaryeast.
Braided Rum Raisin Bread
This Rum Raisin Bread is beautifully braided and loaded with comforting flavors, making it perfect for the holiday season. A super impressive recipe, but surprisingly achievable!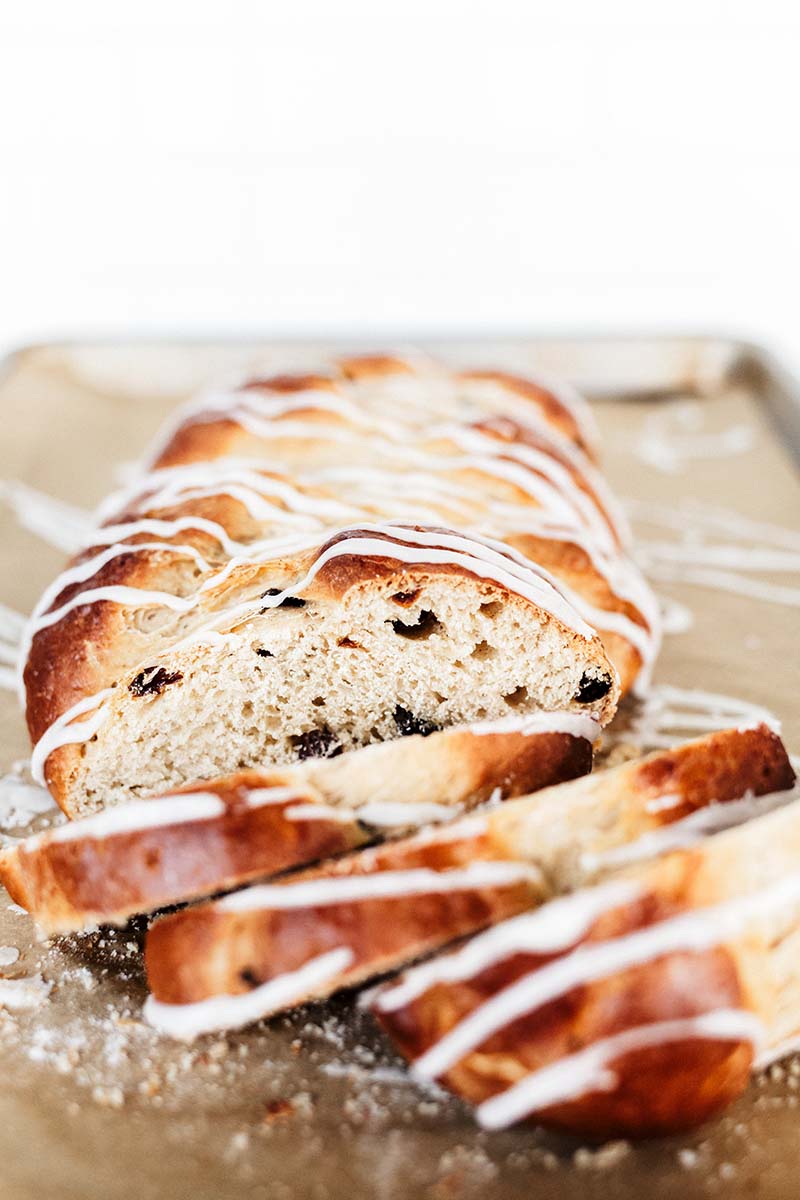 Ingredients
For the dough:
2 Tbsp dark rum
½ cup (85 grams) raisins
3 cups (381 grams) all-purpose flour
1 package (2¼ tsp, ¼oz, 7g) RED STAR Platinum Superior Baking Yeast
3 Tbsp granulated sugar
1 tsp salt
1 tsp ground cinnamon (optional)
1 large egg plus 1 egg yolk, at room temperature
2 Tbsp (28 grams) unsalted butter, melted and cooled
¾ cup (177 ml) whole milk
½ tsp rum extract (optional)
For the egg wash:
1 large egg white
1 Tbsp water
For the rum glaze:
½ cup (63 grams) powdered sugar, sifted
1 Tbsp milk
1 tsp dark rum
Instructions
In a liquid measuring cup, combine the rum and raisins. Let soak for 1 hour, or overnight.


In a medium bowl whisk together the flour, yeast, sugar, and salt.


In the bowl of a stand mixer fitted with the dough hook, mix together the egg, egg yolk (reserve the white for the egg wash), melted butter, milk, and extract if using. Gradually add the flour mixture. Increase the speed to medium and mix until the dough comes together. Knead for a minute then add in the rum soaked raisins and any remaining liquid. Continue kneading for about 5 minutes, or until the dough is smooth, elastic, and springy, adding up to a ¼ cup more flour if the dough is too wet and sticky.


Shape the dough into an even ball and place in a lightly oiled ball. Cover with plastic wrap and let rise until doubled in size, about 1½ hours.


Gently deflate the risen dough and divide it into thirds. Turn out each piece into an even ball.


On a lightly floured surface, roll each piece of dough to a 12" rope. If the ropes spring back, let them rest for 5 minutes. Use the ropes to braid the dough. Pinch the ends together and tuck them underneath. Push the ends into the center to shape a nice rounded loaf. Place on a parchment lined baking sheet. Whisk together the reserved egg white and water for the egg wash, then brush all over the braid.


Cover with greased plastic wrap and let the braid rise for 30 minutes, or until almost doubled.


Meanwhile, preheat the oven to 375°F.


Bake for 30 to 40 minutes, until deep golden brown and the center reads 190°F when measured with a digital thermometer. Remove from the oven and cool completely before glazing.


Make the glaze: Combine the powdered sugar with the milk and rum until a thick but pourable glaze forms. Add more or less milk to achieve desired consistency. Drizzle over the cooled loaf before serving.
---
Handle the Heat

features homemade sweet treats with a sprinkling of science.