Batterway Coffee Cake
This simple no knead coffee cake is a must for your brunch table.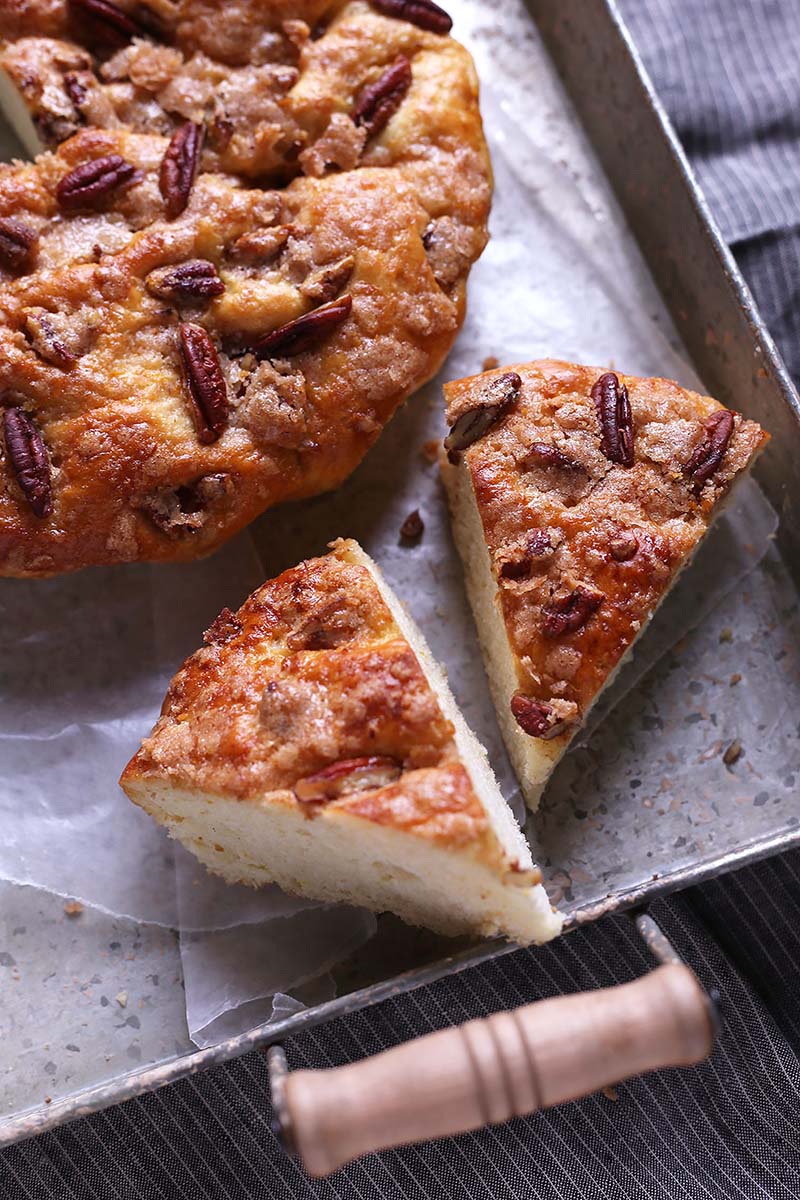 Yield:
1 large or 2 small coffee cakes
Ingredients
3½ cups all-purpose flour
⅓ cup granulated sugar
½ tsp salt
¼ cup shortening, soft
1 orange or lemon rind, shredded
1¼ cups water
1 package (2¼ tsp, ¼oz, 7g) RED STAR Active Dry Yeast
1 large egg
1 egg white
Egg wash: whisk 1 egg yolk with 1 tsp water
For the topping:
Choose one of the following:
Chocolate-Nut Topping: ½ cup semi-sweet chocolate bits, ½ cup finely chopped nuts, ¼ cup sugar; mix together.


Orange-Sugar Topping: ½ cup sugar, grated rind of 1 orange, ⅓ chopped pecans (optional); mix together.


Streusel Topping: ⅓ cup sugar, 2 Tbsp flour, 2 Tbsp butter, 1 tsp cinnamon, ⅓ cup chopped nuts.
Instructions
Have water at 110-115°F and all other ingredients at room temperature.


Measure the first 5 ingredients into a large bowl. Whisk to combine; set aside. Pour the water into a mixing bowl; add the yeast. Let stand 3 to 5 minutes; stir. Add the egg, egg white, and ½ of the flour-mixture. Beat 2 minutes with electric mixer on medium speed, or by hand until smooth. STOP MIXER. Add the rest of the flour-mixture and beat again with a spoon until smooth, 1 to 1½ minutes. Scrape down batter from sides of bowl. Cover. Let rise in warm place until doubled, about 30 to 45 minutes. Meanwhile prepare Topping (see below), and grease one 9 x 13- inch pan, OR two 9-inch round layer pans, or two 8- or 9-inch square pans.


Stir down raised batter in about 25 strokes. This is a thick, somewhat sticky batter; spread evenly in the pan(s). Brush cake(s) with egg wash. Sprinkle Topping evenly over cake(s). With tip of spoon or fingertips, make little dents on the topping and press down almost to bottom of the pan(s). Tap pan(s) on table to settle the batter. Let rise until doubled, about 30 minutes. Bake 30 to 40 minutes or until well browned (check after 20 minutes), in preheated 375°F oven. Remove from pan(s) and cool on wire rack.


Recipe featured at Tutti Dolci.