Batterway Cinnamon-Crunch Coffee Cake
A slightly sweet no knead coffee cake studded with a cinnamon-crunch topping.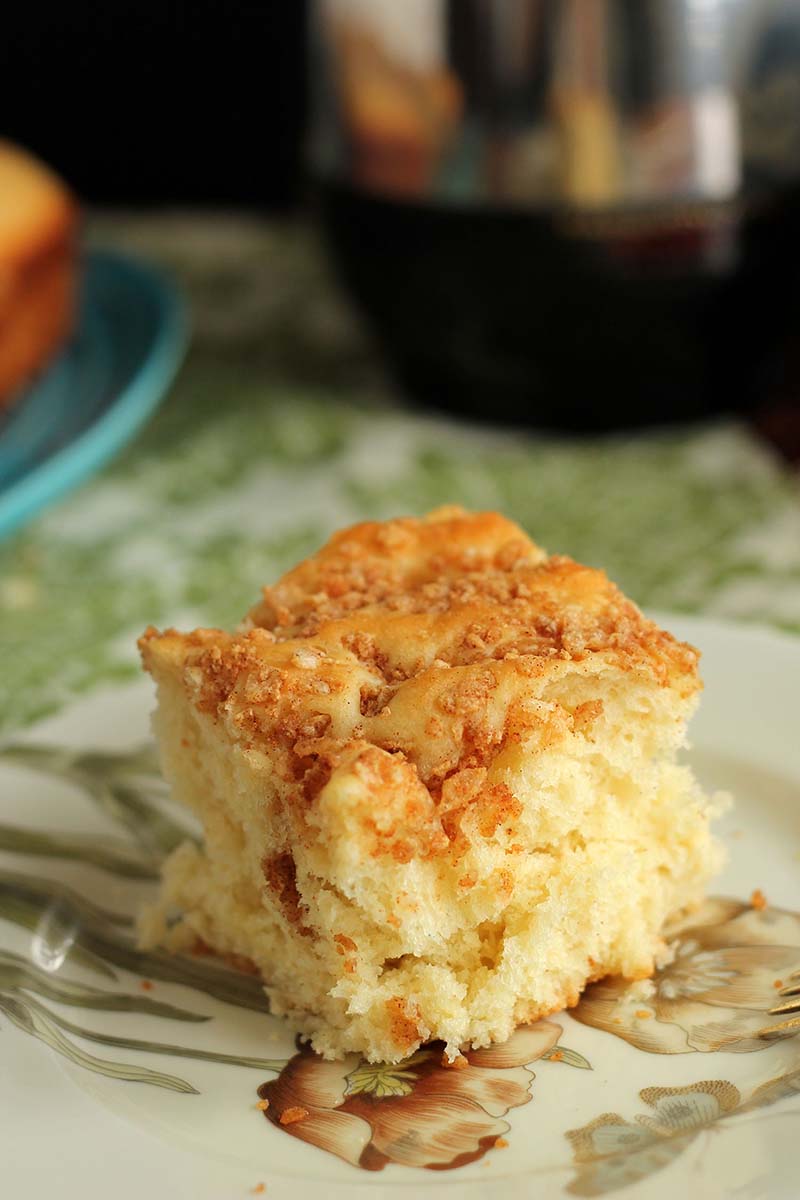 Yield:
One 9x13-inch cake or Two 8x8 or 9x9-inch cakes
Ingredients
For the batter:
½ cup sugar
1 tsp salt
3 cups all-purpose flour
½ cup soft shortening
1 cup warm tap water
1 package (2¼ tsp, ¼oz, 7g) RED STAR Active Dry Yeast
2 eggs
1 tsp vanilla
For the topping:
½ cup crushed (or 1½ cups uncrushed) wheat, corn or rice cereal flakes
½ cup sugar
½ tsp cinnamon
3 Tbsp melted butter or margarine
Instructions
Measure the sugar, salt, flour and shortening into a bowl; blend. Set aside. Pour the water into a mixing bowl; add the yeast. Stir; let stand 3 to 5 minutes. Add the eggs, vanilla, and ½ the flour-mixture. Beat 2 minutes with electric mixer on medium speed, or by hand until smooth. Stop mixer. Add the remaining flour mixture and beat again with a spoon until smooth, about 1 to 1½ minutes. Scrape down batter from sides of bowl. Cover. Let rise in warm place until doubled, about 30 minutes.


Meanwhile, prepare topping: combine topping ingredients in bowl. Set aside.


Grease one 9 x 13 x 2-inch pan, OR two 8- or 9-inch square pans.


Beat down raised batter with spoon in about 25 strokes. This is a thick, somewhat sticky batter; spread evenly in the pan(s). Sprinkle topping evenly over batter. With fingers, make dents on topping, pressing down almost to bottom of the pan. Tap pan(s) on table to settle the batter. Let rise until doubled, about 20 to 30 minutes. Preheat oven to 375°F. Bake 20 to 30 minutes. Remove from pan(s) and cool on rack.


*You can substitute Instant (fast-rising) Yeast in place of Active Dry Yeast in batter/no knead recipes. When using Instant Yeast, expect your batter/dough to rise about 50% faster. Adjust your rise times accordingly. Traditional methods: use equal amounts; Bread Machine: use ½ tsp Instant Yeast OR ¾ tsp Active Dry Yeast per cup of flour in your recipe. Visit our Lessons in Yeast & Baking for more information on baking.


Recipe featured at Stephie Cooks.