Apple Cinnamon Rolls with Caramel Icing

Author: Sally McKenney Quinn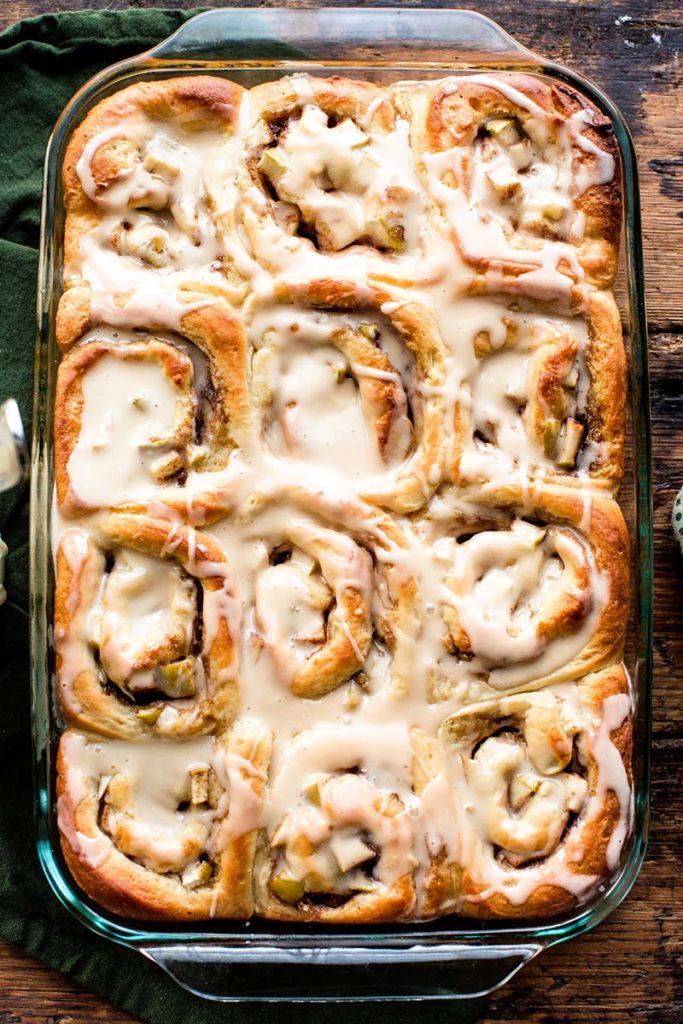 Like clockwork, my cinnamon roll cravings become pretty intense in September.
Greeting us all at the corner of comfort food and calorie-laden are APPLE CINNAMON ROLLS drowning in caramel icing. Move over every other type of cinnamon roll out there… there's a new boss in town.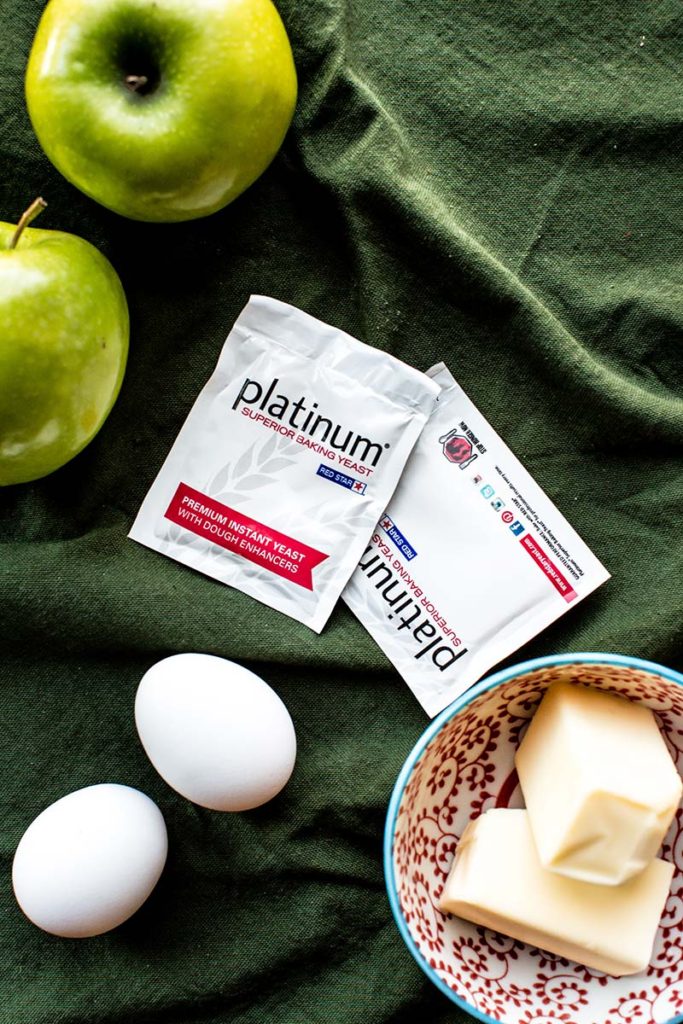 My little secret to the BEST cinnamon rolls can be found in the little packets you see above.
Red Star Yeast. Quality yeast, and a carefully formulated dough to pair with it, helps guarantee success, no matter how terrified you are of yeast. The Red Star Yeast Platinum line makes working with yeast (even for you first timers!) super simple and approachable. I'm a huge fan of Red Star Yeast and use this yeast exclusively in my kitchen because it's always a guarantee.
Once the dough is made, allow it to rise in a warm environment, then punch it down so you can roll it out and fill it up.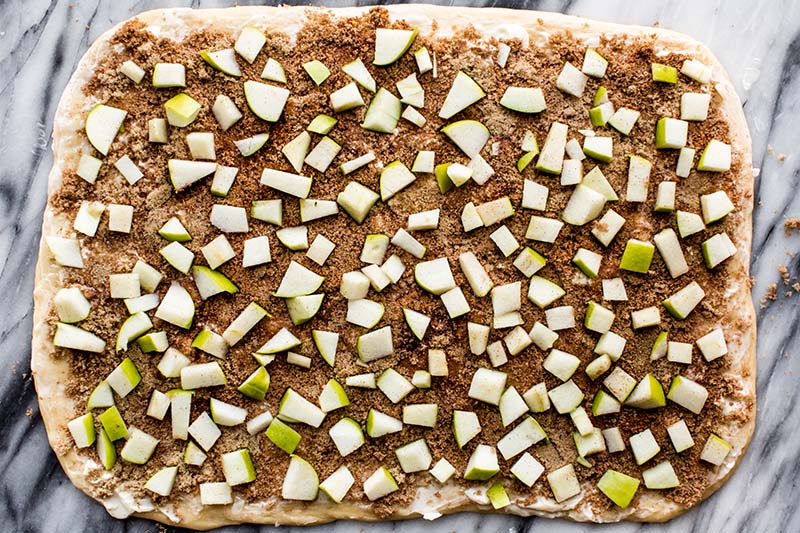 The filling = brown sugar, cinnamon, butter, and apples.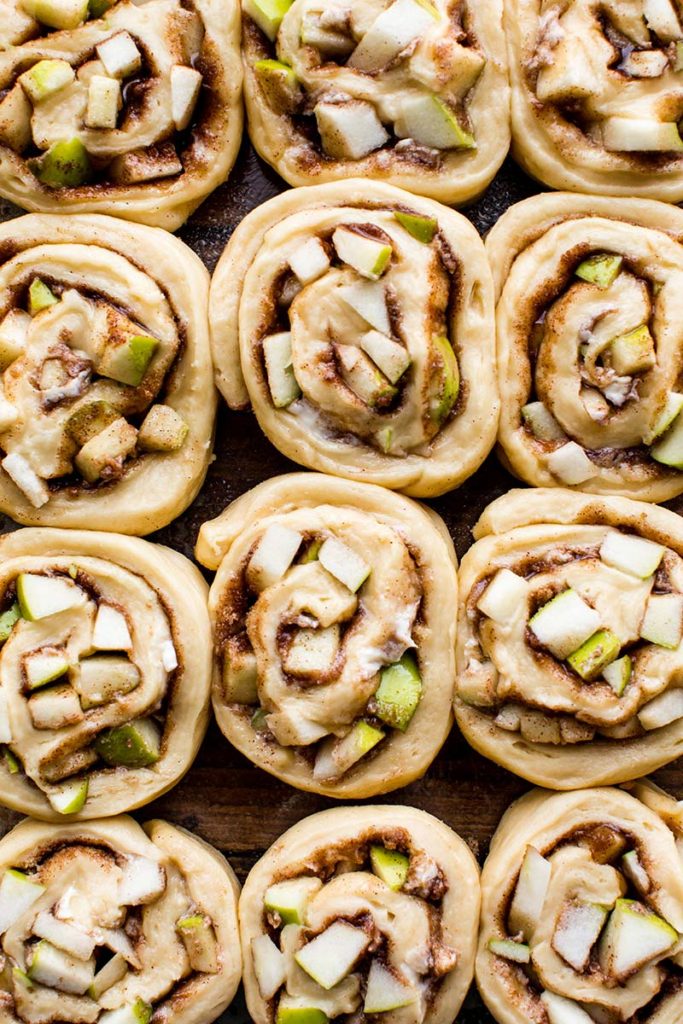 You have the option of making them in the morning OR you can get started the night before. Whichever you choose, the rolls bake up into this gorgeous golden brown color. Drizzle with caramel icing and you've got one EPIC fall breakfast on the table.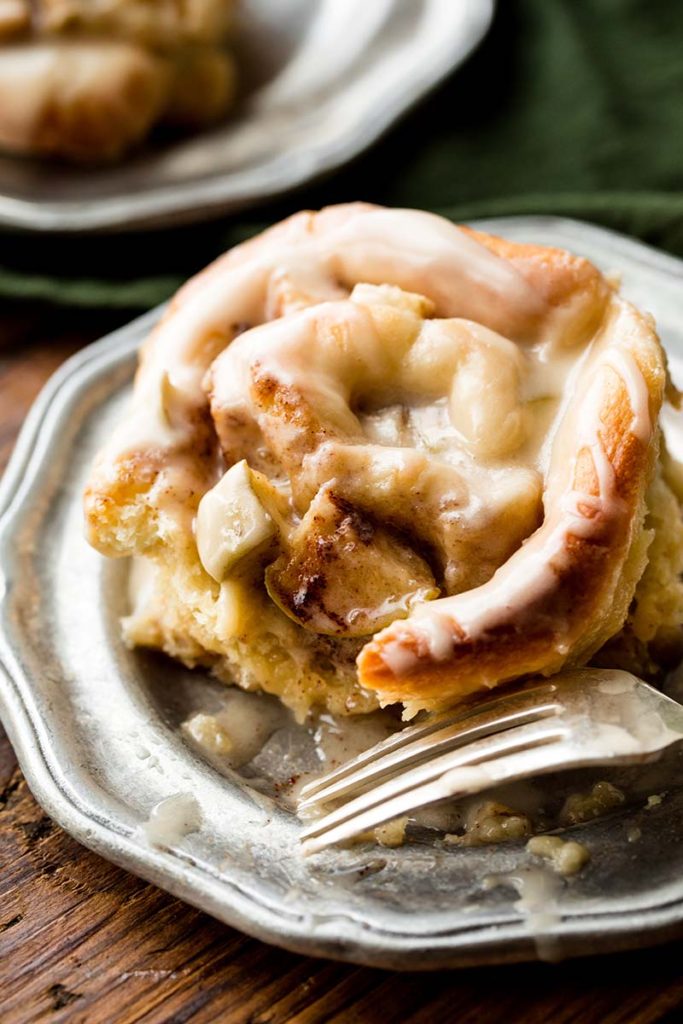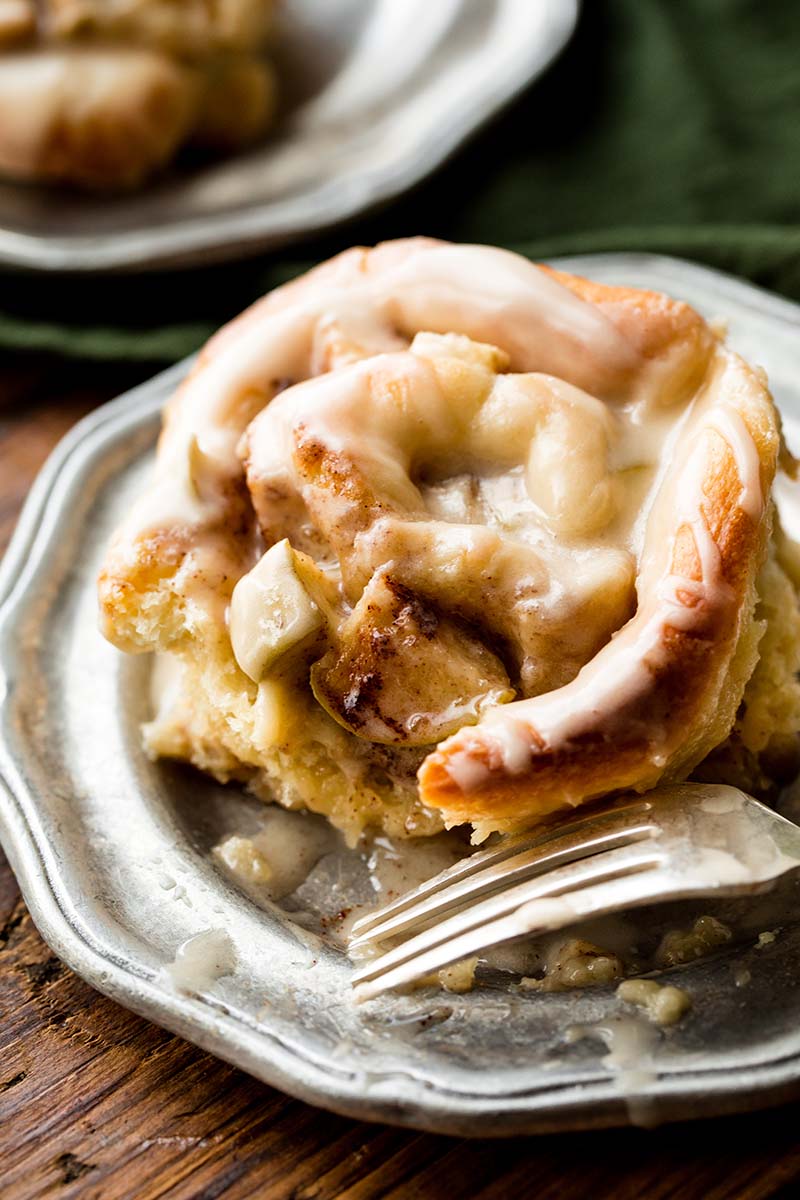 Apple Cinnamon Rolls with Caramel Icing
Gooey cinnamon rolls bursting with chopped apples and topped with a sweet caramel icing for a delicious breakfast treat.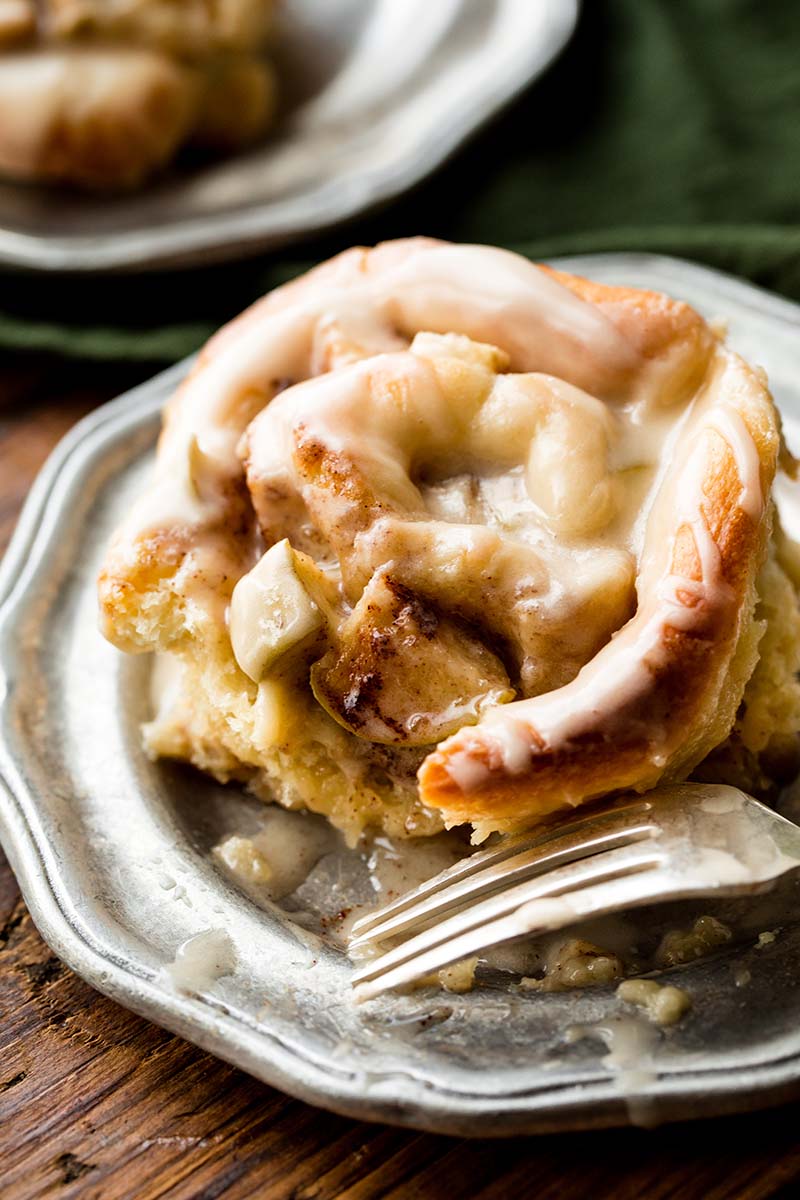 Ingredients
For the dough:
1 cup whole milk
⅔ cup granulated sugar
2 packages (1½ Tbsp, ½oz, 14g) RED STAR Platinum Superior Baking Yeast
½ cup unsalted butter, softened to room temperature and cut into 4 pieces
2 large eggs, at room temperature
½ tsp salt
4½ cups all-purpose flour, plus more for dusting/rolling
For the filling:
6 Tbsp unsalted butter, softened to room temperature
½ cup packed light or dark brown sugar
1½ Tbsp ground cinnamon (*see note)
2 cups chopped apples (peel if you'd like, about 2 medium apples)
For the icing:
1 cup confectioners' sugar
1 tsp vanilla extract
2 Tbsp milk
2 Tbsp warmed caramel sauce (homemade or store-bought)
Instructions
Step 1: Make the dough: Heat milk to about 95°F (35°C)-- use microwave or stovetop. Pour the warm milk into the bowl of a stand electric mixer fitted with the dough hook attachment (OR you can use a handheld mixer OR no mixer, but a stand mixer is ideal). With a whisk, manually whisk in the sugar and yeast. Cover with a towel and let sit until the yeast is foamy, about 5-10 minutes. If the yeast does not dissolve and foam, start over with fresh active yeast. On low speed, beat in the softened butter until it is slightly broken up. Next add the eggs, one at a time, and then the salt. The butter won't really be mixing into the mixture, so don't be alarmed if it stays in pieces. On low speed, gradually add the flour. Once it is all added, beat on medium speed until a soft dough forms. Increase speed to medium-high and beat until the dough is soft and supple, about 6 minutes longer. *If you do not have a stand-mixer with a hook attachment, knead the dough by hand in this step.


Step 2: Transfer the dough to a lightly floured surface and knead it with your hands for 1 minute. Form the dough into a ball and transfer it to a lightly greased bowl. Cover the dough loosely with plastic wrap, a paper towel, or aluminum foil and let sit in a warm place until doubled in size, about 1 to 2 hours. Here's what I do: turn the oven on to 200°F (93°C). Once heated to that temperature, turn the oven off. Stick the covered dough inside the oven and allow it to rise in this warm environment.


Step 3: Grease the bottom and sides of a 9x13 inch baking dish. Turn the risen dough out onto a lightly floured work surface, punch it down and, using a rolling pin, roll into a 12x18 inch rectangle. Make sure the dough is smooth and evenly thick.


Step 4: Fill the rolls: Spread the softened butter all over the dough. In a small bowl, toss the brown sugar and cinnamon together until combined and then sprinkle evenly over the dough. Top evenly with chopped apples. Tightly roll up the dough to form an 18-inch-long log. Cut into 12 equal rolls. Arrange them in the prepared baking pan. Cover the rolls very tightly with aluminum foil and allow to rise in a warm environment again for about 45-60 minutes or until doubled in size.


Step 5: Bake the rolls: Preheat the oven to 375°F (191°C). Bake rolls for about 25 minutes until they are golden brown. About halfway through the bake time, I like to cover the rolls loosely with aluminum foil so the tops don't brown too much. Remove pan from the oven and allow to cool on a wire rack for 5 minutes.


Step 6: Whisk all of the icing ingredients together and drizzle over warm rolls. Serve warm.


Overnight instructions: To prepare the night before serving, prepare the rolls through step 4. Cover the rolls tightly and refrigerate for 8-12 hours. The next morning, remove from the refrigerator and allow to rise on the counter for 1-2 hours before continuing with step 5.


Freezing instructions: Baked rolls can be frozen up to 2-3 months. Thaw overnight in the refrigerator and warm up before enjoying. You can also freeze the unbaked rolls and here's how: bake the rolls in step 5 for only about 10 minutes at 375°F (191°C). Cool completely, then cover tightly and freeze. To serve, take the rolls out of the freezer and put into the refrigerator a few hours before serving. Then, finish baking them.
Notes
*NOTE: You can decrease the cinnamon to ¾ tsp - 1 Tbsp depending on your taste preference.
---
Baking enthusiast Sally McKenney Quinn is the blogger and photographer behind Sally's Baking Addiction, as well as the author of best-selling cookbooks Sally's Baking Addiction and Sally's Candy Addiction. The kitchen is where her creative juices flow and she enjoys sharing recipes with her millions of fans around the world. When Sally isn't in the kitchen or behind the camera, she enjoys practicing yoga, running off all those cookies, and hiking with her husband, Kevin, and their dog, Jude.