Sage and Cheddar Gluten Free Rolls
These savory gluten free dinner rolls are best when served warm with butter.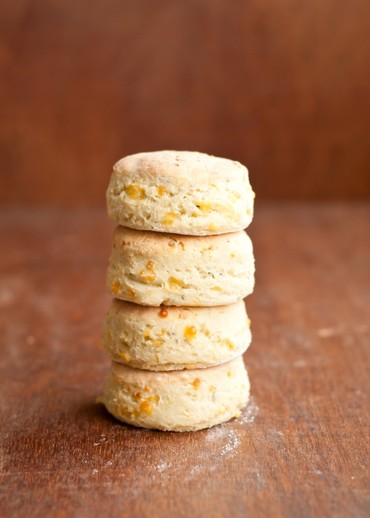 Yield:
8-12 rolls, depending on size
Ingredients
¼ cup water at 110°F
A pinch sugar
2¼ tsp (one packet) Red Star Active Dry Yeast
3 cups Gluten Free Flour Blend* (see below)
1½ tsp xanthan gum
¾ cup milk
¼ cup olive oil
1 TBSP sugar
1 tsp salt
2 large eggs
1 TBSP fresh sage, minced
¼ tsp fresh ground black pepper
1 cup grated aged cheddar cheese


Gluten Free Flour Blend*
1 cup sorghum flour
1 cup white rice flour
⅔ cup tapioca starch
⅓ cup potato starch (can use cornstarch instead)
Instructions
Recipe created by Café Johnsonia


Place warm water in a medium bowl with the pinch of sugar. Sprinkle the yeast over the top and stir gently to dissolve the yeast. Let stand 5-10 minutes, or until foamy.


Meanwhile, combine milk, olive oil, sugar and salt in a small saucepan. Heat, without boiling, until very hot. Remove from heat and let cool to 120°F.


Place eggs in the bowl of a stand mixer fitted with the paddle attachment. Turn mixer on low to break up the eggs. While the mixer is running, add the warm milk mixture to the eggs, followed by the yeast.


Measure out 2 cups of the gluten-free flour blend and sift together with the xanthan gum. Add all at once to the liquid ingredients. Turn the mixer on medium speed and mix well. Turn to low speed and add some of the reserved gluten-free flour one tablespoon at a time until the dough is sticky, but not wet. You won't use all of the flour. Reserve the remaining flour to use when rolling out the dough.


Beat the dough on medium speed for 2-3 minutes. It will appear to be stickier while you do this. If it's overly sticky, add one more tablespoon of the flour. Turn the mixer off and add the cheddar, minced sage, and black pepper. Beat for another 30 seconds. Turn mixer off and remove bowl. Let stand for a few minutes.


Dust a clean surface with some of the reserved gluten-free flour. Turn the dough onto the surface and lightly dust with more gluten-free flour. Gently pat the dough into a flat round about 1" thick. Cut the dough into 2½- to 3-inch rounds. Transfer to a baking sheet lined with parchment paper. Press dough together and repeat until all of the dough has been cut out. (I formed the last roll by hand using the remaining dough.)


Brush tops of the rolls with olive oil. Cover with plastic wrap and place somewhere warm to rise. Let rise for 30-45 minutes, depending on the temperature of the rising area.


While the rolls are rising, preheat oven to 400°F. When rolls have risen, remove plastic and place in oven on the center rack. Bake for 15-20 minutes. Start checking after 15 minutes. The rolls should be golden on top and feel set when you press on the tops. (The baking time will vary depending on thickness and diameter of the rolls.)


Let rolls cool slightly before serving. They are best eaten while warm. Let leftover rolls cool completely before placing in a resealable plastic bag and freezing.