Cheesy Crust Pizza
This thick and chewy homemade pizza crust is perfect for pizza night!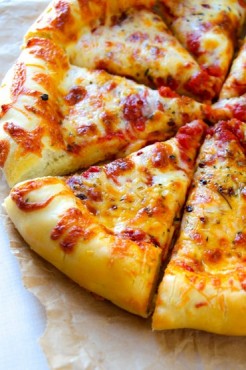 Yield:
Two 12-inch pizzas
Ingredients
Dough
1 cup water
2¼ cup bread flour
½ tsp salt
¼ tsp pepper
½ cup Parmesan cheese, grated
2¼ tsp Red Star Active Dry Yeast


Pizza Sauce and Toppings
1 lb. pork sausage
¼ cup chopped onion
½ teaspoon cumin seeds
½ teaspoon fennel seeds
15-ounce can tomato sauce
1-1/2 teaspoons Italian seasoning
2 cups (8 ounces) shredded Mozzarella cheese
2 cups (8 ounces) shredded Cheddar cheese
¼ cup grated Parmesan cheese
Instructions
Recipe featured at Layers of Happiness.


In medium mixing bowl, combine 1 cup flour, yeast, Parmesan cheese, salt and pepper; mix well. Add water (120 -130°F) to flour mixture. Mix by hand until almost smooth. Gradually stir in enough remaining flour to make a soft dough. Knead on floured surface 2 to 3 minutes until dough is smooth and elastic. Cover dough; let rest 15 minutes.


In large fry pan, lightly brown sausage; drain. Add onion, cumin and fennel seeds. Cook until onion is soft; set aside. Combine tomato sauce and Italian seasoning.


Preparing Pizza
Divide dough into 2 parts. With well-floured or greased fingers, press each half into greased 12-inch pizza pan, forming a rim around edge. Spread half of sauce over dough. Spoon half of sausage mixture evenly over sauce. Sprinkle cheeses on top. Bake in preheated 425°F oven for 20 to 25 minutes until edge is crisp and golden brown and cheeses are melted. Serve immediately.


*You can substitute Instant (fast-rising) yeast in place of Active Dry Yeast. When using Instant Yeast, expect your dough to rise faster. Always let your dough rise until ripe. Traditional methods: use equal amounts; Bread Machine: use ½ tsp Instant Yeast OR ¾ tsp Active Dry Yeast per cup of flour in your recipe. Visit our Lessons in Yeast & Baking for more information.