Baba Au Rhum
A rich, no knead yeast cake soaked with a rum flavored sugar syrup.

This recipe makes One cake or 12 individual mini cakes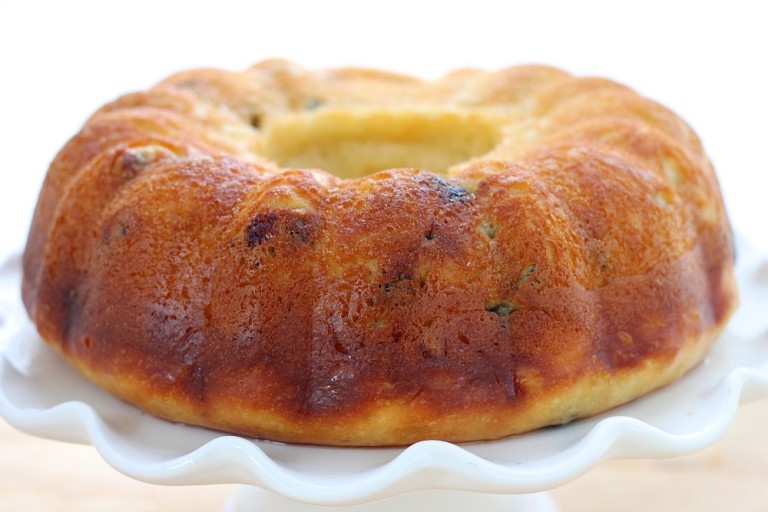 Ingredients
3 cups Bread Flour
4+1/2 tsp Active Dry Yeast
¼ cup Water
½ cup Milk
¾ cup Butter
¼ cup Sugar
½ tsp Salt
4 Eggs
½ cup Currants, or chopped almonds and currants
½ tsp Almond extract
Instructions
This recipe is featured at Roxana's Home Baking.


Measure 1+3/4 cups of the flour into a large mixer bowl. Add the yeast, blend. Measure water, milk, butter, sugar and salt into a pan. Heat until warm (120°-130°F), stirring constantly. Pour into flour-yeast mixture. Add eggs. Beat 1/2 minute with electric mixer on low speed, scraping bowl. Beat 3 more minutes at high speed. STOP MIXER. Blend in the rest of the flour, currants, and extract. Cover bowl. Let rise in warm place until doubled...about 30 to 45 minutes.


Turn into buttered 2-quart turban mold or 12 individual baba or ring molds, filling half full. Let rise until doubled...30 to 40 minutes. Bake 30 to 40 minutes for large mold, OR 15 to 20 minutes for small molds, or until cake tester comes out clean, in preheated 350°F oven. Cakes will be golden brown. Prick cake with fork while in pan, then invert, remove from pan, and prick again. Pour hot Syrup over cake, a little at a time until Syrup is absorbed.


Rum-Lemon Syrup - Boil 2 cups sugar and 4 cups water for 8 to 10 minutes. Remove from heat and add [i]4 tsp rum flavoring, 1 tsp lemon juice and [/i]1/4 tsp almond extract. Pour syrup over Baba a little at a time and let stand until Syrup is absorbed.


*You can substitute Instant (fast-rising) in place of Active Dry Yeast in batter/no knead recipes. When using Instant Yeast, expect your batter/dough to rise faster - about 50% faster. Adjust your rise times accordingly. Traditional methods: use equal amounts; Bread Machine: use ½ tsp Instant Yeast OR ¾ tsp Active Dry Yeast per cup of flour in your recipe. Visit our Lessons in Yeast & Baking for more information on baking.