Homemade White Sandwich Bread
Probably the simplest bread recipe. Soft and fluffy, with a yellowish crumb and a chewy crust, this bread is perfect for PB&J or deli sandwiches, and even for making French toast.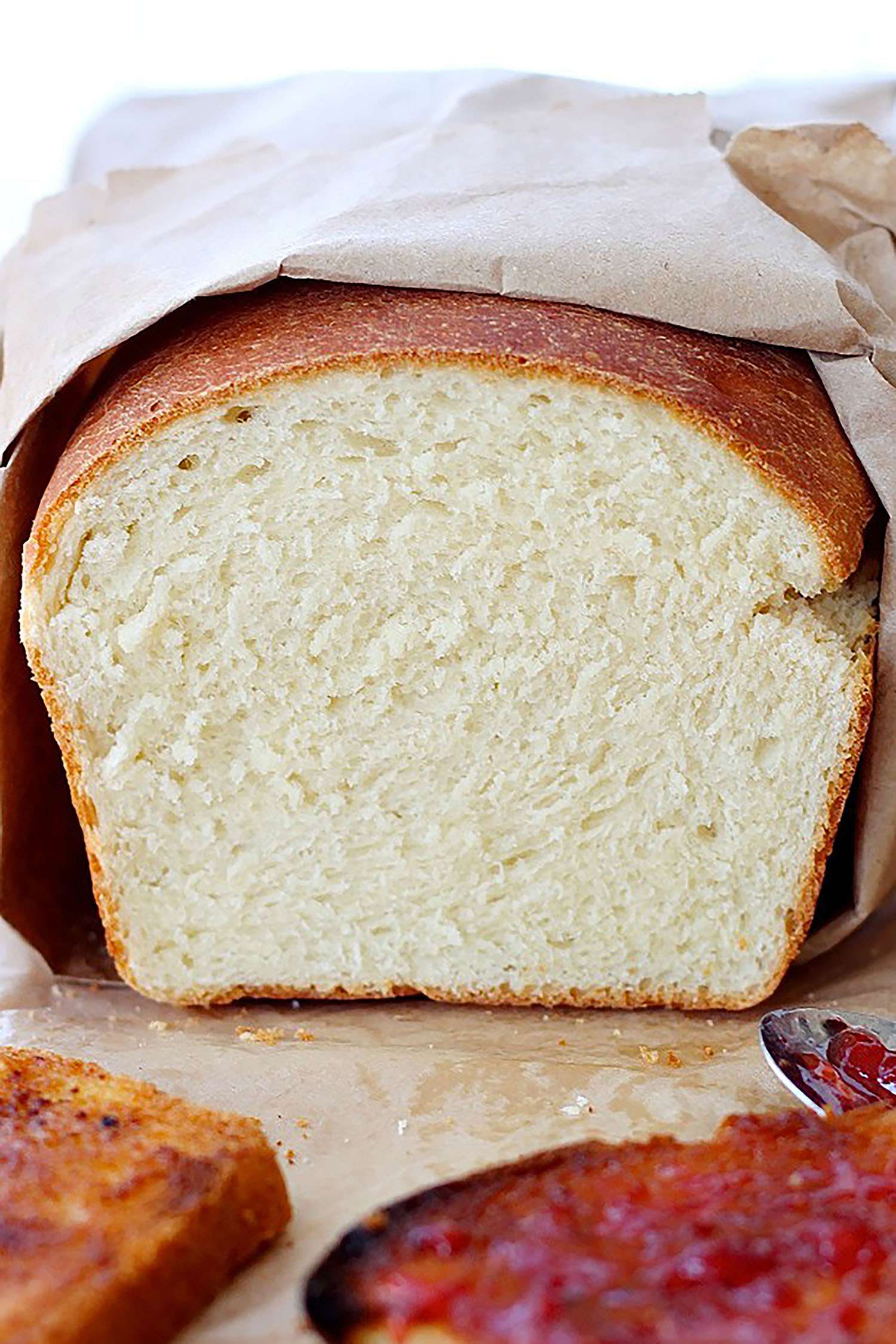 Ingredients
2 cups water, divided (110-115°F)
1 cup milk (110-115°F)
⅓ cup sugar, divided
3 packages (6¾ tsp, ¾oz, 21g) RED STAR Active Dry Yeast
1 large egg
⅓ cup melted butter or oil
8 cups bread flour, divided
2 tsp salt
Instructions
Grease four 9x5x2-inch loaf pans; set aside


In large bowl, dissolve 1 tsp sugar in ½ cup warm water. Stir in yeast; let stand for 10 minutes, or until foamy. Whisk in 1½ cups water, milk, remaining sugar, egg and butter.


Add 3 cups flour and salt; mix until smooth. Add another 4½ cups flour. Stir briskly with wooden spoon until well mixed. If necessary, gradually add remaining ½ cup flour to make soft dough. On lightly floured surface, knead dough about 8 - 10 minutes, until smooth and elastic. Cover; let rest in warm place for 10 minutes.


Punch dough down. Place on lightly floured surface and flatten with your hands to a square about 1-inch thick. Cut into four equal pieces.


Take a piece of dough and roll out to a 8½-inch rectangle. Starting with the long end, tightly roll up jelly-roll style. Pinch seams and ends to seal. Place seam down in loaf pan and repeat with remaining 3 pieces. Cover and let rise in warm place until doubled in size - about 45 minutes.


Preheat oven to 400°F. Bake loaves 25 - 30 minutes, until lightly browned and bread sounds hollow when tapped. Remove from pans to wire rack to cool.


Note: If you prefer you can mix all the flour in with a wooden spoon, but the result will be an airy texture and a somewhat uneven top crust.


Recipe featured at A TrEATs Affair.
Notes
You can substitute Instant (fast-rising) Yeast in place of Active Dry Yeast. When using Instant Yeast, expect your dough to rise faster. Always let your dough rise until
ripe
. Traditional methods: use equal amounts; Bread Machine: use ½ tsp Instant Yeast OR ¾ tsp Active Dry Yeast per cup of flour in your recipe. Visit our
Lessons in Yeast & Baking
for more information.