Teen's Choice Pizza
Hungry? Make pizza with ingredients on hand. Warning: This quick rising dough is fast - so have your toppings ready.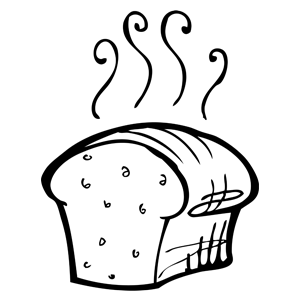 Yield:
two 12- to 14-inch pizzas; four 7-inch thick-crust pan pizzas; eight 5-inch pizza snacks; or twelve 3-inch pizza appetizers
Ingredients
Crust
1 cup water
2 TBSP vegetable oil
2¼ cup all purpose flour
¾ cup whole wheat flour
1½ tsp salt
2¼ tsp Red Star Quick Rise Yeast


Topping
1 cup (8 oz.) Prepared Pizza/Spaghetti Sauce
2 cups Shredded Cheese (Mozzarella, Provolone, Cheddar, etc)
Your choice: Pepperoni, Mushrooms, Green Peppers, Onions, Italian Sausage, Olives, etc.
Instructions
BREAD MACHINE METHOD
Place room temperature ingredients in pan in the order listed. Select Dough cycle. Check dough consistency after 5 minutes of kneading. The dough should be in a soft, tacky ball. If it is dry and stiff, add water, ½ to 1 TBSP at a time. If it is too wet and sticky, add 1 TBSP of flour at a time. When kneading is complete, remove dough from pan. Do not allow dough to rise. Proceed to Shaping and Baking instructions. See our Bread Machine section for more helpful tips and information.


TRADITIONAL METHOD
In medium mixer bowl, combine 1 cup all purpose flour, yeast, and salt; mix well. Combine water and oil; heat to 120º to 130ºF; add to flour mixture. Blend at low speed until moistened; beat 3 minutes at medium speed. By hand, gradually stir in whole-wheat flour and enough remaining all purpose flour to make a soft dough. Knead on floured surface 3 to 5 minutes.


SHAPING AND BAKING
Preheat oven to 400ºF. Lightly flour fingers and work surface. Divide dough into portions. Flatten and shape each portion into desired size; place on greased pizza pans or 2-inchs apart on greased baking sheet. Spread prepared sauce on each pizza. Add your favorite toppings. Cover with shredded cheese. Do not allow dough to rise. Bake at 400ºF until edge is crisp and light golden brown and cheese melts—approximately 9 minutes for 3-inch size pizzas, 10 minutes for 5-inch pizzas, 12 minutes for 7-inch pan pizzas, and 20-25 minutes for 12-14 inch pizzas, or until edges of crust begin to turn a light golden brown. Carefully remove hot pizzas from pans. Serve immediately.
Notes
Freezer Storage for Unbaked Crusts: Shape dough or press into pans. Prick with fork. Wrap in plastic wrap, then wrap in foil; freeze up to 3 months. To use, unwrap and place in preheated 400ºF oven on hot baking sheet. Pre-bake for 10-12 minutes. Layer with desired toppings and complete baking.


Freezer Storage for Baked Crusts: Cool pre-baked crusts. Wrap individually in plastic wrap, then wrap in foil; freeze up to 1 month. To use, place toppings directly on frozen crust and bake.