Pizza on the Grill
Pizza takes on a new savory flavor when it is baked on a grill. Replace the usual tomato sauce with fresh tomatoes and zucchini. Fresh herbs (or dried if they are more convenient) give the added zip.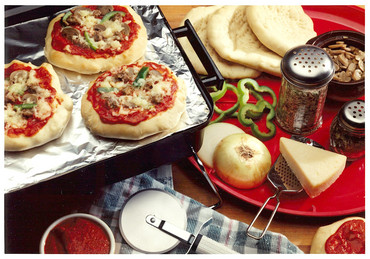 Yield:
Two 12-inch pizzas
Ingredients
1 cup water
2 TBSP oil
1 tsp Salt
2 tsp rosemary leaves, fresh or dried
½ cup ripe olives, sliced
3 cups flour
2¼ tsp Red Star Active Dry Yeast
Instructions
BREAD MACHINE METHOD
Have liquid ingredients at 80° F and all others at room temperature. Place ingredients in pan in order listed. Select dough/manual cycle. Check dough consistency after 5 minutes of kneading, making adjustments if necessary. When the machine has completed the kneading cycle, press CLEAR/STOP and remove the dough.


MIXER METHODS
Combine yeast, 1 cup flour, and other dry ingredients. Heat water to 120° to 130°F.


Hand-Held Mixer Method
Combine dry mixture, water, and oil in mixing bowl on low speed. Beat 2 to 3 minutes on medium speed. By hand, stir in enough remaining flour to make a firm dough. Knead on floured surface 5 to 7 minutes or until smooth and elastic. Use additional flour if necessary.


Stand Mixer Method
Combine dry mixture, water, and oil in mixing bowl with paddle or beaters for 4 minutes on medium speed. Gradually add remaining flour and knead with dough hook(s) 5 to 7 minutes until smooth and elastic.


Food Processor Method
Put dry mixture in processing bowl with steel blade. While motor is running, add water and oil. Process until mixed. Continue processing, adding remaining flour until dough forms a ball.


RISING, SHAPING, AND BAKING
Pizza dough does not need to develop as long as a 'bread' dough. Allow dough to rest 15 to 20 minutes. Punch down dough. Divide into 2 sections. Roll or pat each section into a 12-inch circle on a flat cookie sheet or baker's peel that is generously sprinkled with cornmeal. Layer the crust first with grated cheese before adding any of the other toppings. This step will prevent the crust from becoming soggy from the liquid in the vegetables. Follow with fresh, thinly sliced tomatoes. Other fresh vegetables that add flavor and interest are zucchini, summer squash, green pepper, green onions, and fresh mushrooms. Season with fresh or dried basil or a dried Italian blend of herbs. Place on hot grill. The length of baking time depends on the grill temperature and the distance the rack is from the heat source. The approximate time is 10 to 15 minutes; the bottom of the pizza should be golden brown and the top bubbly.




*You can substitute Instant (fast-rising) yeast in place of Active Dry yeast. When using Instant yeast, expect your dough to rise faster. Always let your dough rise until ripe. Traditional methods: use equal amounts; Bread Machine: use ½ tsp Instant yeast OR ¾ tsp Active Dry yeast per cup of flour in your recipe. Visit our Lessons in Yeast & Baking for more information.
Notes
Traditional pizza toppings of cooked meats, tomato sauce, and assorted cheeses can also be used.
Nutrition Information
Serving size:
1
Calories:
110
Total Fat:
2.5g
Saturated fat:
0g
Carbohydrates:
19g
Sugar:
0g
Sodium:
180mg
Fiber:
1g
Protein:
3g
Cholesterol:
0mg