Dry Yeast >> Fresh Cake Yeast Conversion
If a recipe calls for dry yeast and you need to convert to fresh cake yeast, follow the step-by-step guide below.
Fresh 'Cake' Yeast for home bakers is found in the dairy section of grocery stores. It is sold in 2-ounce packages. (*see note below for larger packages of cake yeast).
One 2-oz. cake yeast is equal to three packets (¼-oz. or 2 ¼ teaspoons each) of dry yeast.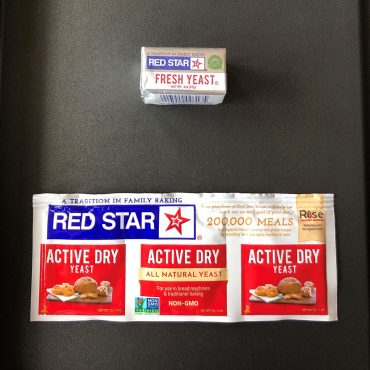 Divide cake yeast into 3 equal pieces. If you have a scale, each piece is 0.67 oz (18.9 g).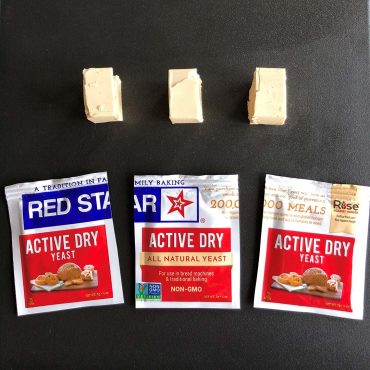 Each cake yeast piece is equal to one packet (or 2 ¼ teaspoons) of dry yeast.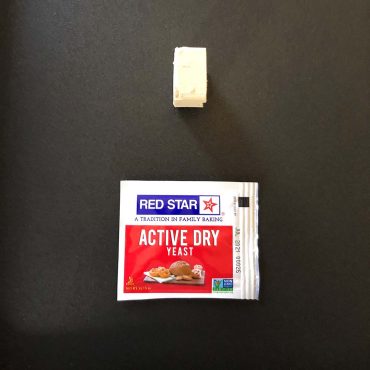 You may crumble the fresh yeast directly into the flour with other dry ingredients, then add lukewarm liquids.  Or if you prefer to 'proof' your yeast, crumble the fresh yeast in ½ cup of lukewarm water with 1 tsp. sugar.  Stir and let stand 5 – 10 minutes, until it foams.  Reduce the liquids in the recipe by ½ cup since you are adding ½ cup liquid with the yeast.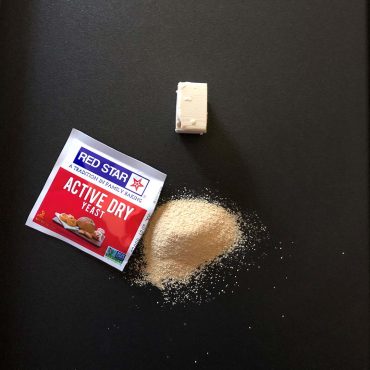 *NOTE: If you have a 1-pound block of cake yeast, first divide it into 8 equal pieces – each piece will be a 2-ounce block. Then follow directions above for each of the 8 pieces.
Some bakeries may sell a 'chunk' of fresh yeast. If you don't have a scale, a 2-ounce cake yeast is about the size of ½ stick of butter.
If you can't find it at your local store, please ask the dairy manager to order it in.
More information on Fresh Cake Yeast: