Banana Bread Cinnamon Rolls
These cinnamon rolls are light, chewy and delicate with an amazingly yeasty taste. It's a taste of home you can have anytime.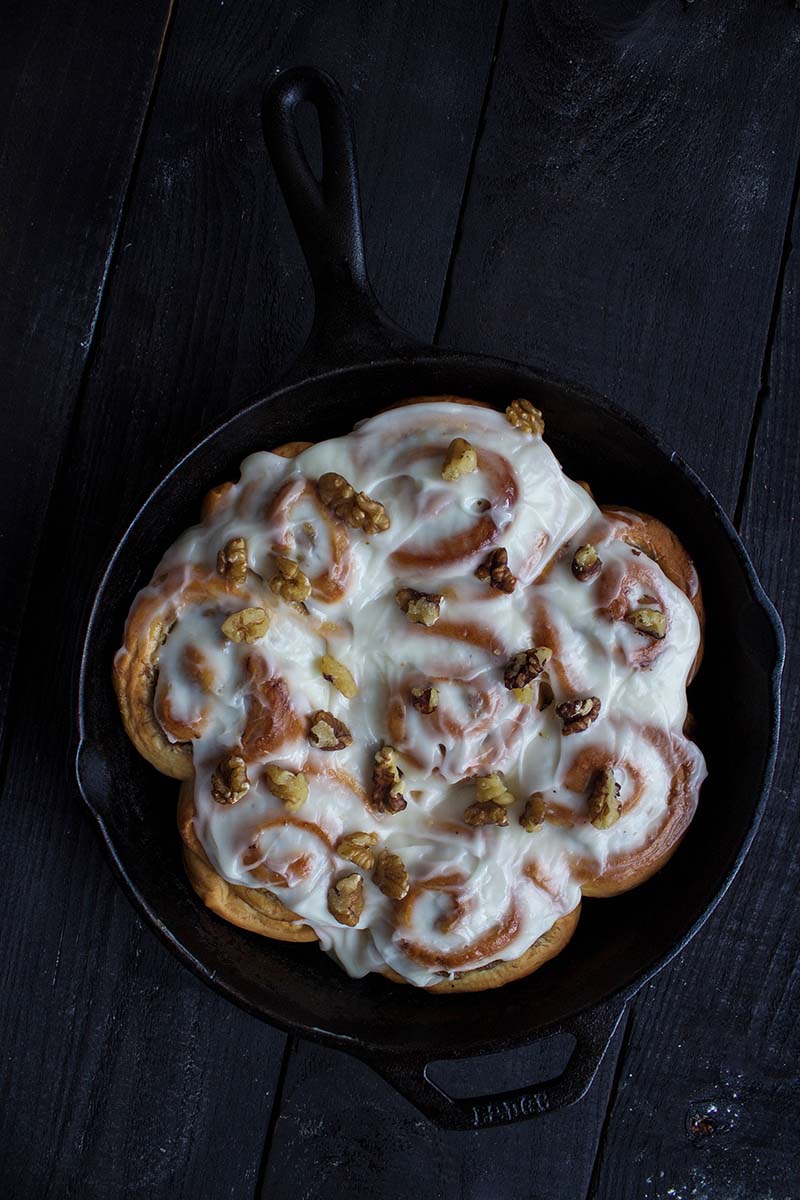 Ingredients
For the dough:
1 cup whole milk
½ cup brown sugar, dark
1½ tsp salt
1 cup water, heated to 110-115°F
2 packages (4½ tsp, ½oz, 14g) RED STAR Platinum Superior Baking Yeast
1 tsp white sugar
2 eggs
5-6 cup all-purpose flour, sifted into a large bowl
½ stick butter, melted
For the filling
7 browned bananas, mashed into a paste
½ cup brown sugar
2 Tbsp honey
½ cup confectioners' sugar
2 tsp cinnamon
For the icing and topping
¼ cup cream cheese, softened
2 Tbsp butter, softened
1 tsp vanilla extract
4 cups confectioners' sugar
1 Tbsp milk
½ cup walnuts, chopped or crushed
Instructions
In a small saucepan, warm milk, brown sugar, and salt together on medium-high heat. Stir occasionally until brown sugar and salt are dissolved (brown sugar may still have some flecks, this is okay). Continue cooking until small bubbles form around the edge. Remove from heat and allow to cool to 110-115°F.


While this is cooking, pour warm water, white sugar, and yeast in the bowl of a stand mixer, fitted with the paddle attachment. Allow to sit for 8-10 minutes until it begins to foam.


Beat eggs one at a time into the yeast mixture on medium speed, allowing the first egg to be fully incorporated before adding the second.


Next, with the mixture still running, slowly pour cooled milk mixture into the stand mixture.


Switch from a paddle attachment to a dough hook (keep in mind that this can all be done by hand with a wooden spoon, but may take longer and may not produce a lighter end product).


Begin adding flour into mixer slowly, one cup at a time. Between each cup, wet dough with melted butter. You may not need the full six cups, but dough will be ready when it no longer sticks to the side of the bowl and forms around hook.


Turn out onto a floured work surface and fold in on itself 4 times. Turn into a lightly greased bowl and cover with a towel. Allow to rise for one hour. While waiting, move onto the filling.


Place all filling ingredients in a bowl and stir together until fully incorporated. Cover with plastic wrap and allow to sit in fridge while rolling out cinnamon rolls.


When dough is finished rising, punch down and turn back out onto floured work surface.


Cut dough in half and place one half to the side. Roll out other half into a 12x9-inch rectangle. Using a rubber spatula, spoon half of the banana filling onto the dough. Starting with the shorter end, roll the dough onto itself, lengthwise and tuck edge underneath the log. Using floss, twine, or a careful and sharp knife, cut 1 to 1½-inch rounds from dough. Place in a greased cake pan or skillet. Repeat with other half of dough and remaining banana filling.


Cover rolls with a towel and let rise for 45 minutes.


In the meantime, preheat oven to 350°F


When finished rising, place in oven and bake for 35-40 minutes, or until golden (begin checking at the 30 minute mark, cover loosely with foil to prevent over-browning).


While rolls are baking, make icing: Beat cream cheese, butter, and vanilla together. Add one cup of confectioners' sugar at a time. If icing is too crumbly/dry, add a little bit of milk. Continue alternating between cups of confectioners' sugar and milk until you have the consistency of the icing you like (pourable, but not dripping)


Take rolls out of oven, allow to cool slightly, and top with icing and walnuts. Enjoy!


Recipe created by Brett Braley.