French Onion Bread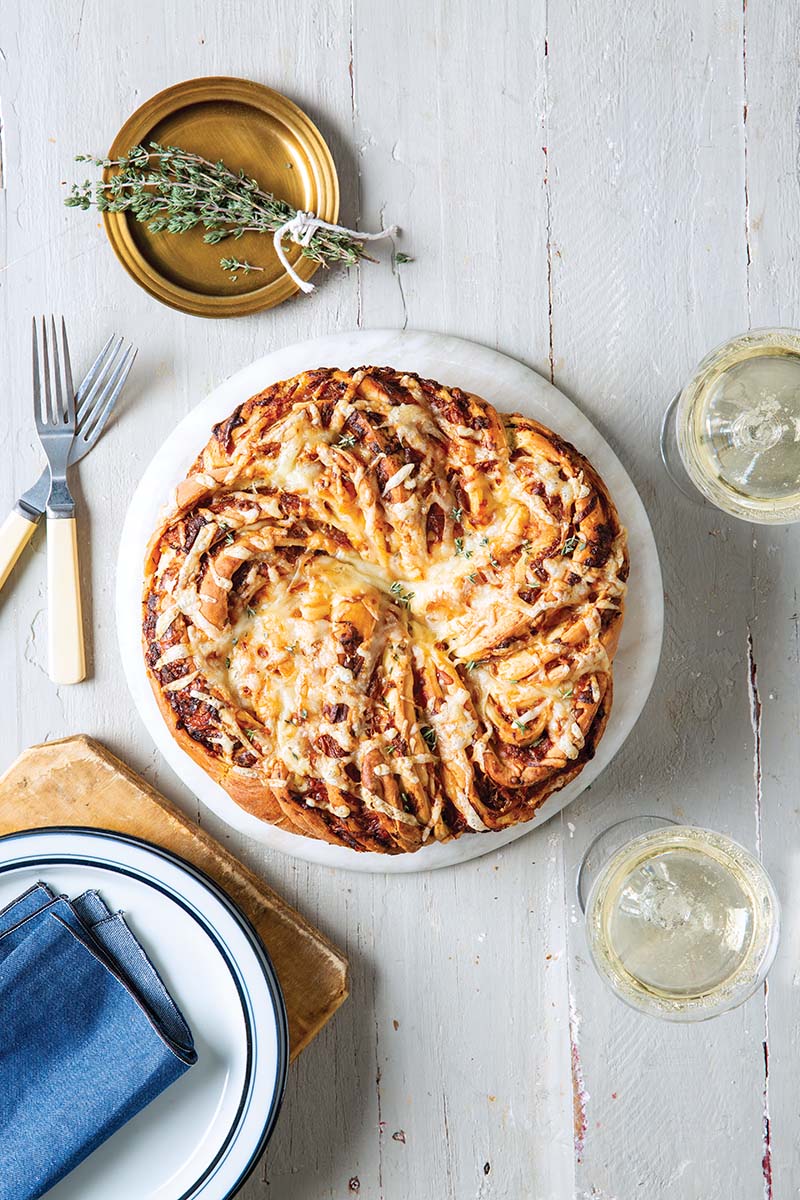 4¼ cups (531 grams) all-purpose flour, divided
¼ cup (50 grams) granulated sugar
2¼ teaspoons (7 grams) RED STAR Active Dry Yeast
1 teaspoon (3 grams) kosher salt
½ cup (120 grams) whole milk
½ cup (120 grams) water
⅓ cup (76 grams) unsalted butter
¼ cup (60 grams) sour cream
1 large egg (50 grams)
Caramelized Onions (recipe follows)
½ cup (113 grams) unsalted butter, softened
2 tablespoons (4 grams) fresh thyme
8 ounces (227 grams) Gruyère cheese, shredded and divided
Step 1. In the bowl of a stand mixer, whisk together 2 cups (250 grams) flour, sugar, yeast, and salt by hand.
Step 2. In a medium saucepan, heat milk, ½ cup (120 grams) water, butter, and sour cream over medium heat until an instant-read thermometer registers 120°F (49°C) to 130°F (54°C). Add warm milk mixture to flour mixture, and using the paddle attachment, beat at medium speed until combined. Add egg, beating until combined. With mixer on low speed, gradually add 2 cups (250 grams) flour, beating until combined.
Step 3. Switch to the dough hook attachment. Beat at low speed until a soft, smooth, and somewhat sticky dough forms and pulls away from bowl, 9 to 10 minutes. Add up to remaining ¼ cup (31 grams) flour if dough is too sticky. Turn out dough onto a lightly floured surface, and shape into a smooth round.
Step 4. Lightly oil a large bowl. Place dough in bowl, turning to grease top. Cover and let rise in a warm, draft-free place (75°F/24°C) until doubled in size, 45 minutes to 1 hour.
Step 5. Spray a 9-inch round cake pan with cooking spray.
Step 6. Lightly punch down dough. Cover and let stand for 5 minutes. Turn out dough onto a lightly floured surface, and roll into a 21x12-inch rectangle. In a small bowl, combine softened butter and thyme. Spread thyme butter onto dough, leaving a ½-inch border on one long side. Sprinkle and spread Caramelized Onions onto butter. Sprinkle 6 ounces (170 grams) cheese onto onions.
Step 7. Starting with long side opposite border, roll dough into a log, pinching seam to seal. Place log seam side down, and cut in half lengthwise, leaving 1½ inches at one end. Turn halves cut sides up, and carefully twist dough pieces around each other; form into a circle. Place, cut sides up, in prepared pan. Cover and let rise in a warm, draft-free place (75°F/24°C) until puffed, about 30 minutes.
Step 8. Position one oven rack in center and one at top of oven. Preheat oven to 350°F (180°C).
Step 9. Bake on center rack for 30 minutes. Sprinkle remaining 2 ounces (57 grams) cheese on top, and bake until cheese is melted and golden brown and an instant-read thermometer inserted in center registers 190°F (88°C), 15 to 20 minutes more, placing a piece of foil on top rack of oven to prevent excess browning, if necessary. Let cool in pan for 20 minutes. Remove from pan. Serve warm or at room temperature.
CARAMELIZED ONIONS
Makes 1 cup
• ¼ cup (57 grams) unsalted butter
• 2 pounds (908 grams) Vidalia onions, thinly sliced (about 8 cups)
• 1 teaspoon (3 grams) kosher salt
• ½ teaspoon (2 grams) granulated sugar
• ½ teaspoon (1 gram) ground black pepper
• ½ cup (120 grams) dry sherry
Step 1. In a large Dutch oven, melt butter over medium heat. Add onion; cook, stirring occasionally, until softened, about 15 minutes. Add salt, sugar, and pepper; cook, stirring occasionally, until onion is deep golden brown, 30 to 40 minutes.
Step 2. Increase heat to high. Add sherry; cook until most of liquid has evaporated. Transfer to a glass bowl, and let cool to room temperature.
Recipe in partnership with Bake From Scratch.