Peanut Butter-Chocolate Babkas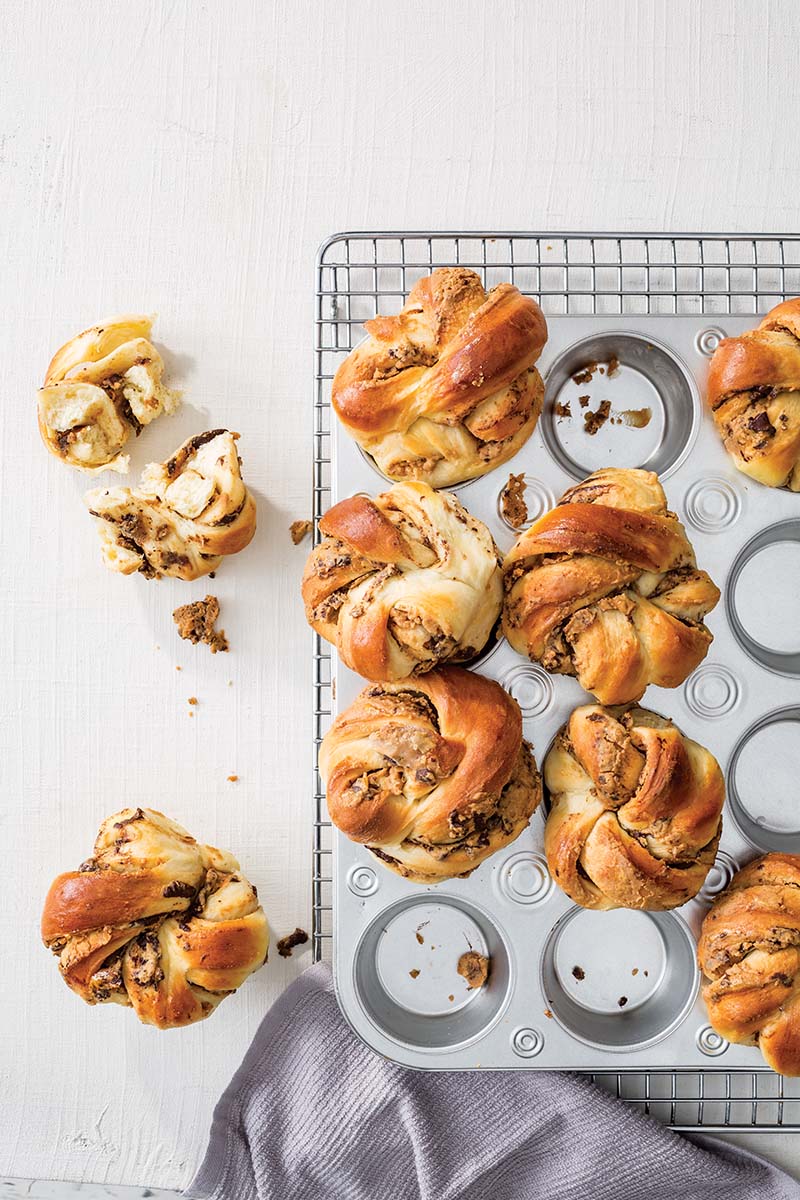 4½ cups (563 grams) all-purpose flour, divided
½ cup (100 grams) granulated sugar
1 (0.25-ounce) package (7 grams) Red Star Quick Rise Yeast
1½ teaspoons (4.5 grams) kosher salt
1 cup (240 grams) plus 1 tablespoon (15 grams) water, divided
½ cup (113 grams) plus 1 tablespoon (14 grams) unsalted butter, melted and divided
2 large eggs (100 grams), room temperature and divided
1 large egg yolk (19 grams), room temperature
1 cup (256 grams) creamy peanut butter
¼ cup (30 grams) confectioners' sugar
1 teaspoon (4 grams) vanilla extract
⅓ cup (57 grams) chopped 60% cacao bittersweet chocolate
Step 1. In the bowl of a stand mixer fitted with the paddle attachment, stir together 4 cups (500 grams) flour, granulated sugar, yeast, and salt by hand.
Step 2. In a small saucepan, heat 1 cup (240 grams) water and ½ cup (113 grams) melted butter over medium heat until an instant-read thermometer registers 120°F (49°C) to 130°F (54°F). Add water mixture to flour mixture, and beat at medium speed for 2 minutes. Add 1 egg (50 grams) and egg yolk, and beat for 2 minutes. Beat in enough of remaining ½ cup (63 grams) flour until a soft dough forms. (Dough will be sticky.)
Step 3. Switch to the dough hook attachment. Beat at low speed until dough is smooth and elastic, 6 to 8 minutes.
Step 4. Lightly oil a large bowl. Shape dough into a smooth ball, and place in bowl, turning to grease top. Cover and let rise in a warm, draft-free place (75°F/24°C) until doubled in size, about 45 minutes.
Step 5. Butter a 12-cup muffin pan.
Step 6. In a small bowl, stir together peanut butter, confectioners' sugar, vanilla, and remaining 1 tablespoon (14 grams) melted butter.
Step 7. Lightly punch down dough. On a lightly floured surface, roll dough into a 20x12-inch rectangle. Spread peanut butter mixture onto dough. Sprinkle with chocolate. Fold rectangle crosswise into thirds, forming a smaller rectangle, about 12x6½ inches.
Cut rectangle crosswise into 12 (about 1 inch) strips. Gently stretch and twist each strip; coil one strip into each prepared muffin cup, tucking end inside edge of cup to create a rounded top. Cover and let rise in a warm, draft-free place (75°F/24°C) until puffed, about 30 minutes.
Step 8. Preheat oven to 325°F (170°C).
Step 9. In a small bowl, whisk together remaining 1 egg (50 grams) and remaining 1 tablespoon (15 grams) water. Brush tops of dough with egg wash.
Step 10. Bake until golden brown and an instant-read thermometer inserted in center registers 190°F (88°C), 15 to 20 minutes. Serve warm.
Recipe in partnership with Bake from Scratch.
Recipe by
Red Star Yeast
at https://redstaryeast.com/recipes/peanut-butter-chocolate-babkas/