Pecan Sticky Buns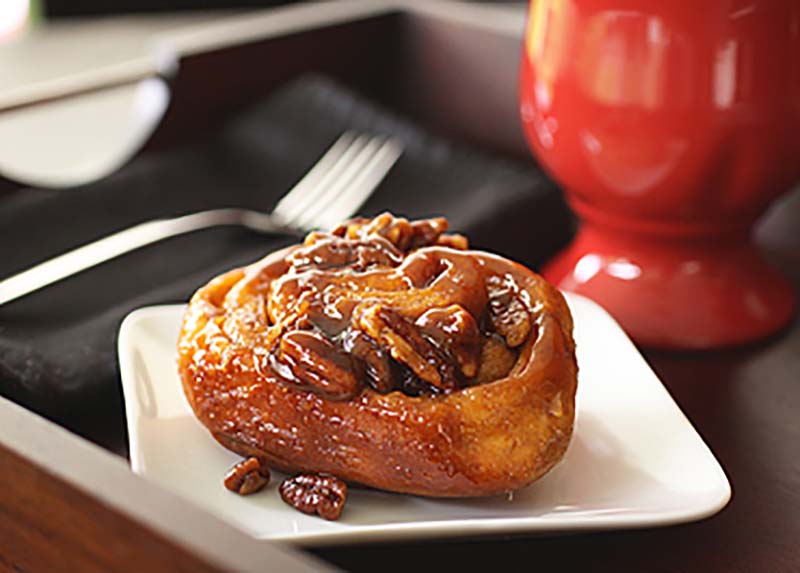 ½ cup milk
½ cup water
¼ cup butter
1 egg
3⅓ cups bread flour
¼ cup sugar
¾ tsp salt
1 package (2¼ tsp, ¼oz, 7g) RED STAR Active Dry Yeast
⅓ cup butter
½ cup brown sugar, packed
3 Tbsp light corn syrup
⅓ cup pecans
2 Tbsp butter, softened
2 Tbsp brown sugar, packed
2 Tbsp sugar
1½ tsp cinnamon
Combine yeast, 1 cup flour, sugar and salt. Heat milk, water and butter to 120-130°F; butter does not need to melt. Combine dry mixture, warmed liquids and egg in mixing bowl on low speed. Blend at low speed until moistened; beat 3 minutes on medium speed. By hand, stir in enough remaining flour to make a soft dough. Knead on floured surface 5 to 7 minutes or until smooth and elastic. Use additional flour in necessary. Place dough in lightly oiled bowl; turn to grease top. Cover and let rise until dough tests ripe. Prepare topping.
Topping: Heat butter, brown sugar and corn syrup; stir until blended. Pour into greased 13x9-inch cake pan. Sprinkle with pecans.
Turn dough onto lightly floured surface; punch down. Roll or pat to a 15 x 12-inch rectangle. Spread with softened butter. Mix together dry Filling ingredients and sprinkle over dough. Starting with shorter side, roll up tightly. Pinch edges to seal. Cut into 12 slices. Place buns, cut side up, on Topping in pan. Cover; let rise in warm place until indentation remains when lightly touched. Bake in preheated 350ºF oven 25 to 35 minutes, or until golden brown. Remove from oven; cover pan with foil. Invert pan onto rack. Let cool 1 minute; remove pan. Cool. Caramelized topping is dangerously hot.
You can substitute Instant (fast-rising) yeast for Active Dry Yeast. Traditional methods- replace 1:1. Expect your dough to rise faster; always let your dough rise until 'ripe'. Bread Machines- use ½ tsp Instant yeast (or ¾ tsp Active Dry yeast) per cup of flour in your recipe. Visit our Lessons in Yeast & Baking for more information on baking.
This recipe is featured at My Kitchen Addiction.