Southern Sally Lunn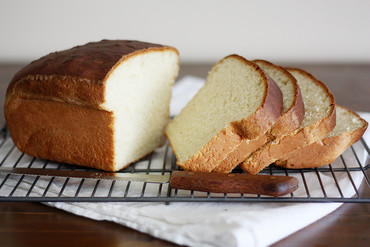 2¼ tsp Red Star Active Dry Yeast
½ cup Water
¾ cup Milk
3 TBSP Sugar
1 tsp Salt
¼ cup Butter or margarine
3+1/4 cups Bread Flour
2 Eggs
1 Grated rind of lemon, if desired
This recipe is featured at Girl Versus Dough.
Have water and milk at 110°-115°F and all other ingredients at room temperature.
Dissolve yeast in water. Let stand 3 to 5 minutes. Pour milk into a bowl with butter, sugar and salt; blend. Stir yeast-mixture and pour into bowl. Add eggs and about ½ the flour. Beat 2 minutes with electric mixer on medium speed, or by hand until smooth. STOP MIXER. Add in the rest of the flour mixture, a little at a time and beat again until smooth. Scrape down batter from sides of bowl. Cover. Let rise in warm place until doubled, about 50 minutes. Grease a 5x9x3-inch loaf pan (or a 9-inch tube pan or a 10- inch mold).
Beat down raised batter in about 25 strokes. Pour into pan, it will fill pan ½ full. Let rise only until edges of batter reaches top of pan, about 30 minutes. If an extra dark crust is desired, sprinkle 1 TBSP sugar over the batter just before it goes into the oven. Bake 30 to 40 minutes in preheated 400°F oven. Remove from pan. Place on rack to cool a few minutes before serving.
*You can substitute Instant (fast-rising) Yeast in place of Active Dry Yeast in batter/no knead recipes. When using Instant Yeast, expect your batter/dough to rise about 50% faster. Adjust your rise times accordingly. Traditional methods: use equal amounts; Bread Machine: use ½ tsp Instant Yeast OR ¾ tsp Active Dry Yeast per cup of flour in your recipe. Visit our Lessons in Yeast & Baking for more information on baking.