Tea Ring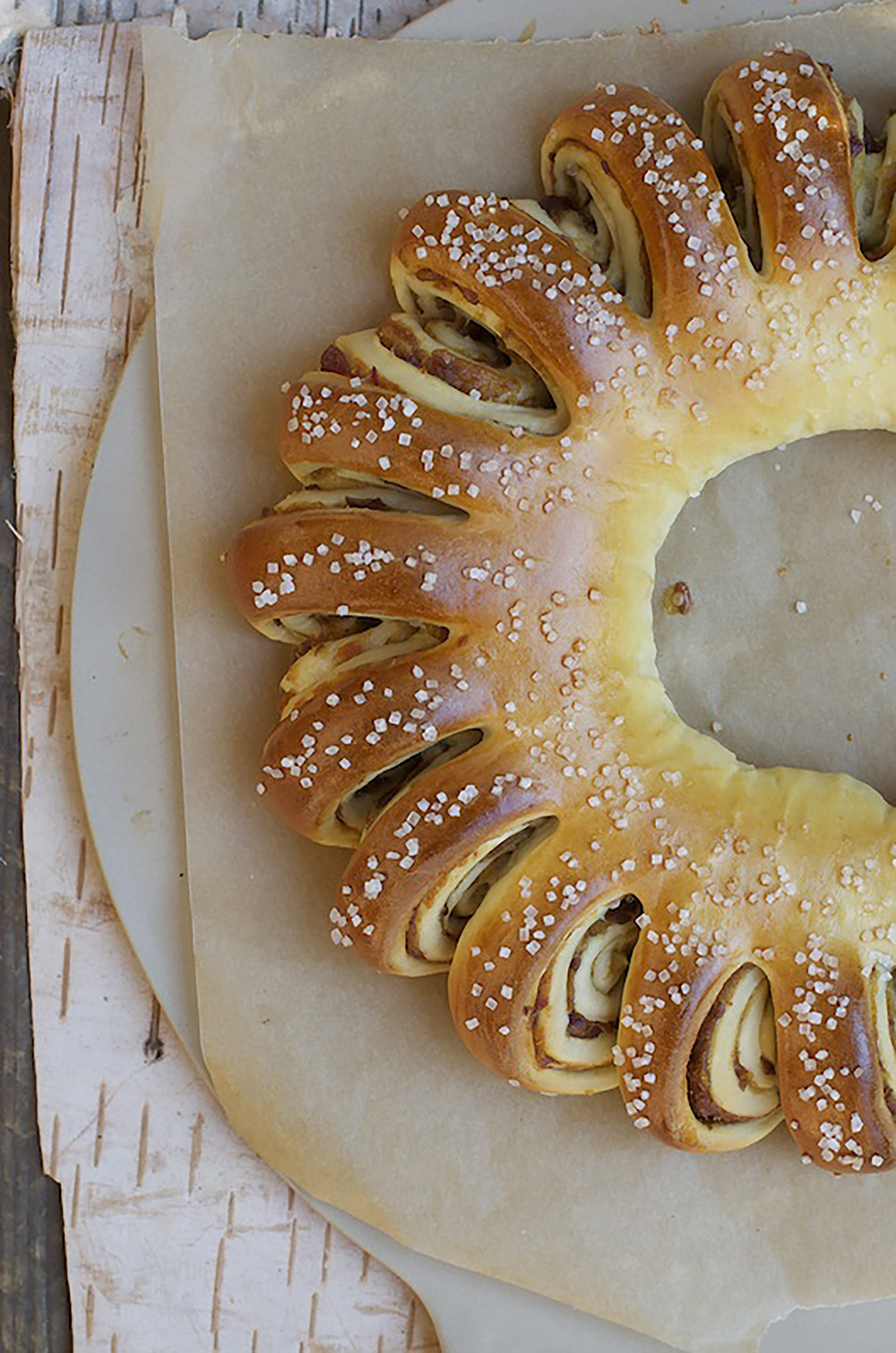 5¼ - 5¾ cups bread flour
4½ tsp (two packages) RED STAR Active Dry Yeast
½ cup sugar
1 tsp salt
1 cup milk
½ cup water
¼ cup butter or margarine
2 eggs
1 Tbsp water
1 egg, slightly beaten
(ingredients for 1 tea ring)
¼ cup sugar
¼ cup corn syrup
⅓ cup water
1 cup cranberries
½ cup whole dates, chopped
¼ cup chopped nuts
2 tsp lemon juice
(ingredients for 1 tea ring)
½ cup, packed brown sugar
2 tsp cinnamon
½ cup pecans, finely chopped
2 Tbsp butter, softened
(ingredients for 1 tea ring)
½ cup whole poppy seeds
⅓ cup milk
⅓ cup sugar
1 egg
½ cup chopped walnuts
¼ tsp almond flavoring
(ingredients for 1 tea ring)
1 cup whole dates, chopped
¼ cup orange juice
1 Tbsp orange rind, grated
1 Tbsp sugar
(ingredients for 2 tea rings)
½ cup, packed brown sugar
½ cup walnuts, chopped
1 tsp cinnamon
½ tsp maple flavoring
¼ cup maple syrup
Prepare Filling or Fillings of your choice. See directions below.
In large mixer bowl, combine 2½ cups flour, yeast, sugar, and salt; mix well. In saucepan or microwave-safe bowl, heat milk, water, and butter until very warm (120º-130ºF; butter does not need to melt). Add to flour mixture. Add 2 eggs. Blend at low speed until moistened; beat 3 minutes at medium speed. By hand, gradually stir in enough remaining flour to make a soft dough. Knead on floured surface until smooth and elastic, 5 to 8 minutes. Place dough in lightly oiled bowl and turn to grease top. Cover; let rise until dough tests ripe, about one hour.
Punch down dough. Divide into 2 parts. On lightly floured surface, roll each half to a 15 x 12-inch rectangle. Spread with Filling. Starting with longer side, roll up tightly. Pinch edges to seal. Form ring, pinch ends to seal. Place each ring seam side down on greased cookie sheet. With scissors, make cuts 1 inch apart through top of ring to 1 inch from center. Turn/twist each slice on its side. Cover; let rise until indentation remains after touching, about 30 minutes.
Preheat Oven to 350º F
Egg wash: Combine egg and 1 TBSP water; gently brush tea ring. Sprinkle with pearl sugar (optional). TIP: Pearl sugar can be found in the gourmet section of most supermarkets. Bake for 20 to 25 minutes until golden brown. Remove from cookie sheets; cool.
Cranberry Date Filling (1 Tea Ring)
In medium saucepan, boil sugar, corn syrup and water 5 minutes. Add cranberries. Cover and cook 4 minutes, stirring occasionally. Add chopped dates; cook 1 minute. Remove from heat; stir in nuts and lemon juice. Cool completely. TIP: If using frozen cranberries, increase cooking time.
Cinnamon Pecan (1 Tea Ring)
In small bowl, combine brown sugar, cinnamon, and nuts; mix well. Spread rectangle with butter. Sprinkle with filling.
Poppy Seed Filling (1 Tea Ring)
In small saucepan, combine poppy seeds and milk. Bring to a boil. Simmer about 5 minutes until milk is absorbed; stirring constantly. Add sugar; cook 5 minutes longer. Beat egg slightly. Stir a little of the hot mixture into the egg; add the poppy seed. Cook until thickened. Do not boil. Remove from heat. Stir in nuts and almond flavoring; cool completely.
Date Orange Filling (1 Tea Ring)
In small saucepan, combine all ingredients. Bring to a boil. Simmer about 3 minutes, until thickened; cool completely. If filling is too thick to spread, add orange juice to thin.
Maple Nut Filling (2 Tea Rings)
In small bowl, combine brown sugar, walnuts, and cinnamon. Brush maple syrup over each half of dough. Sprinkle with sugar and nut mixtures.
*You can substitute Instant (fast-rising) yeast in place of Active Dry Yeast. When using Instant Yeast, expect your dough to rise faster. Always let your dough rise until ripe. Traditional methods: use equal amounts; Bread Machine: use ½ tsp Instant Yeast OR ¾ tsp Active Dry Yeast per cup of flour in your recipe. Visit our Lessons in Yeast & Baking for more information on baking.
Recipe featured at Food Wanderings.