Trinity Easter Bread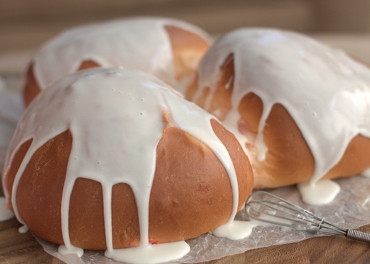 Yield:
3 small round loaves
4 to 4½ cups bread flour
2 packages (4½ tsp, ½oz, 14g) RED STAR Active Dry Yeast
⅓ cup sugar
½ tsp salt
½ cup water
⅓ cup milk
⅓ cup butter or margarine
2 eggs
2 Tbsp grated lemon rind
1 jar (10 oz.) Maraschino cherries, well drained and halved
1 cup sifted powdered sugar
1 tsp softened butter or margarine
1 to 2 Tbsp hot water or milk
In small bowl, blend ingredients until smooth.
In large mixer bowl, combine 1½ cup flour, yeast, sugar and salt; mix well. In saucepan, heat water, milk and butter to 120-130°F; butter does not need to melt. Add to flour mixture. Add eggs. Blend at low speed until moistened; beat 3 minutes at medium speed. By hand, stir in lemon rind, cherries and enough remaining flour to make a firm dough. Knead on floured surface until smooth and elastic, 5 to 8 minutes. Place dough in lightly oiled bowl and turn to grease top. Cover; let rise until dough tests ripe.
Punch down dough. Divide into 3 parts. Shape each third into a smooth ball. On greased large cookie sheet, place 3 balls together in shape of a cloverleaf. Cover; let rise in warm place until indentation remains after lightly touching. Bake at 375°F for 30 to 35 minutes. If too dark, cover loosely with foil last 5 to 10 minutes of baking. Remove from cookie sheet; cool. Drizzle with Powdered Sugar Glaze and garnish with chopped nuts and cherries, if desired.
You can substitute Instant (fast-rising) yeast for Active Dry Yeast. Traditional methods- replace 1:1. Expect your dough to rise faster; always let your dough rise until 'ripe'. Bread Machines- use ½ tsp Instant yeast (or ¾ tsp Active Dry yeast) per cup of flour in your recipe. Visit our Lessons in Yeast & Baking for more information.
This recipe is featured at My Kitchen Addiction.