Super Fast Sourdough Brioche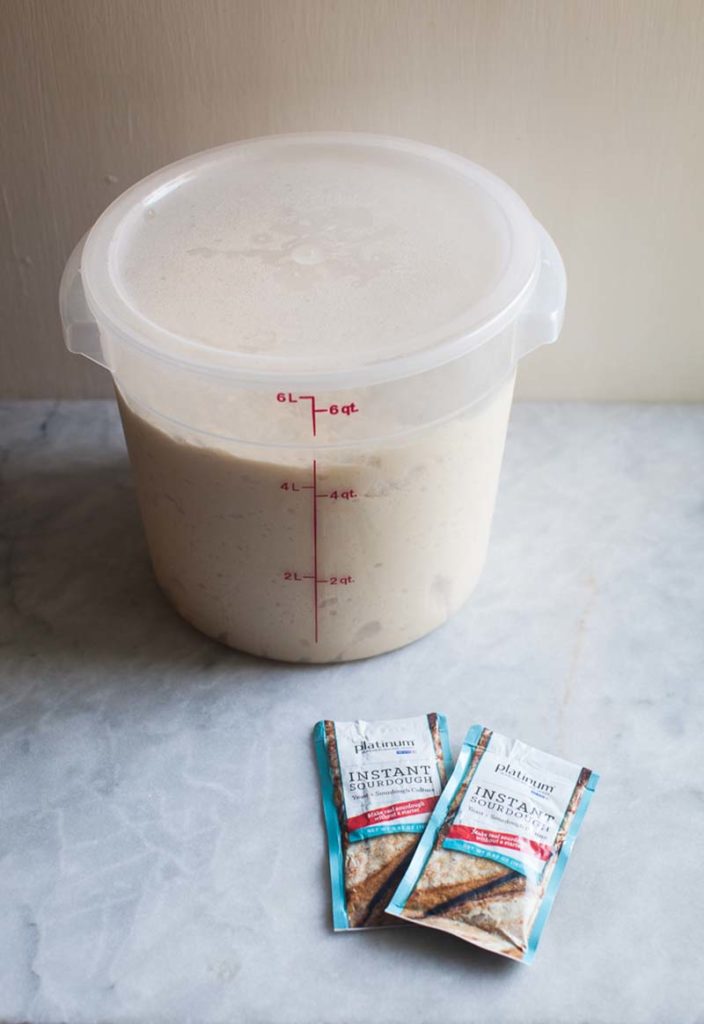 Yield:
Makes enough dough for at least three 1½-pound loaves
1½ cups (340g) lukewarm water
2 packets Platinum Instant Sourdough Yeast
1 tablespoon kosher salt
6 large eggs, room temperature*
½ cup (170g) honey
1½ cups (340g) unsalted butter, melted
7 cups (990g) all-purpose flour
Mix the Platinum Instant Sourdough Yeast, salt, eggs, honey and melted butter with the water in a 5-quart bowl, or lidded (not airtight) food container.
Mix in the flour, using a spoon until all of the flour is incorporated.
Cover (not airtight), and allow to sit at room temperature for about two hours. *Note: if you don't use room temperature eggs and warm water, the initial rise can be very slow.
Refrigerate the dough for about 4 hours, before using. The dough can be used as soon as it is chilled. This dough is way too sticky to use after the initial rise, but once it is chilled it is very easy to handle. It can be used to create any brioche recipes: caramel sticky buns, Star Bread, Baked Ham and Cheese Brioche Sandwiches and fabulous doughnuts! The dough can be stored in the refrigerator for up to 3 days. After that you can freeze the dough.
Recipe by
Red Star Yeast
at https://redstaryeast.com/recipes/super-fast-sourdough-brioche/