Maple Kouign Amann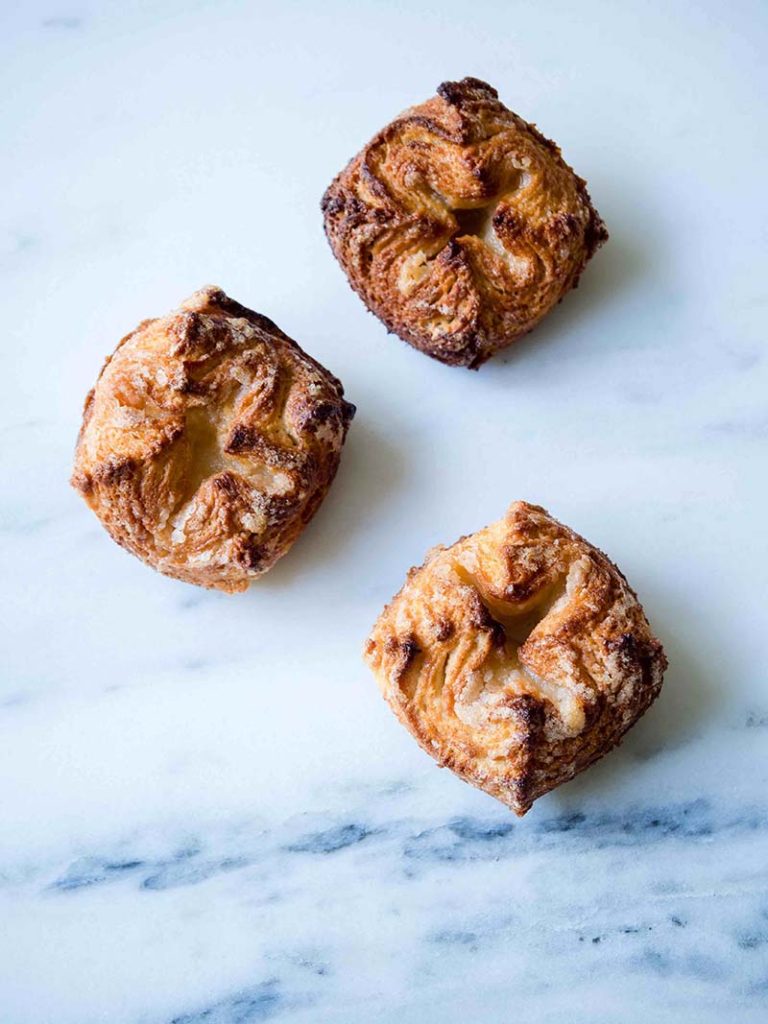 4 cups/480 grams all-purpose flour
2 ounces/56 grams unsalted butter, very soft
1 cup water (room temperature)
¼ cup/78 grams maple syrup (or 50 grams granulated sugar)
1 package (2¼ tsp, ¼oz, 7g) RED STAR Platinum Superior Baking Yeast
1 teaspoon/5 grams fine sea salt
14 ounces/396 grams unsalted butter, very soft
½ cup/97 grams maple sugar or granulated sugar
2 tablespoons all purpose flour
1 teaspoon fine sea salt
¾ cup maple sugar or granulated sugar
Start with the dough. In a medium bowl whisk together the flour and yeast. Next, in the bowl of a stand mixer fitted with the dough hook, combine the water, maple syrup (or sugar), and salt. Add the flour mixture and the butter and mix until the dough is smooth and slightly tacky, about 8-10 minutes. Move the dough to lightly oiled bowl, and cover with plastic wrap. Let rise until doubled, then press the dough into a rough rectangle on a parchment-lined sheet pan. Cover with plastic wrap and refrigerate for 45 minutes.
Meanwhile, make the butter block. Stir the butter, sugar, flour and salt together until the mixture is
smooth. Transfer the butter mixture to a piece of parchment and spread it into a flat, 11x7-inch rectangle.
Fold the parchment paper up and over the butter, making an 11x7-inch package. Refrigerate the package until very cool but not so cold that it breaks when bent.
Now for the laminating. Dust your work surface with flour. Roll out the dough into a 17x7½-inch rectangle.
Then, unwrap and place the butter block onto ⅔ of the dough. Fold over the uncovered portion
of dough onto the butter block, to cover half the butter block. Fold the exposed butter portion over, as you would a business letter. Press the edges of the dough together to "lock-in" the butter. Rotate the dough block 90º and roll out into a 24x10-inch rectangle. Fold the rectangle like a letter, into thirds, into a "letter" fold. Cover with plastic wrap and place in the freezer for ½ hour and then transfer to the refrigerator for 45 minutes. Dust the work surface with flour and roll the dough again into a 24x10-inch rectangle.
Sprinkle the surface of the dough with 2 tablespoons of sugar, press it lightly into the dough, and
make a "letter" fold as before. Turn the dough 90º, and repeat the rolling, sugaring and folding process.
Wrap the dough in plastic wrap and freeze for 30 minutes and then transfer the dough to the refrigerator for 45 minutes to 1 hour.
Lightly sprinkle a work surface with ¼ cup sugar. Roll out the dough into a slightly larger than 12x16-inch rectangle, sprinkling ¼ cup of sugar on top and press it lightly into the dough. Trim the sides so that the rectangle is exactly 12x16-inch. Cut the dough into 12 (4-inch) squares. Take each square and press the four corners towards the center to create a little parcel. Spray a muffin tin with non-stick spray. Place the dough packets into the muffin cups. Cover loosely with plastic and allow to rest 30-40 minutes, until just slightly puffy.
Preheat the oven to 375ºF. Bake for 25-30 minutes or until the tops are deeply golden brown. Immediately remove from the muffin tins and allow to cool on a cooling rack. Makes 12.