Easy Sheet Pan Pizza (+ video)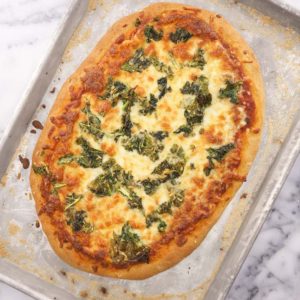 1 package (2¼ tsp, ¼oz, 7g) RED STAR Platinum Superior Baking Yeast
1 cup lukewarm water
1 Tbsp sugar
2 cups bread flour
2 Tbsp extra virgin olive oil
1 tsp kosher salt
1 cup marinara sauce
3 cups shredded mozzarella cheese
Topping ideas:
Chopped brussels sprouts & Parmesan cheese
Sauteed onions & peppers
Mushrooms & goats cheese
Broccoli
Corn
Pineapple
Feta, olives & oregano
Kale & Parmesan cheese (pictured)
Make the dough:
Combine yeast, water and sugar in a medium mixing bowl. Allow yeast to proof for five minutes.
Add 1 cup flour. Mix with wooden spoon or dough whisk.
Add olive oil, salt and remaining flour. Mix until dough pulls from the sides of the bowl.
Dust flour onto your hands and knead dough (in bowl or on lightly floured counter top) for two minutes until smooth.
Cover bowl with plastic wrap and allow dough to sit in warm spot until doubled in size, about an hour.
Preheat oven to 425°F.
Lightly flour a sheet pan (10x14-inch) and your hands. Punch down dough and place on prepared sheet pan. Stretch out dough until it completely covers pan, leaving a bit of a crust around the edges.
Ladle sauce on dough, spreading evenly over top of dough. Sprinkle with shredded cheese and toppings of choice.
Bake for twenty minutes until crust and cheese are golden brown.
In partnership with Joy of Kosher.
Recipe by
Red Star Yeast
at https://redstaryeast.com/recipes/easy-sheet-pan-pizza/