Chocolate Cinnamon Twists (+ video)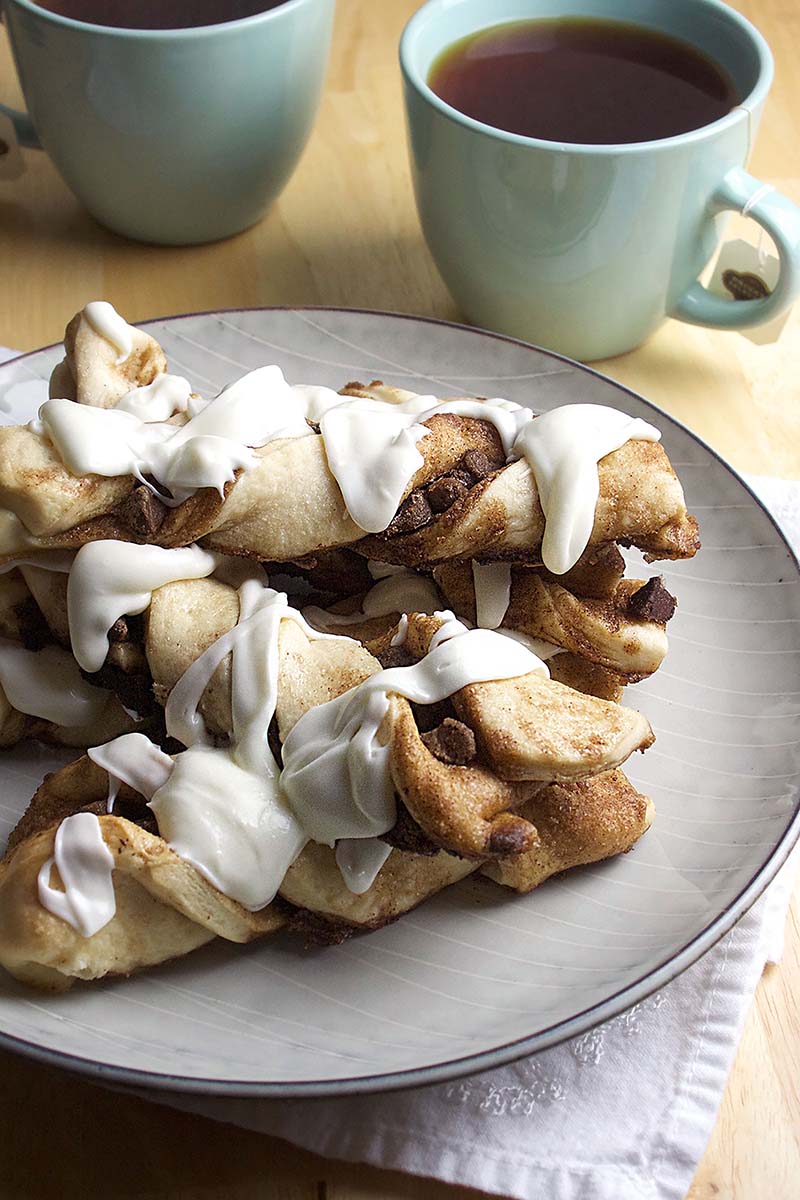 3½ cups of unbleached all-purpose flour
½ tsp salt (I used Alaea Hawaiian Sea Salt)
¼ cup granulated sugar
1 package (2¼ tsp, ¼oz, 7g) RED STAR Platinum Superior Baking Yeast
1 cup of milk, lukewarm
2 Tbsp butter, room temperature
1 Tbsp butter, room temperature (for rubbing on dough ball)
½ cup butter, melted for the filling
1 cup packed brown sugar
1 tsp ground cinnamon
1 Tbsp chocolate powder
1 Tbsp water, for egg wash
1 egg white, for egg wash
1 cup chocolate chips
2 tsp granulated sugar
4 oz. cream cheese, room temperature
2 Tbsp butter, room temperature
2 cups powdered sugar
1 tsp lemon juice
2 Tbsp milk
See recipe video below.
To make the dough:
Prepare two baking sheets by lining with parchment paper or silicone baking mats.
In the bowl of a stand mixer combine flour, salt, sugar and yeast. Add milk and 2 tablespoons butter.
Mix with dough hook attachment for about 1½- 2 minutes or until a dough comes together. Continue to knead for 7-8 minutes. Dough should be smooth and you should be able to form it into a ball.
Rub 1 tablespoon butter all over the dough ball (or coat lightly with vegetable oil or cooking spray).
Cover dough ball with plastic wrap. Let rise for 30 minutes in a warm place.
Make the filling: While your dough is rising, mix ½ cup melted butter with brown sugar, cinnamon and chocolate powder.
Preheat oven to 350°F.
Make egg wash: whisk together egg white and water.
Divide risen dough in half, and roll one half into a rectangle, approx. 11x16-inches. Lay rectangle horizontally in front of you.
Spread half of the filling evenly onto the dough.
Cut the dough in half vertically using a pizza cutter. This will be the fold line.
Sprinkle half the chocolate chips on one half of the rectangle.
Lift the opposite side of the dough rectangle and fold over, placing sides with filling together.
Prepare to cut 6 long strips by making a mark lightly in the dough.
Cut your strips, twist them 3 or 4 times and tuck the ends under. Place on prepared baking sheet.
Press down on the twists as if you are trying to flatten them a little and make sure the ends are still tucked.
Brush egg wash on top of the twists and sprinkle with 1 tsp granulated sugar.
Bake for 12 minutes.
Roll second half of the dough into a rectangle and repeat.
Make the frosting: Combine the cream cheese and butter on medium speed. Add powdered sugar, lemon juice and milk. Mix again until smooth. Add an additional teaspoon of milk for a thinner frosting.
Drizzle (or drop) over warm twists.
Enjoy!
Recipe created by Try Anything Once Culinary.
Recipe by
Red Star Yeast
at https://redstaryeast.com/recipes/chocolate-cinnamon-twists-recipe/