Eggnog Glazed Gingerbread Coffee Cake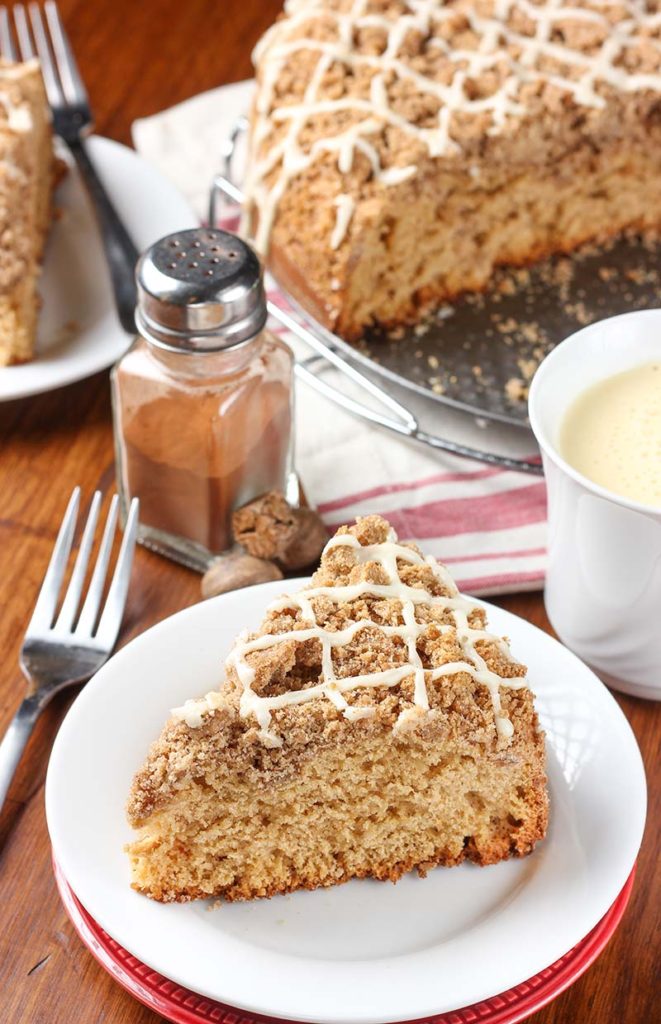 1½ cups plus 1 cup all-purpose flour
⅓ cup sugar
1 package (2¼ tsp, ¼oz, 7g) RED STAR Platinum Superior Baking Yeast
½ tsp salt
2 tsp ginger
1 tsp cinnamon
½ tsp nutmeg
¼ tsp cloves
½ cup milk
¼ cup water
¼ cup butter, melted and cooled
2 Tbsp molasses
1 egg, room temperature
1 tsp vanilla extract
¾ cup all-purpose flour
½ cup brown sugar
¼ cup sugar
2 tsp cinnamon
1½ tsp ginger
½ tsp allspice
¼ tsp nutmeg
⅛ tsp cloves
¼ tsp salt
¼ cup butter, melted
1 cup confectioner's sugar
2 Tbsp eggnog
⅛ tsp nutmeg
Spray and flour a 10-inch springform pan. Set aside.
In the bowl of a stand mixer, whisk together 1½ cups flour, sugar, yeast, salt, ginger, cinnamon, nutmeg, and cloves.
In a small saucepan over low heat (or in the microwave), combine milk, water, butter, and molasses until temperature reaches 120-130°F.
Slowly beat in wet ingredients to dry ingredients until just combined. Increase speed to medium, and beat for 3 minutes. Beat in remaining 1 cup flour, egg, and vanilla extract until combined.
Gently spread/press batter into prepared pan. Cover with plastic wrap or towel and allow to rise in a warm place until puffed and almost doubled in size, about 45 minutes.
Preheat oven to 375°F during last 15 minutes of rise time.
Prepare topping: Stir together flour, brown sugar, sugar, cinnamon, ginger, allspice, nutmeg, cloves, and salt. Stir in melted butter until mixture resembles coarse crumbs.
Gently sprinkle crumb topping over risen batter. Place in preheated oven and bake for 15-20 minutes or until toothpick inserted in the center comes out mostly clean or internal temperature reaches 195-200°F. Do not over-bake.
Remove from oven and allow to cool completely.
Make the glaze: Stir together confectioner's sugar, eggnog, and nutmeg until smooth. Drizzle over cooled coffee cake. Allow glaze to harden and serve.
Recipe by
Red Star Yeast
at https://redstaryeast.com/recipes/eggnog-glazed-gingerbread-coffee-cake/