Pumpkin Parker House Rolls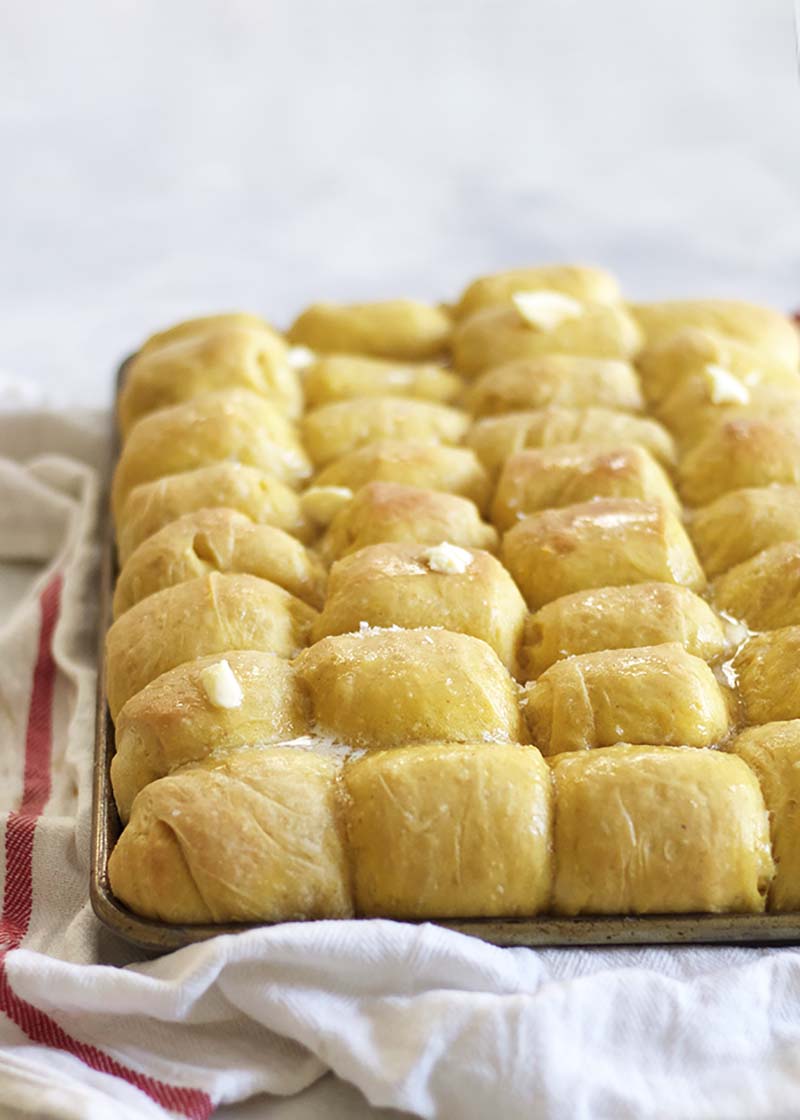 1½ cups milk
6 Tbsp butter, cut into small pieces, plus an additional 4 Tbsp butter for brushing
6-8 cups all-purpose flour
1 package (2¼ tsp, ¼oz, 7g) RED STAR Active Dry Yeast
⅓ cup brown sugar
1½ tsp salt
1½ Tbsp pumpkin pie spice
½ cup warm tap water
2 large eggs, lightly beaten
½ cup pumpkin pureé
Sea salt and honey or maple syrup for topping/drizzling
Warm the milk with the butter on the stovetop or in the microwave until butter is melted. Set aside and allow to cool til warm, but not too hot to touch (120-130°F).
In the bowl of a stand mixer fitted with a paddle attachment, add 4 cups flour, yeast, brown sugar, salt and pumpkin pie spice. Stir to combine. Add the eggs, pumpkin pureé, warm water and milk/butter mixture. Mix on medium-low speed until combined, and then switch to the dough hook.
Add enough of the remaining flour, ½ cup at a time, until the dough is less sticky and starts to pull away from the bowl. Knead until dough is soft and smooth, about 3-5 minutes. Place dough in an oiled bowl; cover with plastic wrap or a clean, damp towel. Allow dough to proof in a warm space for about an hour, or until dough as doubled in size.
Punch down dough and turn out onto a floured surface. Roll into approximately a 12x16-inch rectangle. Divide the dough into equal rectangles, about 2x4-inch size. (I divided mine into 32, but you could do 24-36 depending on how big you want them.)
Using about 2 tablespoons of melted butter, brush butter on each rectangle. Fold rectangle in half, leaving about a ½-inch gap on the bottom. Place first roll, smooth-side up, on a quarter sheet pan or a 9x13-inch baking dish. Repeat with remaining rolls, overlapping them brick-style (or like shingles).
Cover rolls and let rise for 20-30 minutes OR place the whole pan in the fridge (for up to 12 hours), bringing back out to room temp for 20-30 mins before baking.
When rolls are done rising, uncover and bake at 350°F for 20-24 minutes, or until rolls are golden brown.
Top with remaining melted butter and sea salt, honey butter, or a drizzle of maple syrup. Serve warm.
Recipe created by The Baker Chick.
Recipe by
Red Star Yeast
at https://redstaryeast.com/recipes/pumpkin-parker-house-rolls-recipe/