Skillet Pizza with Pesto Tomatoes and Spinach (+ video)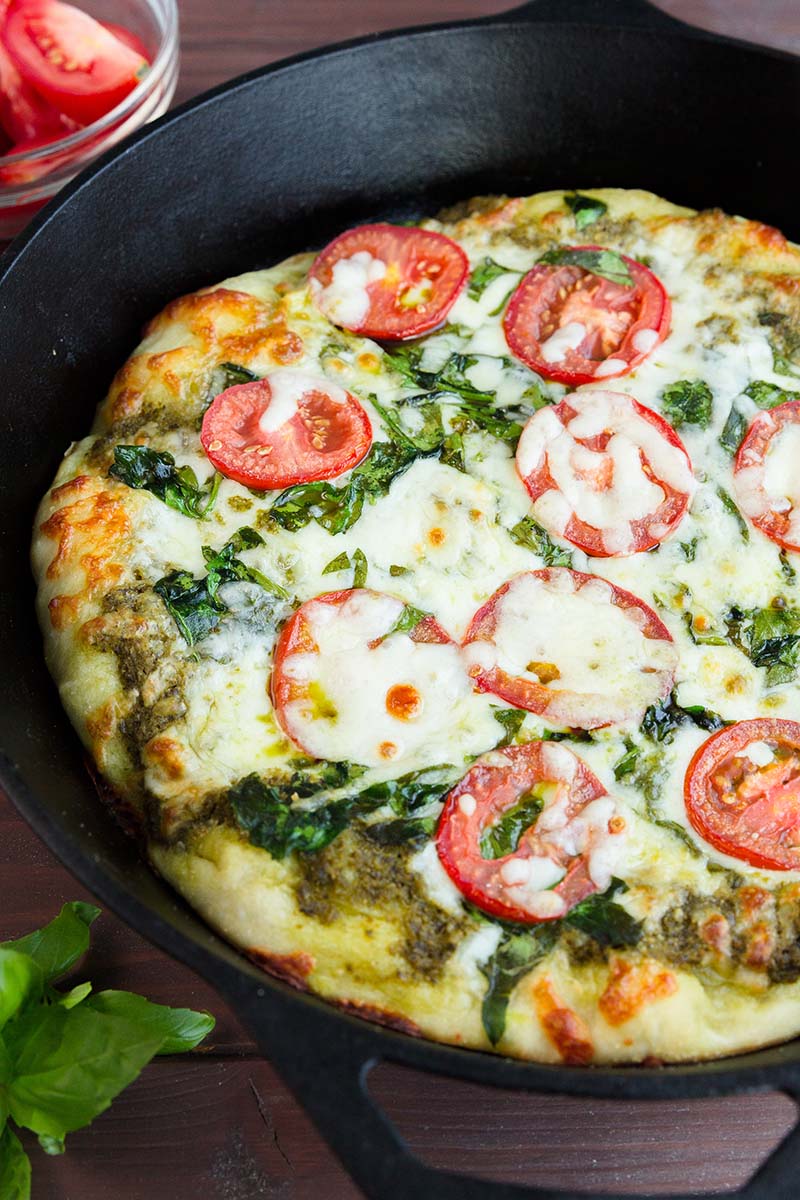 Yield:
Two 12-inch pizzas
1¼ cups warm tap water
1 package (2¼ tsp, ¼oz, 7g) RED STAR Platinum Superior Baking Yeast
2 cups all-purpose flour
1¾ cups bread flour
2 Tbsp olive oil
1½ tsp salt
1 Tbsp olive oil
1 Tbsp flour
1 Tbsp cornmeal
4 ounces prepared pesto
2 cups mozzarella cheese, shredded
1 cup fresh spinach, chopped
2 Roma tomatoes, sliced
(Watch recipe video below)
Make the pizza dough:
Pour the water in the bowl of a stand mixer fitted with a paddle attachment. Stir in yeast, and allow it to sit for 5-10 minutes.
Add the all-purpose flour, bread flour, olive oil, and salt. Mix the ingredients until everything comes together.
Switch to a dough hook attachment. Knead until you have a soft, smooth dough, about 5-6 minutes at medium speed. The dough should clear the sides of the bowl but slightly stick to the bottom of the bowl.
Grease a large bowl with a few drops of olive oil. Add the dough, turning over once to coat all sides. Cover the bowl with plastic wrap. Let it rise until doubled, about 1 hour.
Assembling Pizza:
Preheat oven to 450°F.
Using a 12-inch oven safe skillet (cast iron is recommended), drizzle 1 tablespoon of olive oil over skillet. Preheat the skillet over medium-high heat on the stove top.
Turn dough out onto a flat surface. Punch down dough to expel gas bubbles. Divide dough in half. Place one dough back into bowl and cover until ready to shape. Pat dough with a bit of flour and shape into a large circle.
Sprinkle flour and cornmeal into the skillet.
Place the dough into the greased and floured skillet. Spread it to fit the bottom of the skillet with your fingers. Be careful, as skillet is hot. Pull it up the sides a bit.
Spread pesto over crust, leaving about 1-inch for the crust edges. Add mozzarella cheese, spinach, and tomato slices.
Bake for 10-15 minutes or until cheese is bubbly and crust is golden brown.
Repeat with second dough.
Recipe created by Gather for Bread.
Recipe by
Red Star Yeast
at https://redstaryeast.com/recipes/skillet-pizza-with-pesto-tomatoes-and-spinach-recipe/