Orange Almond Bubble Loaf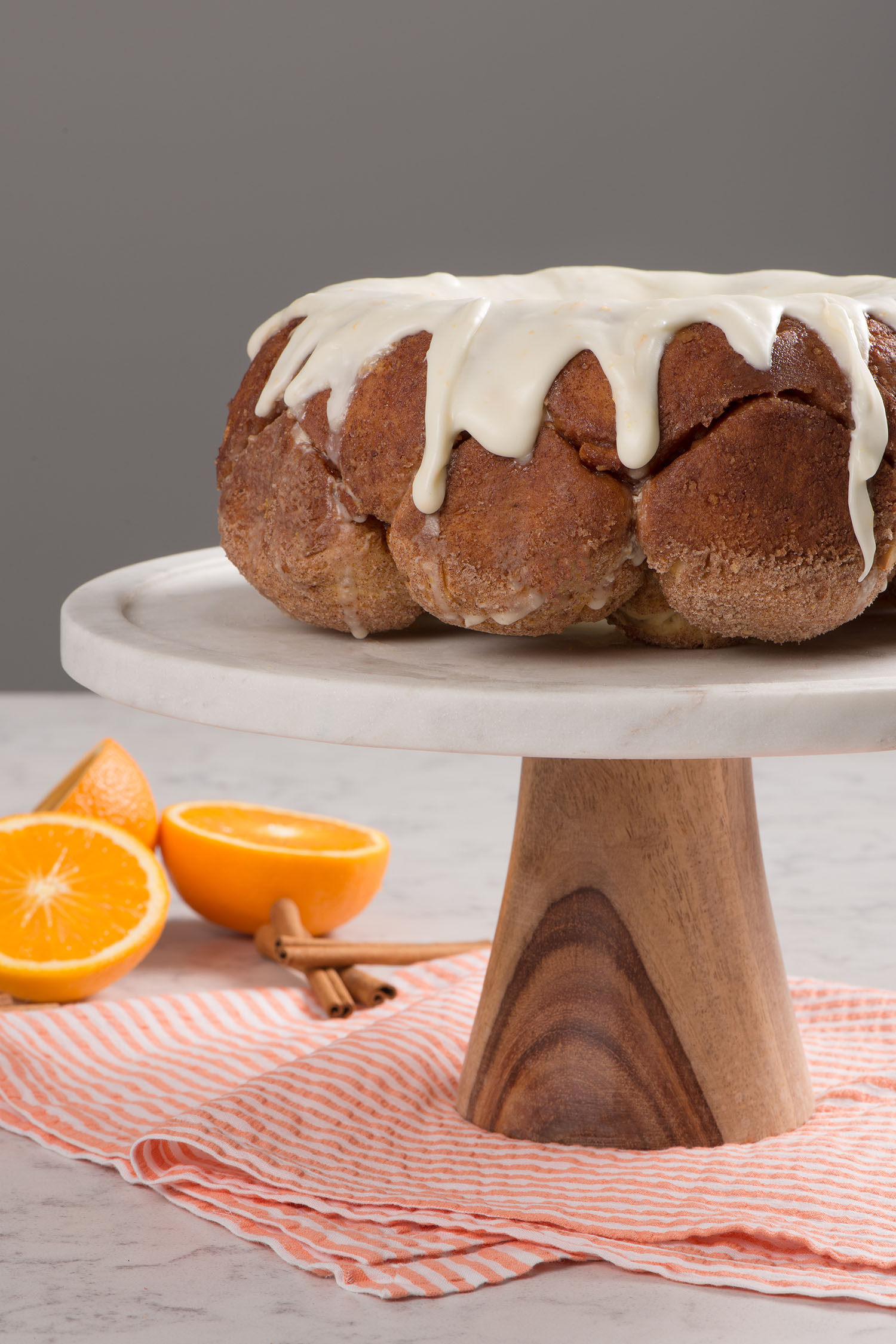 Yield:
One 10-inch coffeecake
4½ to 5 cups all-purpose flour
2 packages (4½ tsp, ½oz, 14g) RED STAR Platinum Superior Baking Yeast
1 Tbsp grated orange rind
1 tsp salt
½ cup water
½ cup milk
¼ cup honey
½ cup butter
2 eggs
½ cup granulated sugar
½ cup toasted almonds, chopped (see note)
1 Tbsp cinnamon
¼ cup butter, melted
1 cup sifted powdered sugar
1 tsp softened butter
1 to 2 Tbsp milk or orange juice
1 tsp grated orange rind
See recipe video below.
In large mixer bowl, combine 2 cups flour, yeast, orange rind and salt; mix well. In microwave-safe dish, heat water, milk, honey and butter until warm (120-130°F; butter does not need to melt). Add to flour mixture. Add eggs. Blend at low speed until moistened; beat 3 minutes at medium speed. By hand, gradually stir in enough of the remaining flour to make a soft dough. Knead on floured surface until smooth and elastic, 3 to 5 minutes. Place in greased bowl, turning to grease top. Cover; let rise in warm place until light and doubled, about 1 hour.
Prepare coating: In medium bowl, combine sugar, almonds and cinnamon.
Punch down dough. Divide into 4 parts. Divide each fourth into 6 pieces. Shape each piece into a smooth ball. Dip each piece in melted butter; roll in sugar-cinnamon mixture to coat. Layer balls in greased 12-cup Bundt pan. Cover; let rise in warm place until double, about 30 minutes. Bake at 350°F for 30 to 35 minutes until golden brown. Cool 10 minutes in pan; invert onto serving plate.
Prepare Glaze: In small bowl, blend ingredients until smooth. If needed, add additional powdered sugar to achieve desired consistency. Drizzle glaze over bread.
To toast almonds, place on cookie sheet in 300°F oven for about 15 minutes; stir occasionally. Chop to desired size pieces.
Recipe by
Red Star Yeast
at https://redstaryeast.com/recipes/orange-almond-bubble-loaf/