Pumpkin Cheesecake Braid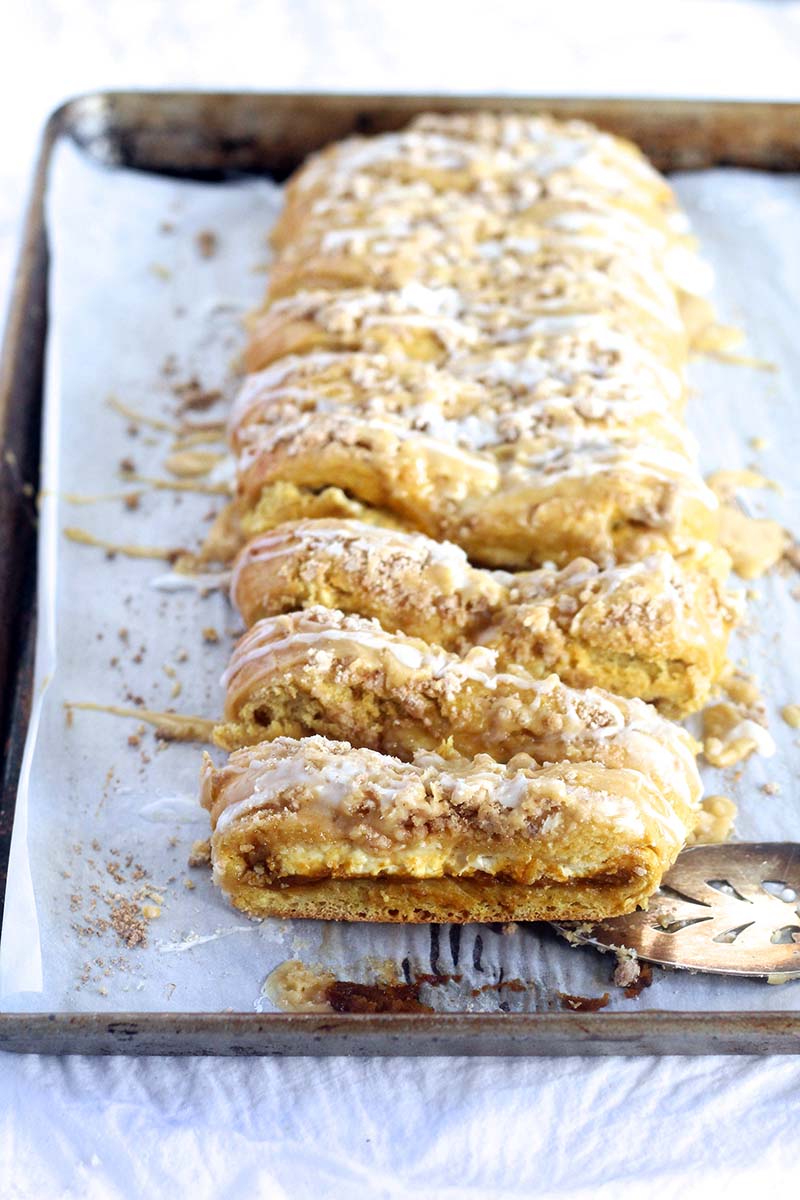 ½ cup milk
¼ cup butter
3¼ cups all-purpose flour
1 package (2¼ tsp, ¼oz, 7g) RED STAR Active Dry Yeast
1 Tbsp white sugar
1 tsp pumpkin pie spice
½ tsp salt
½ cup pumpkin pureé
1 egg
1 cup pumpkin puree
2 Tbsp brown sugar
½ teaspoon pumpkin pie spice
6 oz cream cheese, softened
1 egg
2 Tbsp white sugar
½ tsp vanilla extract
2 Tbsp brown sugar
2 Tbsp all-purpose flour
½ tsp ground cinnamon
1 Tbsp butter
1 egg, beaten
1-2 cups powdered sugar
2-3 Tbsp of milk or cream
½ tsp vanilla extract
Reserved pumpkin filling
In a small saucepan or in the microwave, heat together the milk and butter until the butter is melted and the milk is simmering. Set aside. Let cool to 120-130°F.
In a large mixing bowl combine the flour, yeast, sugar, pumpkin pie spice and salt. Stir together to combine.
Make a well in the dry ingredients and add the ½ cup pumpkin pureé, egg, and warm milk/butter
mixture. Use an electric mixer to combine all the ingredients, then switch to a dough hook if you have one to knead and work the dough. (You may also do this by hand.)
When the dough is smooth and soft. Form a ball and cover with a clean, damp, dish
cloth. Allow dough to rest while you prep your fillings.
For the Pumpkin Filling: Stir together the pumpkin, brown sugar, and spices. Set aside.
For the Cream Cheese Filling: Cream together the cream cheese and egg, then add the sugar and vanilla and mix until smooth and lump-free. Set aside.
To assemble:
On a clean surface, sprinkle some flour and roll out your dough into approximately a 10x15-inch rectangle. Use a butter knife to mark the dough into 3 vertical sections, starting at the short end. Using a paring knife or pastry wheel, cut equal, diagonal strips on both long side (thirds) of the dough, leaving the center third uncut.
Spread the pumpkin filling in an even layer in the middle of the dough, reserving a couple tablespoons to use for the glaze.
Gently spread the cream cheese filling on top of the pumpkin layer.
Criss-cross the cut strips, overlapping one with the other.
Cover the braid with plastic wrap or a clean towel and proof for 45 minutes or until
doubled and puffy. Preheat oven to 350°F.
For the streusel: Whisk together the flour, brown sugar, and cinnamon. Break the butter into small pieces with your fingers and work the whole thing together until crumbs form.
Spread the beaten egg on the entire surface of the braid and then sprinkle with the steusel.
Bake for 17-20 minutes, or until the dough is golden.
For the glazes:
For the pumpkin glaze whisk together the remaining pumpkin filling with 1 cup of powdered sugar and enough milk to form a thick, smooth glaze.
For the vanilla glaze, mix ½ cup of powdered sugar with the vanilla and a splash of milk, again whisking until smooth and thick. Add more powdered sugar if needed.
Drizzle both glazes over the top of the braid, allowing to cool slightly before slicing and enjoying!
Recipe created by The Baker Chick.